YAY!! im ON VACATION!!
My sis is coming down with her husband (has a seminar in spg) so i will spend the first part of the week with her! Shoppin in Branson on TUESDAY!! YAY!
Then? I'm taking a long weekend of respite with some girlfriends IN VEGAS!! we take one weekend a year and run away from home....and spend the rest of the year looking forward to it! All of us have kids with Down Syndrome, met online, and all of us devote our lives to our families and careers. It sounds glamerous, but honestly we sit around wherever we are, and just talk and laugh and let someone else clean up after US!! it is usually 3 days of laughter, tears, and the comraderie of sisters who understand each other and each other's lives. I usally leave sad that we all don't live closer together, and revitalized in my life as a wife and a mom to a child with special needs.
I CAN'T WAIT!!
Molly is still having a rough time at school...still acting out. We're running another round of anti-bi's, and claritin, and seeing if we can't get to the root of it. I so hope her classmates understand and don't start avoiding her. They don't understand it takes a long time for her to learn to trust them, and then BAM! a whole new group of kids! She wanted to stay in Kindergarten forever. It is so hard for her in other ways...they are all into hannah montana, and she still loves dora and the wiggles. The girls are experimenting with lip gloss, but she still likes to eat it! It has to be frustrating for her...Thank God for ROBERT!! He still adores her exactly the way she is.
I had to take the OTHER cat to the vet early Saturday morning...he has something wrong with his back leg...a 1/4 inch scratch was found, but i guess him being 13-14 yrs old, it was a big deal. He is ALSO on anti-bi's!! Giving the meds to the cat is still easier than giving them to molly! Poor Lucifer can barely walk, and if we don't see marked improvement by monday...off we go for x-rays! He is my baby, and another worry.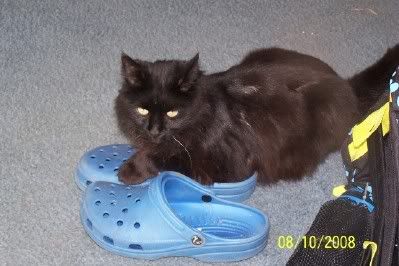 Molly came in today, while i was fixing bill's biscuits and gravy, COVERED in GREEN GEL TOOTHPASTE! we have not found the original crime scene....but are still looking....and just so you can understand a typical day at my house, she then brought me the kitchen scissors and her 'Easter Bunny Sponge Bob" and made me cut off his bunny ears. There was no dissuading her from it...obsessively they HAD TO COME OFF NOW!! I stapled his head back together, and she skipped off happily approving of the surgery (UGH!)
Kelsi, Bill, and Angela are in for the weekend (I ADORE a busy kid weekend!)and we took molly to McWilliams Pumpkin Patch.
Mr McWilliams is a conservation agent here in Missouri, his son, Levi (Shauna's age) is the Pharmacist across the street from us. They have some acreage outside of town and do some interesting stuff with it all year, and then invite us all in to look in October!! I love People like this!
Molly had missed her field trip to the patch with the class last week....so I was extremely glad everyone agreed she needed to go, regardless...this was our day: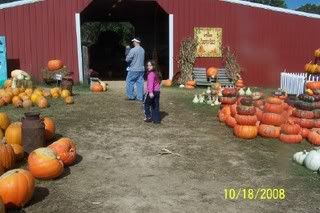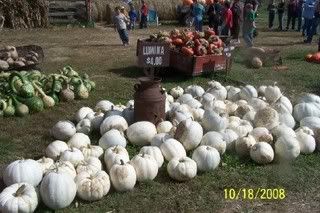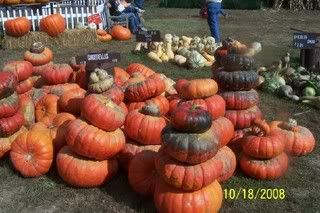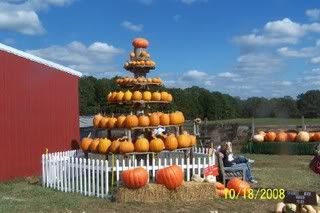 she REALLY loved the bin of corn, and Bill had
to manhandle her out of it...she is IMPOSSIBLE to
move when she assumes the "flop and drop". It's
like trying to pick up a 70 pound water balloon!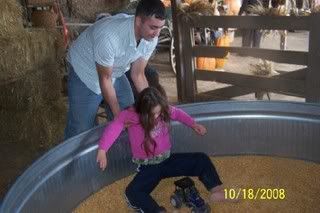 Good thing we got her out, because she REALLY
loved the Hay Bale Maze! She ran right through
it, pushing me out of the way and taking the lead,
and didn't even stop to see the caged display animals.
except once, when the corn, which had been in her
shoe since we got there, just HAD to come out!!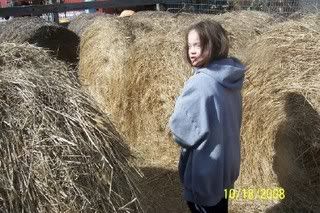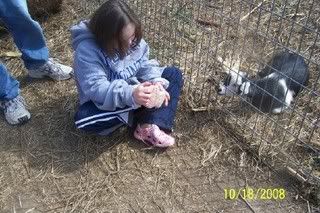 Then? another fav!! a TRAIN! ok, not a real
train, but a tractor decorated like one...she
was confused because there were no TRACKS!!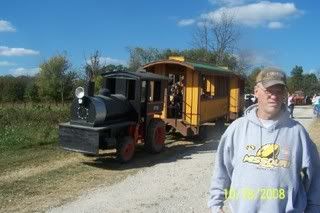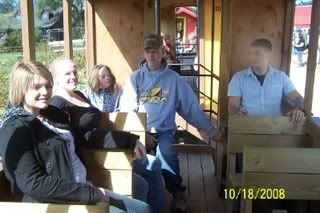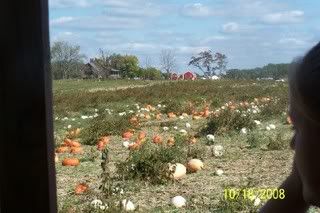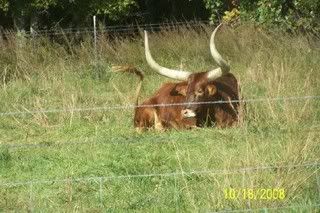 This is Mr McWilliams and his other tour mode!
He's is just the BEST! thanks mr mcwilliams!!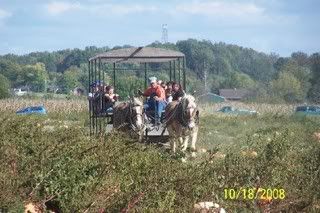 I'll get back just in time to Spend Halloween in Springfield (i hope) and then MOVE MY PARENTS out here for the winter!! Molly had a pretty horrible time with me being gone last year, we paid for it for 2 weeks in weird behavior...but I'm not letting it change my mind! Keep Good thoughts that we all survive it!!
Enjoy your AUTUMN!!