wow..i have so much to update on...i LOVE these kind of weeks!
First, my sis jeri, was in Springfield with her hubby attending his work stuff...her and ally and i got to sneak off to the new "Branson's Landing" for some shopping! It was SO GREAT to see her, and have that reversion to teenagerdom in the photo booth!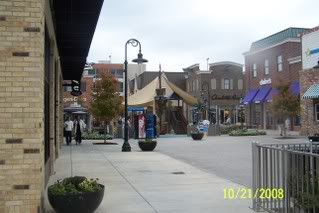 and then on to vegas, where the temperature was perfect..and the pool water was the same! I got a hot stone massage one day (when i was feeling a little draggy) and then spent most of our time touring the city and being friends! WHAT A CITY!! I can't wait to go back!
No Details..as you know the Vegas rule but will leave you with three thoughts:\
1) What you bet in Vegas, is REALLY what stays in Vegas!
2) However you can, take a weekend with some girlfriends. It will be hard the first time, but YOU NEED IT! Especially moms with kids with SN's! I am revitalized for the year, and am prone to bust out laughing at the simplest of things! THANKS LADIES!!
3 If you ever get the chance to see the Beatles "Love" by Cirque de Soleil??...DO IT! no matter what the cost..JUST DO IT!! THE most amazing thing i have ever seen in my LIFE!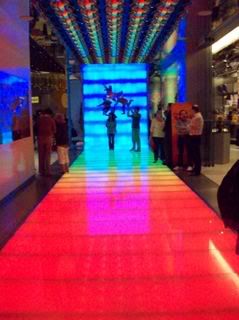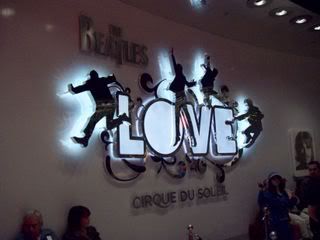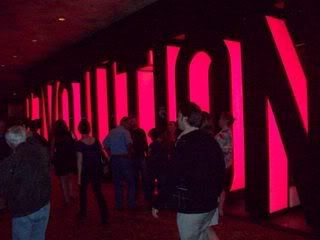 Then, on to Halloween! Molly has a parade at school in the morning, then a party in her classroom, they let out at noon and we're off to Springfield to trick or treat with Aubrey Jo! Her mom and dad need to work the Halloween pub crawl....so the sarge, molly, and I went up to babysit the night, too!
So first thing in the gym..Molly was separated from her boyfriend, Robert, cuz she was sitting with me.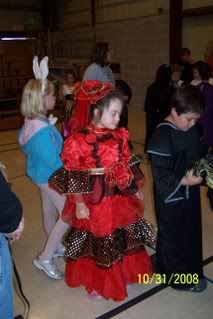 She fixes that problem in a hurry, and i watched as they shared a moment and a language that all that know them are amazed by. I watch as she reaches up and fixes a stray red hair...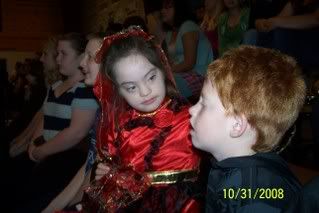 Now, Molly is not a big party girl. Usually the gym packed full of costumes is enough to frazzle her, and then the 'more compact' 2nd grade room will finish her off...so i try to make each party, and we make a quick exit if i see a meltdown coming.
It just seems too loud for her, AND she gets frustrated at not being able to comprehend what everyone is doing.
This party was different! I'm so psyched to share this story!
At the party, Molly enjoyed the snacks and seeing miss Stephanie, but didn't seem thrilled with halloween storytime or the following game...at first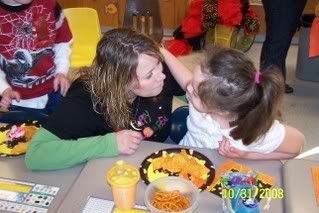 They would take one child out into the hall, hide another under a sheet, all the remaining children would switch seats, and then the hall kid would come in and try to guess which 'ghost' was under the blanket.
Molly, acting bored, wouldn't switch seats but instead pulls her social studies book out from her desk and starts flipping through it. This can be a form of stemming for her (to relax) but I notice something different this time...she is not focused on the book OR the stemming.
What she is doing I call her "side eye" or "slight of eye" It's when she is acting like she's reading, but sneaking peeks at the other activity and committing them to memory. (not a good thing when she is watching the way the keys fit into the ignition...kwim?)
Then I her move to the bean bag to "read" some more...a stratigic move on her part...i could see she seemed to want to get a closer view of the action.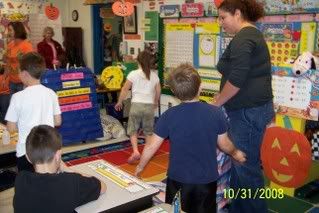 From the bean bag, she watched about three more kids do the hide...and when they were picking another ghost...she jumps up out of the chair, runs to the center of the reading rug, and much to the surprise of everyone..squats down to be covered up!! YAY MOLLY!!
So she likes tents and hiding and did a good job of staying under....the poor little guy trying to guess who was under it NEVER STOOD A CHANCE! NO ONE would dare believe she was participating!
So now, it's her turn to go to the hall...i start to nay-say it...cuz i KNOW she isn't going to 'get' this part...but her aide waves me off and scoots her out, leaving instruction for the teacher to put Robert under the blanket. Robert is not thrilled about participating alot, either...but jumps at this chance! After all, if Molly can do it...HE can do it!
Sure enough...they bring her in, she's a little confused...and then they show her a little of Robert's red hair...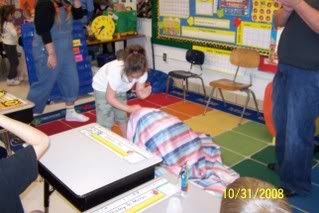 BOBBERT!!! is what she yelled, then threw off the sheet AND SHE HUGS HIM!!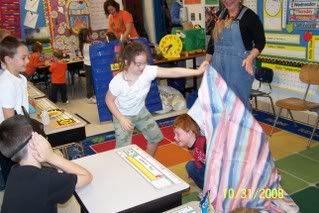 yep...it was the BEST PARTY EVER!! Everyone was beyond happy about the involvement...and everyone 'GOT IT!' This is why inclusion is so important! You might not think the 'unique' kids are paying attention...then again, they just might surprise you!
We had a good time tricker treating in Springfield, and Molly scored a TON of candy! She doesn't like it too much, so I'll probably take it to work where everyone will hate me for doing so....but diet time is on at my house...and i need no tempations.
Molly was a flamingo dancer, but i found out fast, she would have MUCH rather been a monkey! I messed up on this one! Next year? for sure twin outfits for aunt and neice!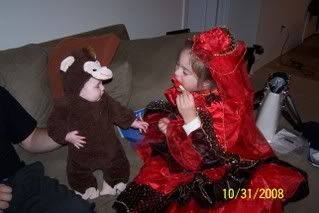 Allyson, baby AJ and molly tore up the doorbells! Then we found a faboulous trick or trunk put on by the Lutheren Church! THEY WERE AMAZING!! What a Fab Group of People!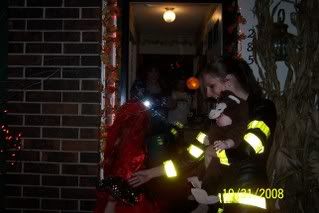 Aubrey Jo is growing so fast! She'll be 5 months next week, and is SQUEALING when she sees you, wants to stand up constantly...and has "michelin man' legs!! WHAT A BIG GIRL! She also likes to pull molly's hair, and squeeze grammy's cheeks and lips until her little fingernails PIERCE THEM!! hahahahah we have learned to watch and dodge those pesky fingers!
I'm uploading the squeal...it's TOO SWEET!!
Hope your last few weeks were as good as mine.
Next week? My folks move in for the winter...if you don't see alot of me...I'M CLEANING!!
*beam*