IT'S JUNEEEEEEEEEEEEEE!!!!
IT'S JUNE!!!!
I am SO PYCHED about the month of months this year!
Little Bills is TWENTY-ONE on the 11th!!
Molly Kate is * * EIGHT* * on the 22nd!!
Aubrey Jo is ON HER WAY!! She should be here by the end of the month (if she waits that long)
I'm on VACATION with Aubrey's birth!! My mom and dad are even threatening to come down! or maybe we'll swing out to Nebraska during that time, too...as it's been TOO LONG since we've seen them!
IM SO HAPPYYYYYYYYYYYYYY!! so many big events!!
Shauna ran the Capitol Hill Run 1/2 marathon, and officially did the 10 miles in UNDER 50!! wowser!
Gabe pulled a 3.75 for his final grade of the semester, and is GONNA BE A DADDY!! (he has know idea why I'm so psyched as he's just VERY nervous...I can FEEL IT! but I know that Aubrey Jo is gonna have THE best DAD in the world, and that IT'S GOING TO BE PHENOMENAL!!) Hang on son, it's a whole nother story once she GETS HERE!!
Little Bill and Angela are coming home for a week, next week! (to coincide with his birthday!)YAY!
I'm trying to fit Springfield into the weekend, and a girls day at the mall, and at the SEX AND THE CITY opening!! Gonna be tough as Ally is wayyyyyyyy pregnant, kelsi is 16, and I'm driving!! HOW will i sneak a COSMOPOLITIN into THAT mix???? :-)
And Amy, who thought her and Ben we're going to miss brother Jack's birthday, because of Ben's cancer and being stuck in the hospital??? THEY GOT OUT!! and got home in time to surprise everyone and blow out candles!!
YAY AMYYYYYYYYY!!
Kelsi is home for some summer R&R, and the pool man is coming this morning!! It hit 90 degrees yesterday, so YAY!! TIME TO FLOAT!! We had to hide all of molly's floaties...cuz she keeps donning them and nagging me!
TODAY, little chicky, TODAY!
This is the story of the week, though...and no, I'm not a "SO YOU THINK YOU CAN DANCE" fan, by any means...but this young man captured my HEART!!
Thanks Ally and Gabe for calling my attention to him!
Ok off off off to do the house cleaning chores and prepare to open the pool and oh yea, commando girl had to try on the new dora swimsuit!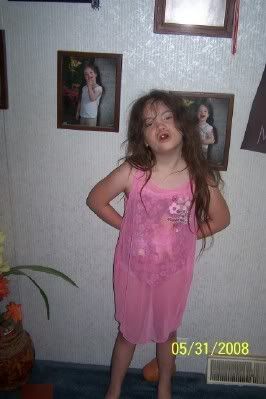 WELCOME SUMMER!! I've been waiting SOOOOOOOO LONG!!
I think it's going to be the best one OF MY LIFE!! WOOHOOOOO!!