One common thing you'll find in my blog titles...the absolute disbelief that life slips by so FAST!! I see I went from yearning for summer, to 1/2 way through it in record time this year! We try to be in the pool daily, no matter what is going on, and outside all evening...probably the excuse for no blogging. We had a 6 week drought...and as of this minute, the rain is pelting down on round 2....round 1 netted us one inch, but i don't know how they measure side-ways rain. We are now prepping for round 3, which has been upgraded to a sever thunderstorm warning....we'll let you know about that.
We really needed it, but am so glad it held off for today. Yesterday we drove up to Springfield for the 3rd annual "Step up for Down Syndrome" Buddy Walk. It was fun and especially exciting for molly who got to be with her brothers and neices, and we did raise the money! THANK YOU to all that donated!
First? We met for breakfast at Bill's favorite place, Aunt Martha's. The waitresses always give us the eye there, like we're going to order $100 worth of food and walk away.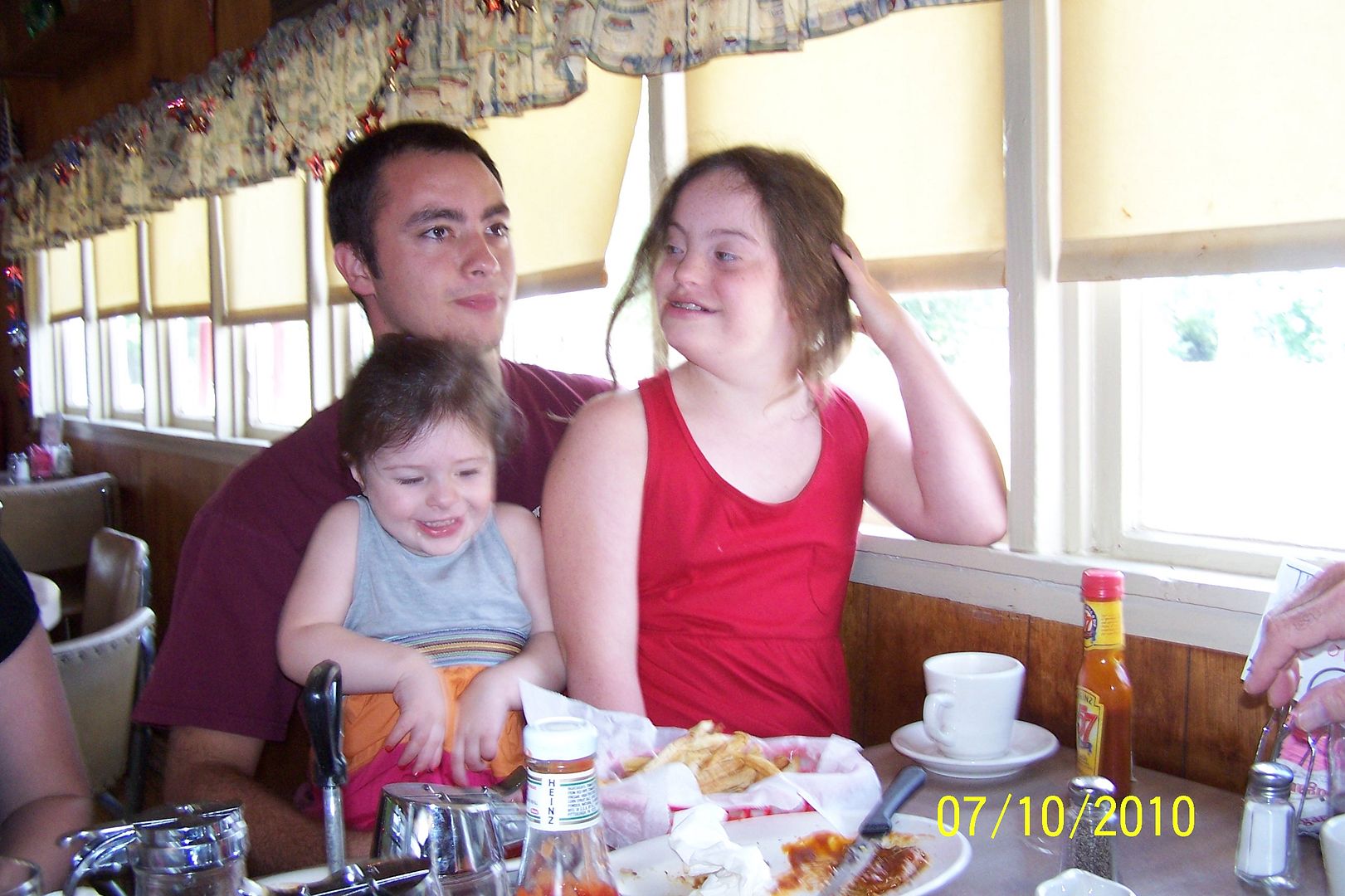 then we went to the park...well we PARKED at the ball field, and it was a long walk in very hot weather, but everyone did well...wearing a "molly's mob" hat was a treat for Aubrey Jo.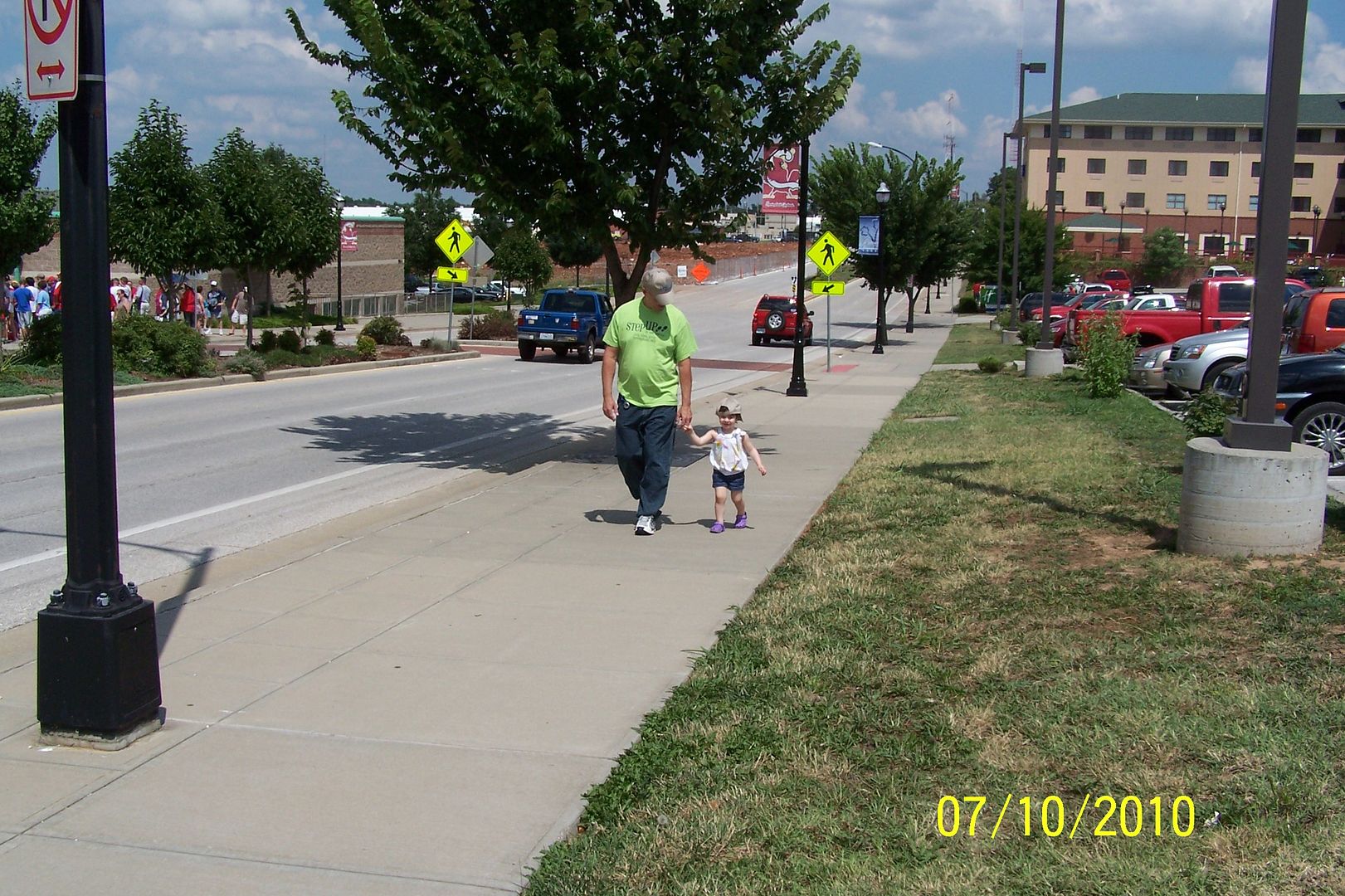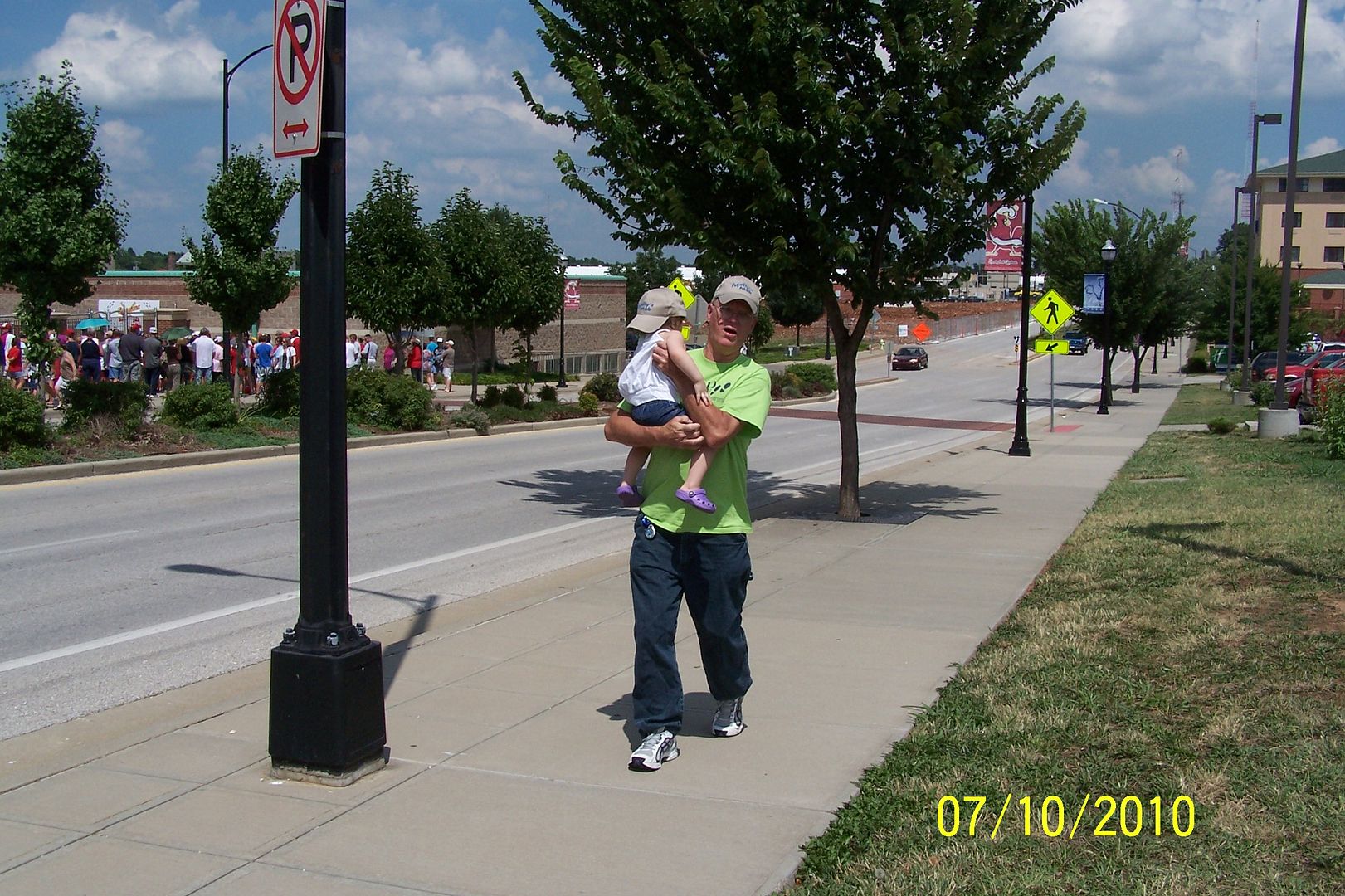 then onto the arena football field for the registration and entertainment. They had a nice set up, INDOORS with jump houses from Jumpmania, and even a gymnastics section, where the girls spent the bulk of their time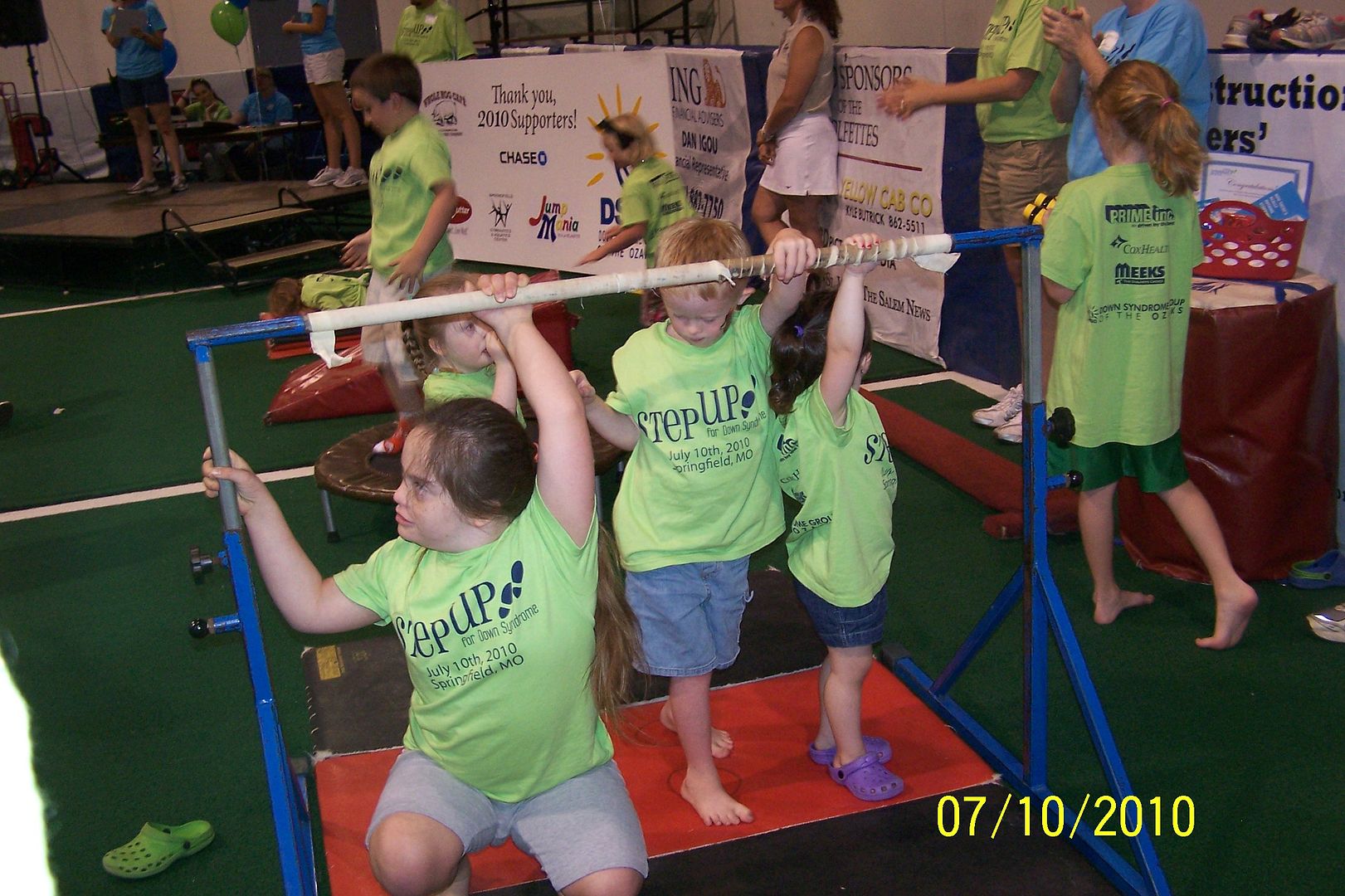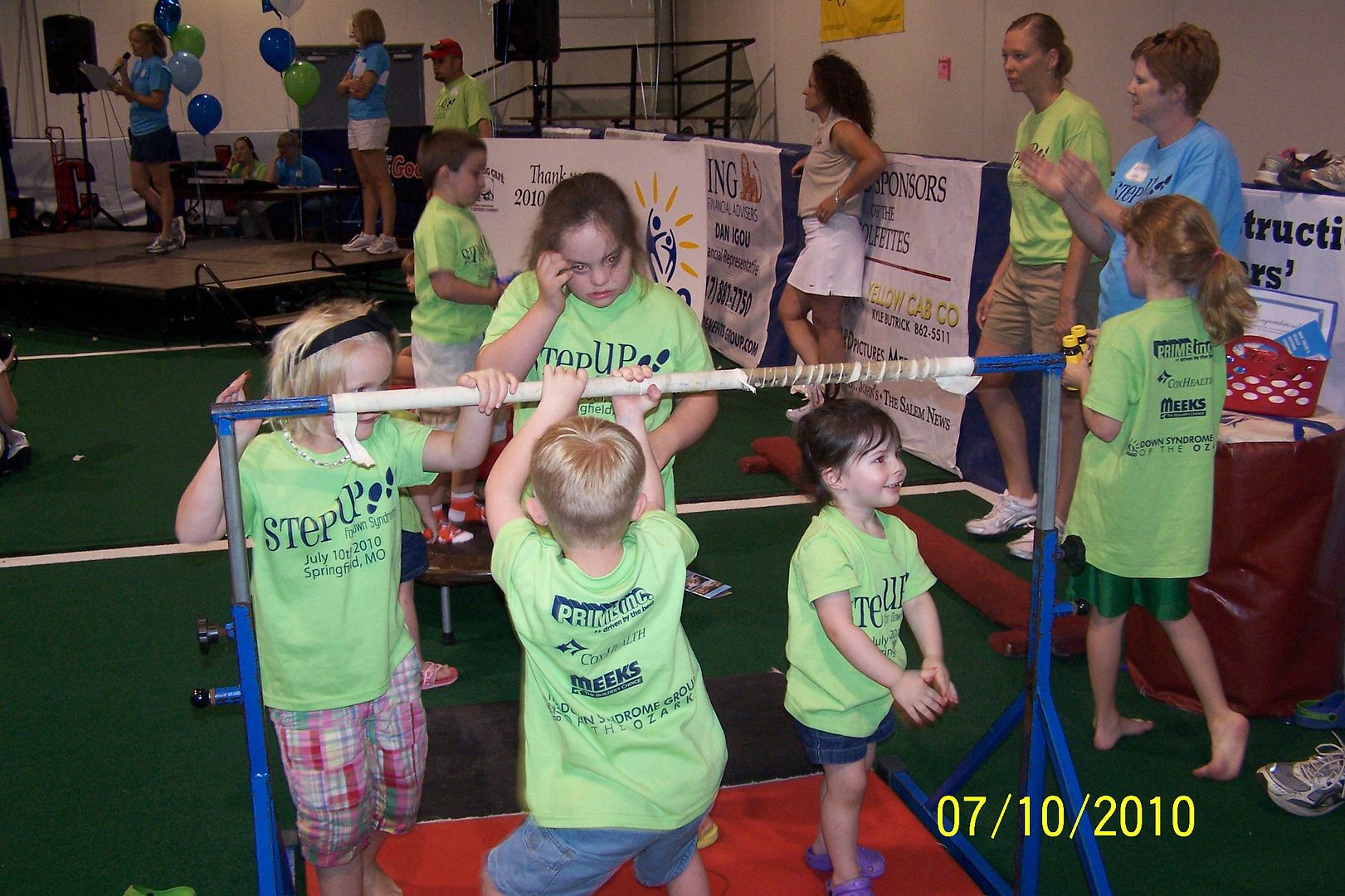 that is AFTER we forcibly removed them from the ball pit.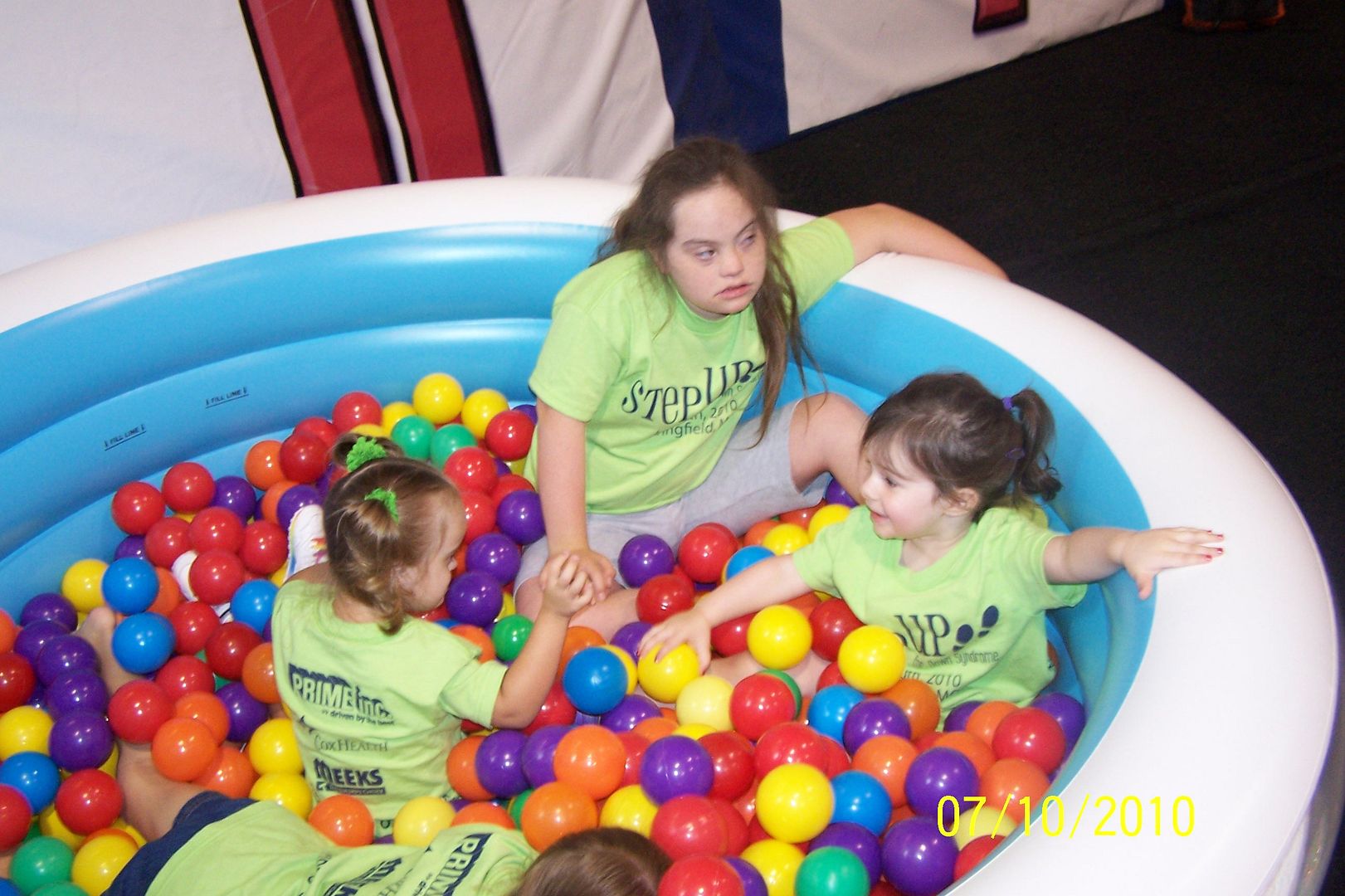 Aubrey and Molly both got "cat" faces painted on. It was tough to talk molly into it, but aided by brother Gabe and a mirror, she sat long enough to do it...and was PLEASED!! we could tell by the way she kept saying the way she talks about Lucifer. "cat cat CAT!" :-)
We met up with some old friends that had moved from west plains...evidently, it is ok to dance when you are surrounded by friends and neice! The kiddo next to her here, stayed as close as he could to molly thoughout the dancing, and she acted like she didn't know he was there! Missed opportunities girl!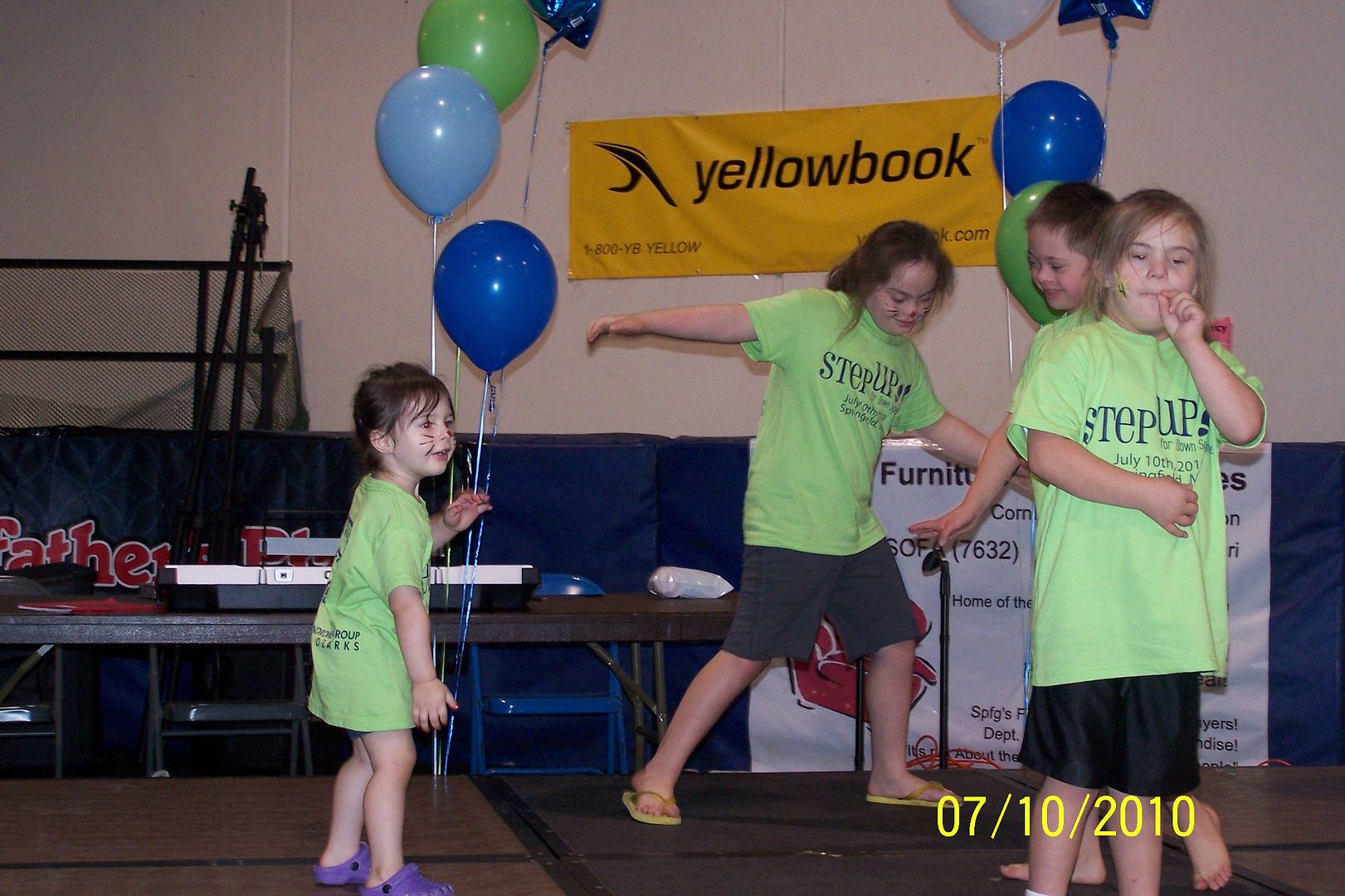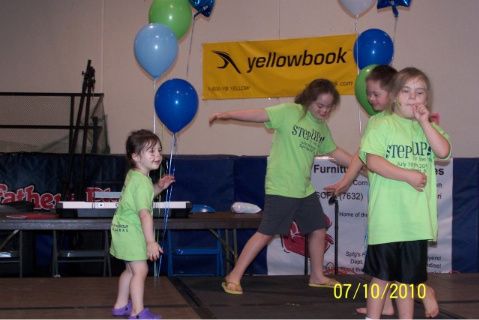 I liked this shot...it appears that her boyfriend wannabe is pretty frustrated with her ignoring him!
We then prepared (lined up like cattle in a chute) for the infield walk...it really makes you understand the amount of people that came to celebrate these beautiful children: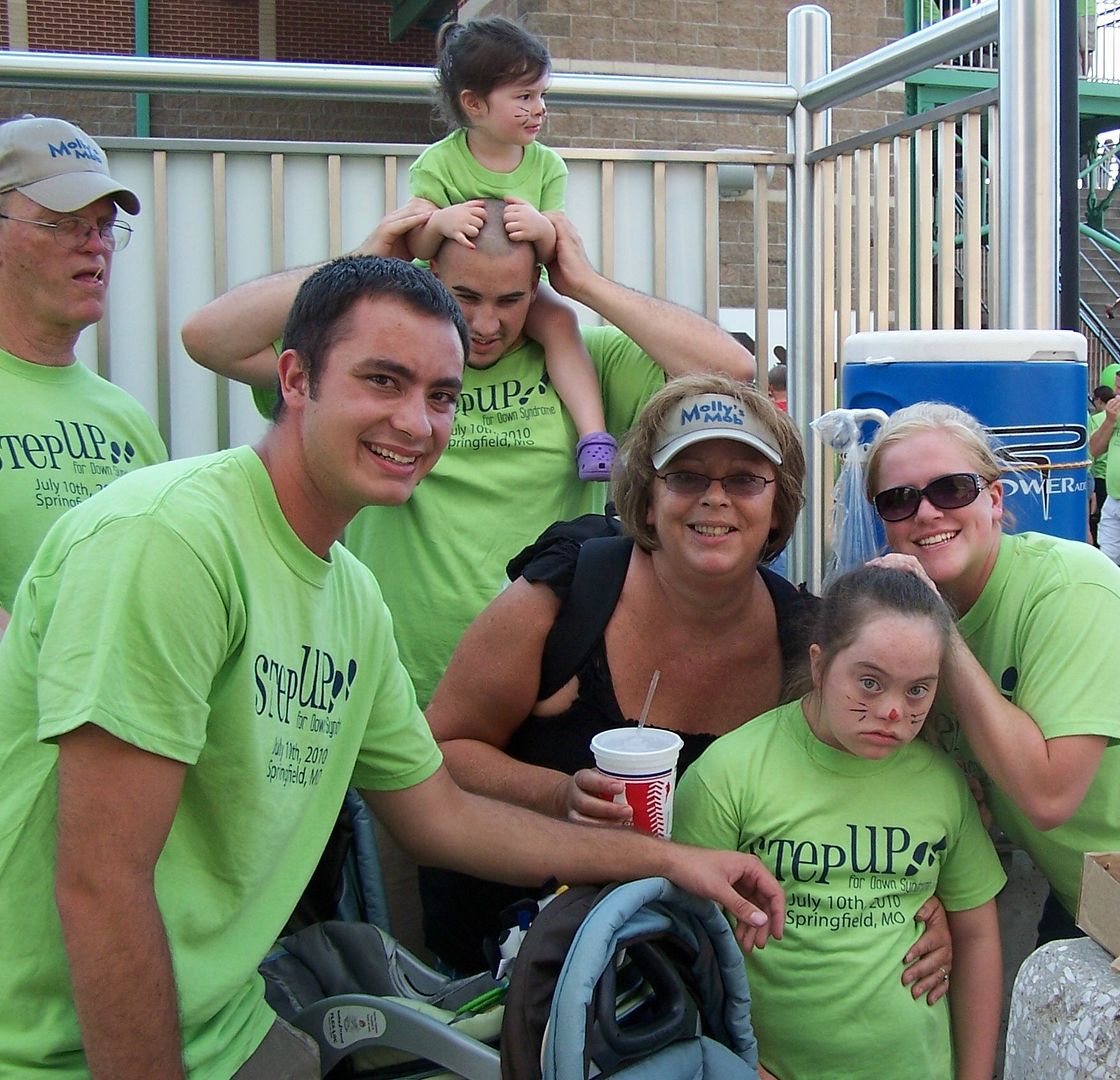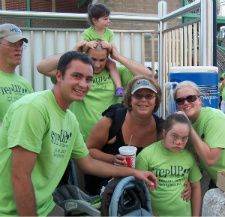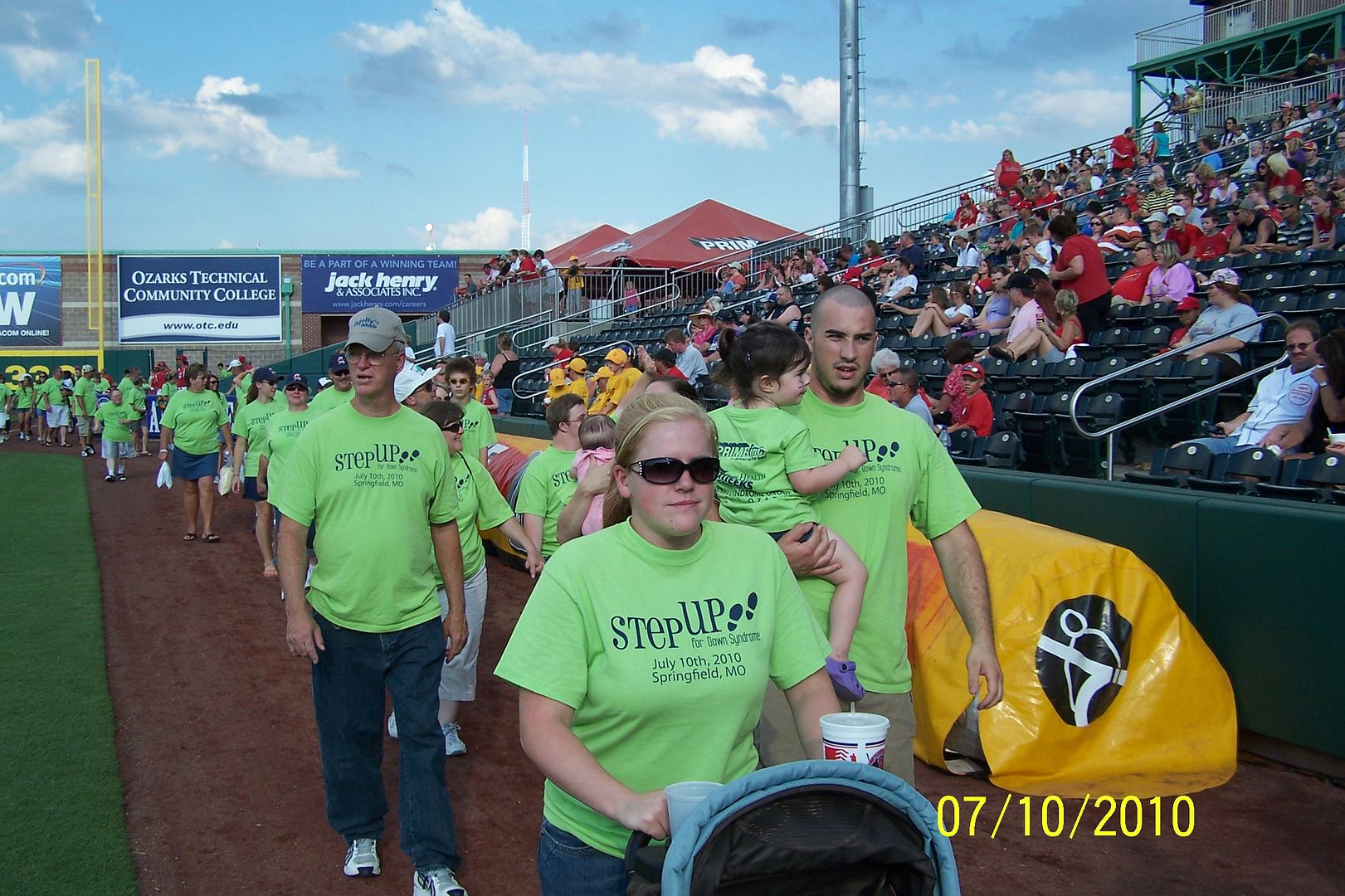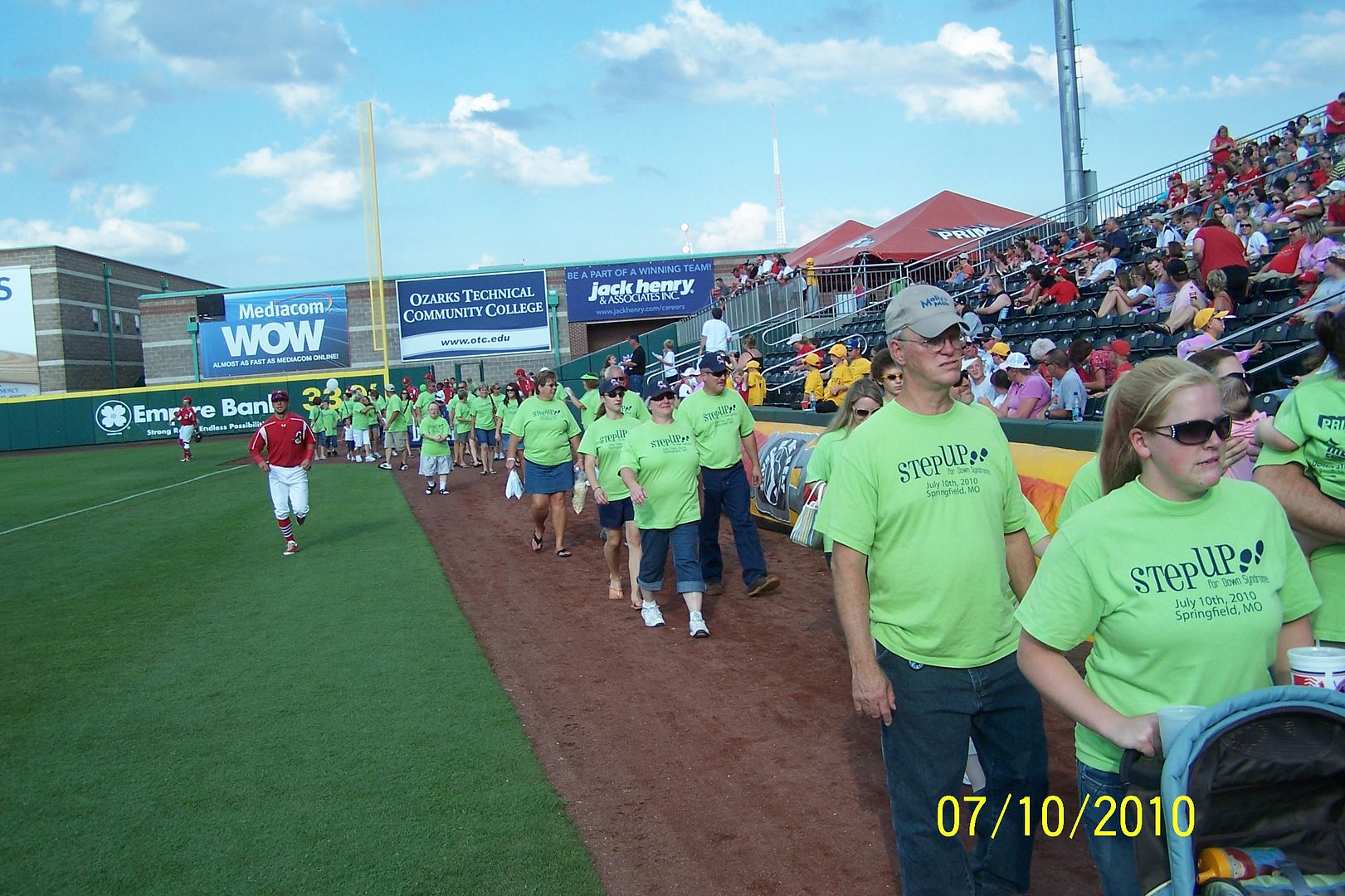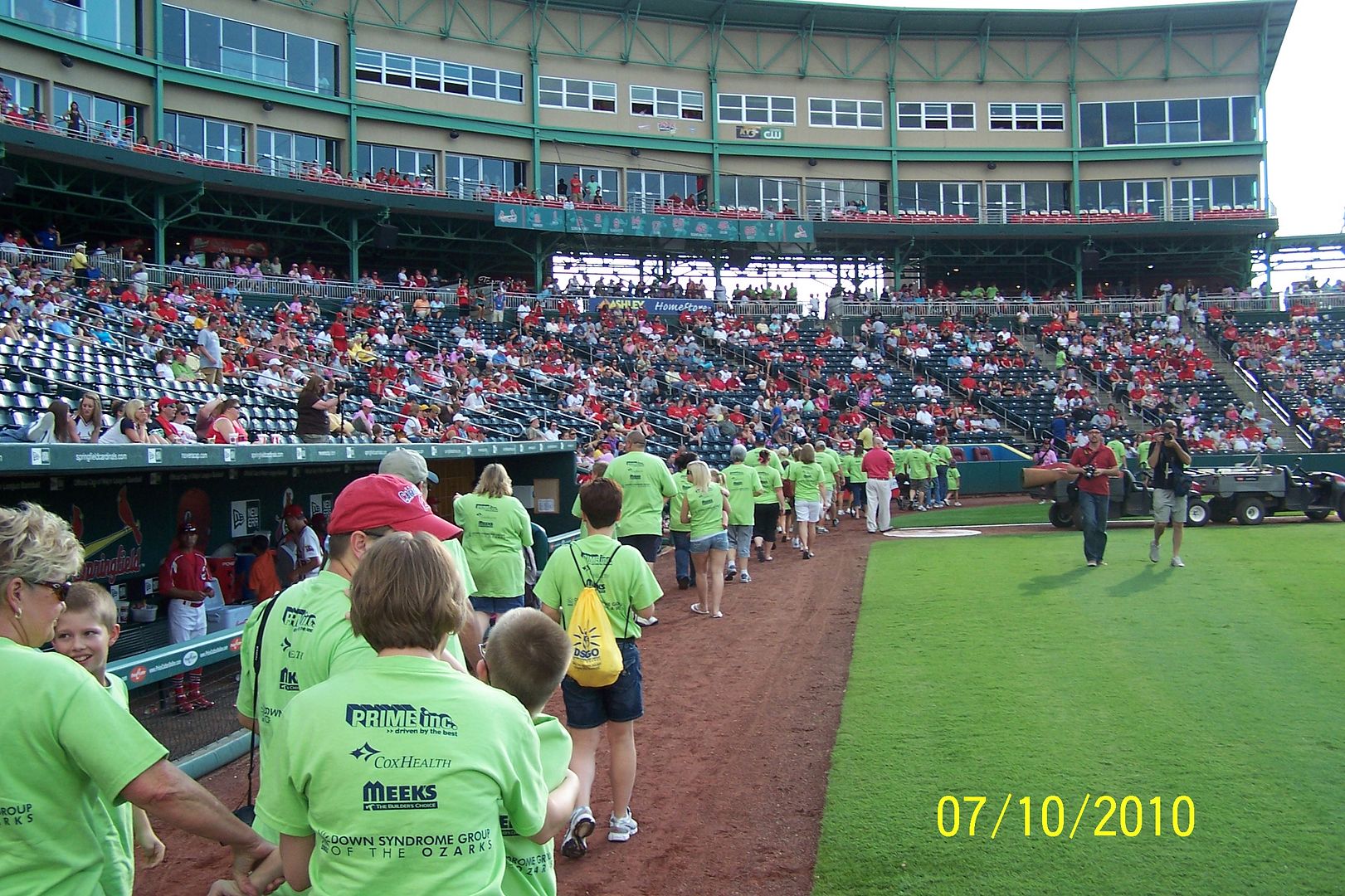 We only stayed for 1/2 of the ball game...it was double header day and the first game ran long so 1/2 of the game equaled 8 pm, and we still had to drive home. I could tell how hot molly was by the way she devoured a cherry sno cone....every bite!
Everyone else grabbed great hotdogs, with all the condiments you could imagine, huh, bill!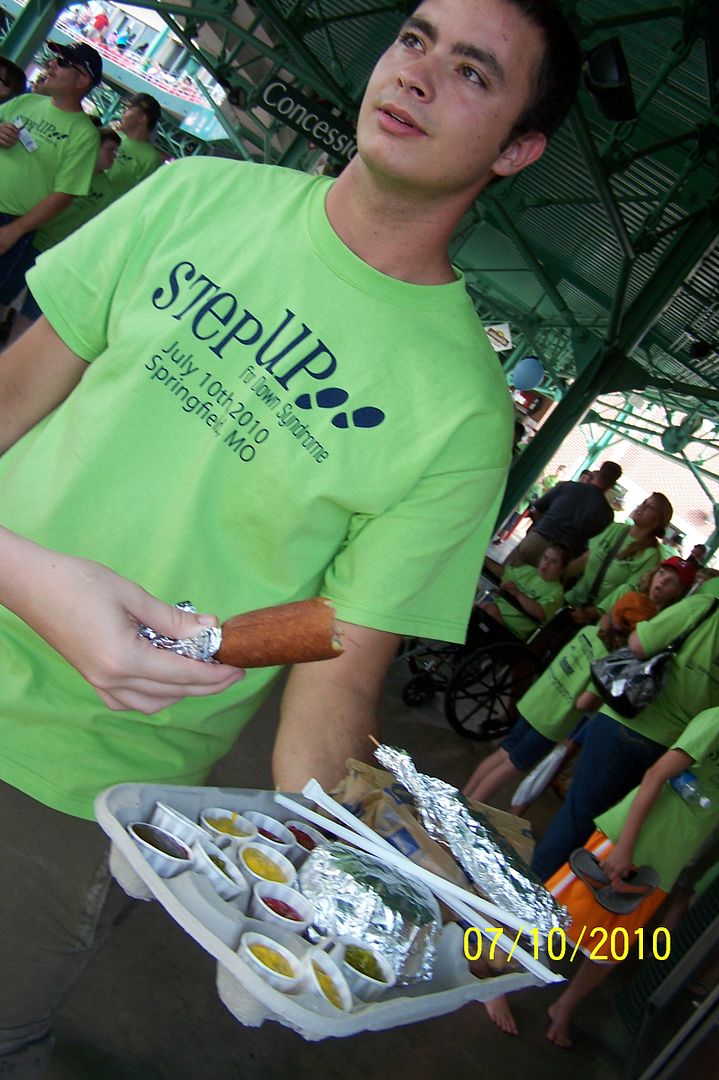 (yea, you knew that pic would end up here!)
I was impressed that the lime shirts took up more than two sections of the baseball stands.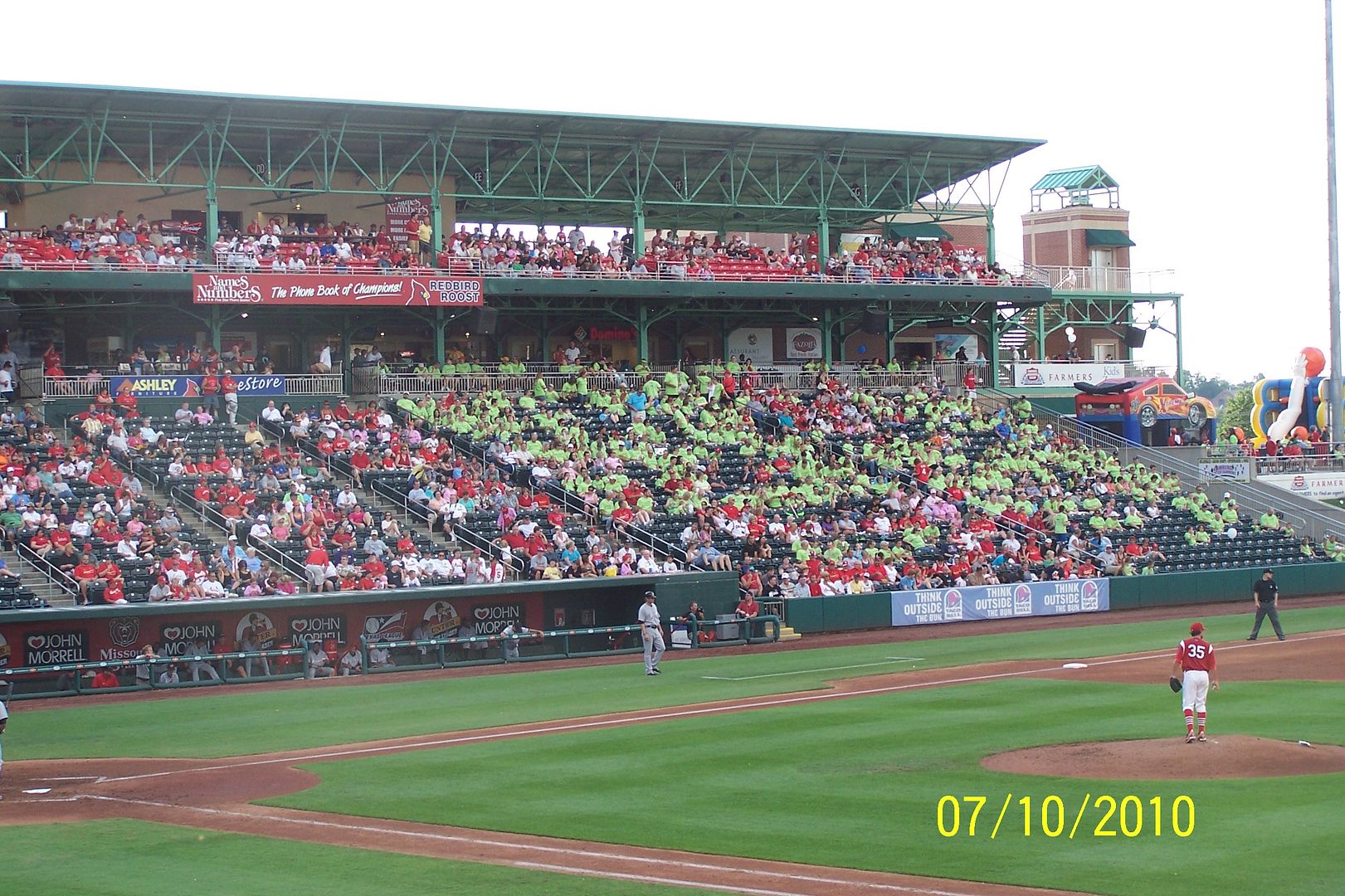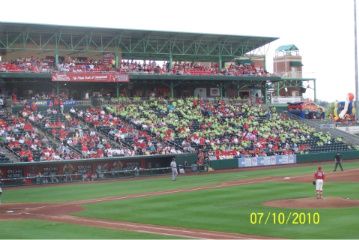 And really impressed that the "musical chairs" game included our children! They had a ball!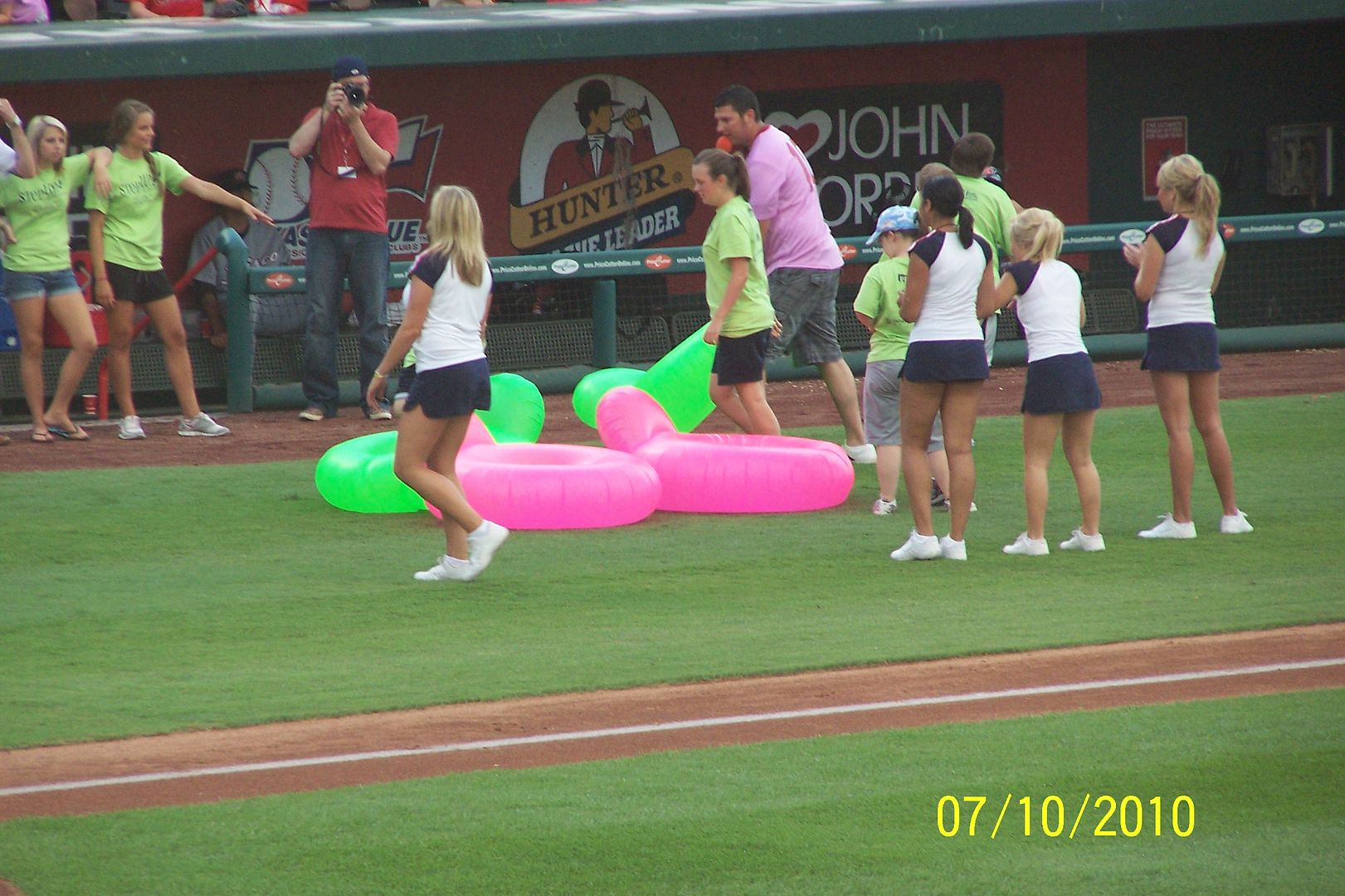 And now we're home! We were glad to see that mom and dad survived being on their own for the day, as we are prepping to take off for Orlando and the National Down Syndrome Congress Annual Convention! It's a HUGE event, and we'll be meeting up with bunches of our online friends, as well as thousands of other parents! Time to make more friends!
So tune in next week, where i'm sure Molly Kate will be introducing yall to MICKEY!