What a week! I was scheduled for a late shift today, THANK GOODNESS! because we buzzed to Springfield for ally's shower on Saturday, transporting a stranded boss back with me...and then had the 1st Grade Picnic on Sunday!. I just finished uploading the pics, molly is back in school, and I'm going to do a short update, and go try to regain control of the house before heading to work.
Ally's shower was adorable. Her sister really put a lot into it, even though she was also hosting a college graduation party that weekend. THANK YOU, MICHELLE!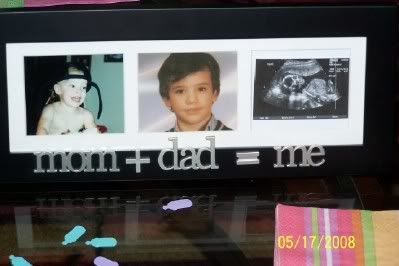 It was great to spend some time with the kids afterwards, although I stayed worried about Molly. I'm so glad gabe shamed me into coming, despite my worries!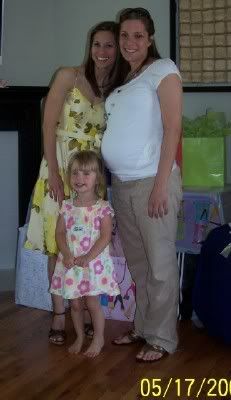 (ally, sis michelle, and their little cousin)
Molly is still having "issues" with her lower colon. We have some new meds, but given the experiences of the last weekend, have opted to wait to start them till this coming weekend. School is out on Friday.
Sunday, her first grade teacher hosted a picnic at children's park. The food was Fabulous, the day perfect, and all the kids had a BALL!! Mrs. White honored them all with a "If you gave a pig a pancake" book...and medals and hugs for each and every one!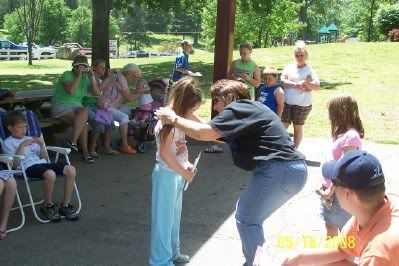 She then honored the parents with Certificates and hugs! She makes it easy to be an active parent, and WANT to be at each and every event with her class. She really is an Awesome Lady...and we're going to miss her!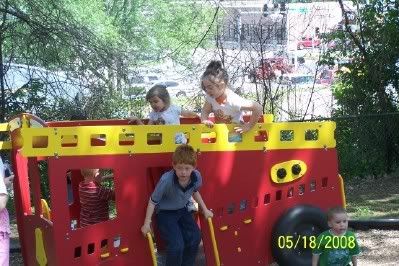 Yes, Molly is going onto the 2nd grade. The IEP was also this week, and honestly, it's the first one i walked away from NOT CRYING! These ladies have learned not only on how to handle molly kate...but how to handle her mommy! YAY!
We did not specify a teacher for next year, just that she be in class with Robert, and we nixed all the year end testing. YAY!
Shauna ran a 1/2 Marathon (the capitol hill classic) which was her first since she started training...and did it with style, a great time, AND managed to stop and grocery shop on the way home. WTG SHAUNA!
Everyone is running hard, and finishing up the end of school. We pray for John Eric Bartel's family, as they stayed here on earth while he went to heaven.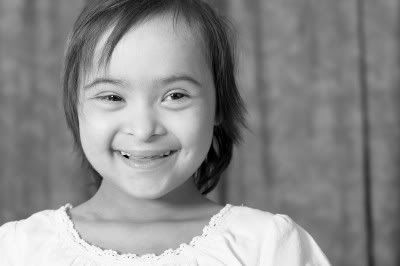 This past week also marks the passing of Sierra Kesler, one particularly close to my heart as she had down syndrome. Her's was an unexpected passing, one of the cases where the cancer didn't get her....the cure did. *sigh*
Remember to keep these families close in your hearts....and never to take ONE SECOND of your time with your children for granted!
There are many relay for life and torch runs happening right now...be sure to participate, donate, and pray!
Love you all....see you next week, and please keep that week of starting new meds for miss molly in your prayers. Mommy is too stressed over this, and anxious to get it resolved. The whole thing is hindering many progresses for her, and outings for us!