Typical Times
Dear Diary...Today I tried to go to the bathroom. Probably not a big deal, right? WRONG! Mommy time is fleeting and precious. Privacy is unheard of!
I did the usual 10 minute prep before even DARING to steal time for myself,
which includes setting up a dora dvd, locking the doors, grabbing the phone, etc.
Daddy is in the radio room calling the net. PRIVACY is but one latch away.
I just get comfortable, when i hear the German Shepherd start in with
the "im gonna eat a delivery man" rabid bark. I'm not moving...this one is on daddy.
It seems that the siding guy came by to talk to daddy. Now in these circumstances and when i am mobile...i lock the dogs up on the mudporch before answering the door.
They don't like it. This is them sticking out their paws in protest: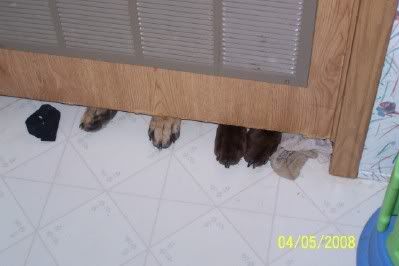 The shep is still a pup and as meek as a lamb, but seems to turn into wonder-guard-dog anytime ANYONE steps into the yard.
Daddy does things his own way. He slides out the front door, leaving the storm door open, and unlatched. Although miss molly kate is usually so immersed
into her dvd the house could implode and she wouldn't look up...
"MOM AND DAD ARE BUSY!!" announcements must flash on the screen, calling her attention to prime opportunities.
Not only did she let the dog out to visit with the siding man (EEK!) but the dog keeps making the "duck and dodge" maneuver when daddy was trying to grab him! Desperate times call for desperate actions. Daddy forgot his german commands! PLATZ! (although he was commanding some new words that i'm sure the mollster will be repeating to her teachers tommorrow)
AFTER clearing the house of her 'informers' she then took down a cake and carefully sliced it into many, bitesized morsels, enjoyed a pre-dinner snack, turned the news to spongebob in the livingroom and dumped out the toybox. I'm still not sure this was the only damage...we'll probably find evidence of more later. I was pleased to see the cat was not shaved.
I hope the siding stays put for awhile...looks like i'll be on the hunt for a new repairman....meanwhile, the sarge is ON DUTY!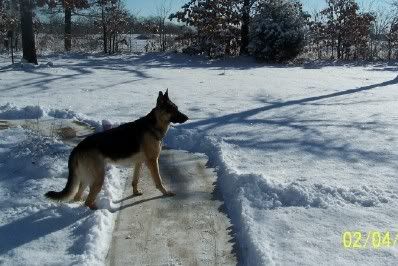 **********************************************************************************
This week we went to Springfield, sold both of pops vehicles and watched Larry and his brothers put up a new ceiling in the sunroom. Yes, we're still working on the estate house. It takes everyone 4 or 5 years, doesn't it?
We took Bill and Ang with us, who were home for Ang's 21st birthday. Usually this would be a big deal in a youngn's life, but since Bill doesn't turn 21 until June 11th...the pub crawl celebration will have to wait a few weeks.
We woke up Gabe, Ally, and Aubrey Jo (the baby bump)...and all enjoyed
some laughs (coffee spurting out your nose laughing, with my crew) and a great meal. Speaking of great meals...Little Bill whipped up a fantabulous lasagna while at home! MY BOYS CAN COOK! *bows* thank you...thank you.
Molly had some difficulties at the end of the day, so a quick goodbye, buzz through a phramacy and fly back home ensued....Sorry we didn't have more time kiddo's.....she can be a wet blanket at times!
For our prayer kids with cancer...this week sees the sudden loss of one child, and the funeral of another....one family prepares to lose their precious boy, and my girlfriend starts the 2nd round of chemo with sweet bennie....and it's horrible...worse than horrible....indescribable. The poison and pain
these children have to endure, the side effects of the poison, and the impotancy that parents feel as they stand by and watch it happen....all for a slice of hope
at total recovery is INSANE! The ongoing nightmare.
Please remember to pray, donate, and hug your kids tonight. These are all just parents like you and me, that drew the short straw...and in case you weren't aware....there are millions of short straws.
Have a great week..and be ever so thankful for what you DO have!
e & molly kate