The trees haven't turned yet, but it won't be long as the
evenings are perfectly cool, and the days pleasantly warm. i soooooooo love this time of year, especially when my boys are home!
Homecoming is this weekend, a special one due to it being their 100th anniversary of the first West Plains Zizzer Homecoming game. (I'm not from here..and still really don't know what a 'zizzer' is...but they seem awfully proud of them! Our symbol is a lightning bolt, and there doesn't seem to be a mascot! Any of yall out there reading this FROM here??? be sure to post up!)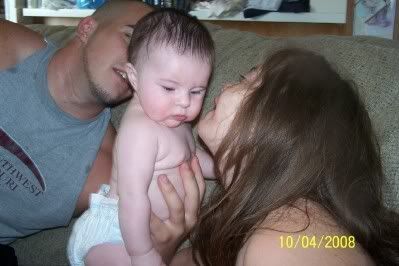 Gabe left the baby with us, and attended the game and various get togethers all over town with his best bud, Bryson...(thanks pop for the fab steak he still gushing over!) Bill stayed home and helped with the baby: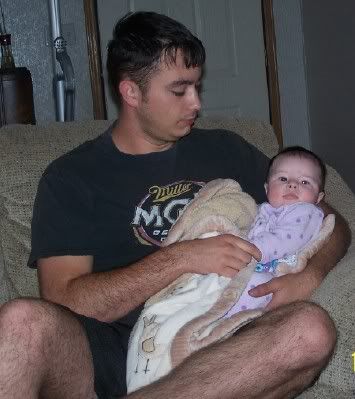 and ate non-stop...and Aubrey, who was 4 months old on the 4th, decided she didn't want to miss a MINUTE of the hoopla, stayed up wayyyyyyyy too much, but managed to sleep ALL NIGHT! (down at 10pm, up at 8am) a FIRST!! YAY!! Although i must admit, between the slobbery face of new teeth trying to appear, and the lack of naps...some of the awake time wasn't as much fun for us as it was for her! Told her daddy he'd have to have 4 adults to care for her crabby-napless days, if he wanted an full night sleep at home!
Molly *sigh* dear molly came home from school early on Friday, cuz she was not wanting to be there and that means SOMEONE is going to get pushed, or pinched, or worse...that ONE big tooth is going to jump on someone's arm!! EEK!! Daddy was called, and was NOT happy about picking her up! There is no doubt that she totally understands just HOW unhappy he was with her...but my mommy heart breaks, as i KNOW what is wrong...and i KNOW she just can't do anything else BUT act out!
I am sure that there is a bug a brewin....and sure enough...This beautiful autumn Sunday morning....her nose is running yellow, faster and in larger amounts than a kleenex can handle....we've moved to baby wipes which are softer and stronger on her little schnoz.
The onset of fall is synonymous with the onset of molly's afflictions.
She has been dosed already this morning...and will be kept down today, in the hopes of being able to return to school on Monday. A slippery slope with her going from runny nose to pneumonia in 0 to 50...so we continue to hope we can handle this first round with Triaminic, rest, the love of older brothers, and of course the return of the Spongebob DVD marathon...something that keeps BOTH babies just entranced: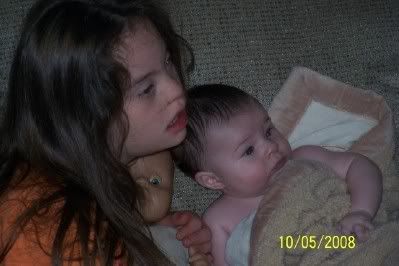 I can only hope that her classmates understand that they are able to COMPREHEND and SAY "I don't feel good" Molly? She just starts throwing her shoes. *sigh*
A Short blog today...limited to the naptime of my sweetest little g-baby. She is SO much different from last week!! This week? She squeals at Uncle Bill and Grandpa (the little flirt) and is starting to squint her eyes at me! We are teaching her to blow raspberries, and i know, deep in my heart just by the way she looks at me...that she loves being at Grammy's house!!
Shout outs this weekend to my parents, and thier 60th anniversary!! woooooooohooooooooooooo! So sorry about the scheduling...i would have done ANYTHING to be there!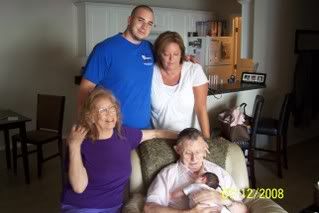 And to little Ben Lee...who has finished recovering from his stem cell transplant, TURNED 6 years old yesterday (HAPPY BIRTHDAY BEN!) AND IS HOME!!..the absolute best birthday present we were all praying for!
www.carepages.com
cp BenTheBrave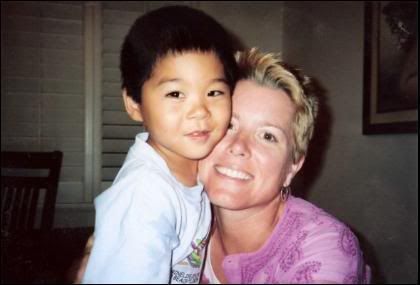 Extra prayers to Coleman, twin to 3 yr old Caden, My Iowans who are displaced to Sloan Kettering in NYC...fighting a relapse. They have found the beast in his spine and brain as of yesterday...so we need to pour them on....we are praying for miracles. This is Team Larson
cp ColemanScott: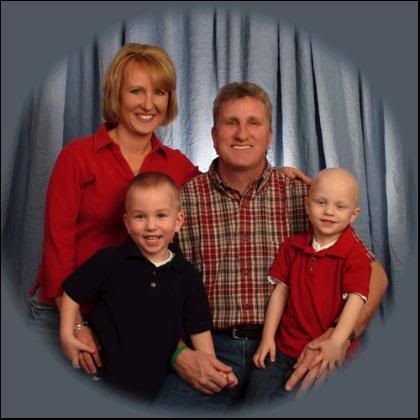 Remember to spend time giving back, paying forward, and remembering
these families in your prayers.
Peace!