It's been a lazy weekend for us, and a welcomed week of no trips, and no cleaning up from trips! I should be scouring the house and giving it the attention it desperately needs, but for the last day or so have concentrated on cleaning the pool...watching movies (the other bolyn girl...awesome) and playing with molly.
She is CONSTANTLY on the move...we are in the middle of our 'dog dayz'... the temps hit over 100 yesterday, so just like blizzard season, we are confined to the house during the day. Missing school and the constraints of the heat have just about sent her over the edge!
She has come up with some new 'larryisms' though. She brought me an empty ice cream cone while i was hauling a basket of laundry. I told her to take it to daddy, and immediately hear him say "Make Mommy Do It!" (he antagonizes any situation for fun)
She promptly brings the cup back to me and says as plain as day...." DO IT!"
ugh....
a few hours later, when i sit to check my email, she pulls me from the chair. I stand and tell her to stop dragging me around and just 'say it with your mouth' when she snipes my computer chair.
She touches the monitor (yes all the new LCD's have been properly inundated with little fingerprints) and says "Dora....Do It!"
She likes the noggin webpage. She cant click well enough to play games unassisted, but they have a scrolling header with all their shows in little squares at the top, and if you roll the mouse over them...the name of the show is announced. DORA THE EXPLORER....LITTLE BEAR..OSWALD! and so on....she loves it, and it's teaching her beginning 'mousing'.
Again, i am please that two more words are added to her vocabulary....although the emphatic "DOITDOITDOITDOIT" in an emergency...i.e. getting her some juice, is quickly losing it's novelty for me......but not, of course, for her father.
The rest of the kids are quiet, my parents are home, safe and sound, as is shauna (despite united airlines best effort)I miss the baby this weekend, and her fabulous parents, and by the sound of Bill's voice yesterday...he's up to his neck in work.
So I'll take today, try to get my act together, but more probably will play with molly, stay calm and snuggly and enjoy the quiet of the little house in the woods. Larry is off to pick up miss kelsi....so im sure that is ALL going to change by this evening!
On the pure humor side of my life, i am in love with the editor of our small town, every day but sunday, comes in the mail a day late newspaper...the West Plains Daily Quill....this is an example of our op/ed: howwwwwwwwww embarrassinggggggggggg and hilarious!!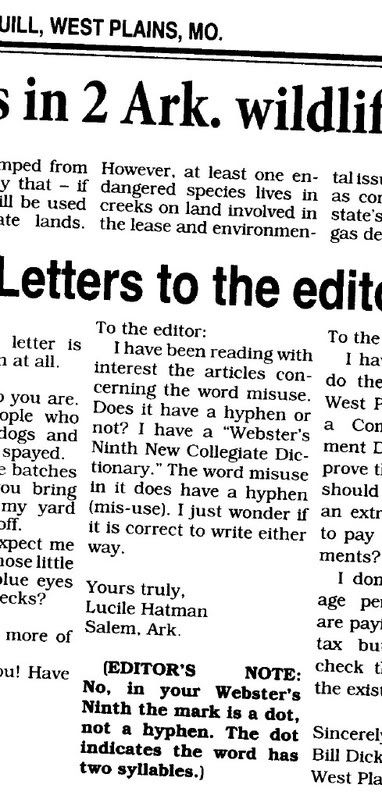 The week also marks the passing of 2 of the carepage kids we pray for:
jordyn laura
http://www.carepages.com/carepages/jordynlauraspage
and david crider
http://www.carepages.com/carepages/DspecCrider
Pediatric Cancer continues to be the 1 killer of our children. The time for us to gather as parents and take action is NOW!! This is a note from AJ's dad....take a second and respond....for the sake of the children, or as molly would say...just DOIT DOIT DOIT!! (and thank you for 10 seconds of your busy day...it WILL make a difference.)
I'm AJ's Dad.
I wish I had no story to tell. Our AJ, my best friend in the whole world, was only 14 years old when he left us on January 5, 2008, a victim of childhood cancer. It still seems unreal to type that. Our world will never be the same.
So I started this because I, like many of you, am frustrated at the sheer lack of awareness and funding for childhood cancer. The idea behind the petition is simple; collect one million signatures to challange the major TV networks to create a special devoted solely to childhood cancer. It's a story you don't hear. Yet it impacts 1 in 300 of our children, and is the 1 killer disease of our kids.
So this is real. This is happening. We have momentum. But we need your help. Here's how you can help:
Sign the Cure Childhood Cancer Petition.
http://www.thepetitionsite.com/1/CureChildhoodCancer"
There is no going back. We can't un-know what we know about childhood cancer. So, to change it, we each have to DO SOMETHING. Remember, "You get what you give".
We love you Age, AJs Dad CarePage –
AJsSpace
curechildhoodcancer@blogspot.com