Up and down...up and down...complete with nauseating music that is too loud and seems never-ending!! This life sometimes gets spinning so fast sometimes I just want to jump and run.....but over there? A rollercoaster!! Damn!

I am at the point in my life, that I'm desperately seeking the bench in the shade away from the midway.

No Mas! No Mas!

It seems futile...in order to survive with no heartbreak, you'd have to quit work, move to a mountain top, have no more contact with the outside world.....share no laughs....cease feeling anything whatsoever. This seems to be the only alternative to major heartbreak....and the lows seem SO much lower..when proceeded by the highs. We are just having too many highs now to go join the Dahli Lama, but I always keep that option open....and some weeks try to avoid anything that may cause me pain. Sometimes it is just unavoidable. Sometimes Life Sucks!

This week marks the first swimming lesson. Molly Kate was definitely uncomfortable with no floatie, meeting a stranger to entrust, and seemed to contemplate her own immediate future as we waited for him to arrive.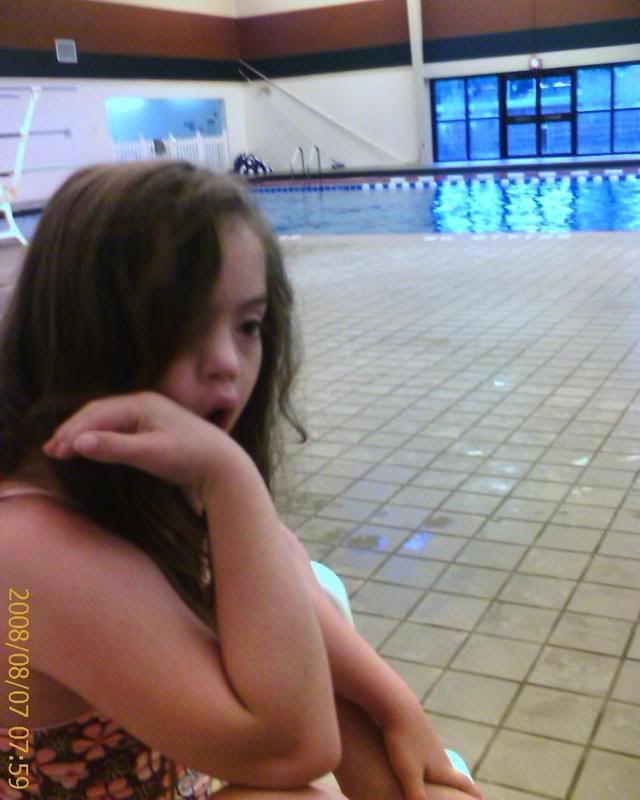 She warmed up to him soon enough, and almost enjoyed herself. She was very uncomfortable with him touching her belly (trying to lift her into proper floating position) and although it was detrimental to the lesson...it warms a mom's heart. "Hey! not just ANYONE can touch my tummy like that!" To all parents, particularly emphasized in parents of children with special needs, that boogeyman weighs heavy in the back of our minds. It's great to see that she recognizes an uncomfortable feeling...and reacts to it.
No worries with this young man. HE IS AWESOME! Matt is the son of my ex-lawyer, who became judge. He also attends college, works the register in the pharmacy part-time, and is a lifeguard. He is as pure as a man-child can be, without being enhanced with that extra chromosome, and has been insistent on getting a few lessons in with Molly before he embarks to his new life in China. He's been accepted into a gifted college exchange program for a couple of semesters, and we are all so proud of him. I truly believe he should take me with him, as I worry that he could be taken advantage of, given his spirit......but like the rest of my kids you just stand back and watch them fly. Matt will be famous one day, I know it. A personality like his shines like a lighthouse beam in this foggy world.
GOOD LUCK MATT!! WE LOVE YOU!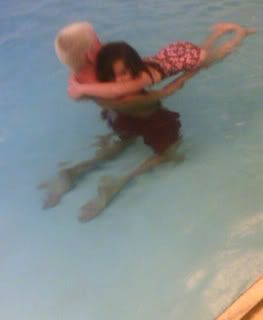 Kelsi was down this week. She is the epitome of teenagerness....and sooooooooooo intelligent! I cannot wait to see what she's going to be when she makes that turn into adulthood. It's so exciting to see them at the last jump before the plunge. I'm sure it will be spectacular. We took her back to KC on Friday, and I rode along to Springfield and jumped off there to get my 'baby fix' for the week.
Little Aubrey Jo is growing so fast...if I take a weekend off, she's a whole new person when I get there! She has my chin (or lack of one) poor little thing, but somehow I think she will be Way Beautiful despite it! I didn't think I would ever want to wish it on anyone, but now? I beam with pride in looking at it, in seeing my genetic markers continue on in another generation. It is an AMAZING feeling. SHE'S A MILLER!!
She is now mimicking daddy's faces, and he can cajole the BIG GOOFY GUMMY GRINS outta her!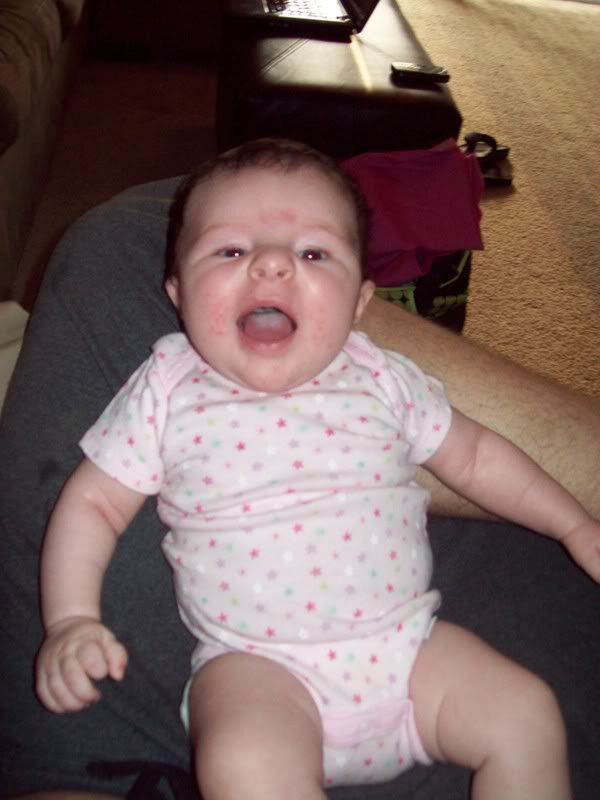 That's something that even the wonder-mommies can't do.
We are the providers, Ally...take heart...there is no one EVER going to be, what those two are together, daddy & daughter. I know it's frustrating, because I look everyday at my "Little Trooper" Molly Kate.
She goes to daddy for love, and fun and laughs...and comes to me when she's hungry. She says "Daddy" lovingly....but calls me "I" in a demanding sort of way. She can point her finger at you and say "Shhhhhhhhhhhhhhhush" determinedly (giving orders like dad)....but refuses to tell me "I love you". Such is our lot in life. We, the mommies, the ouch fixers, the Kool-Aid makers, the ones that understand that bread has no place in the life of a hot dog. NOT FAIR!! :-)
I particulary loved it that molly was so willing to introduce the big ugly baby...to the little beautiful one: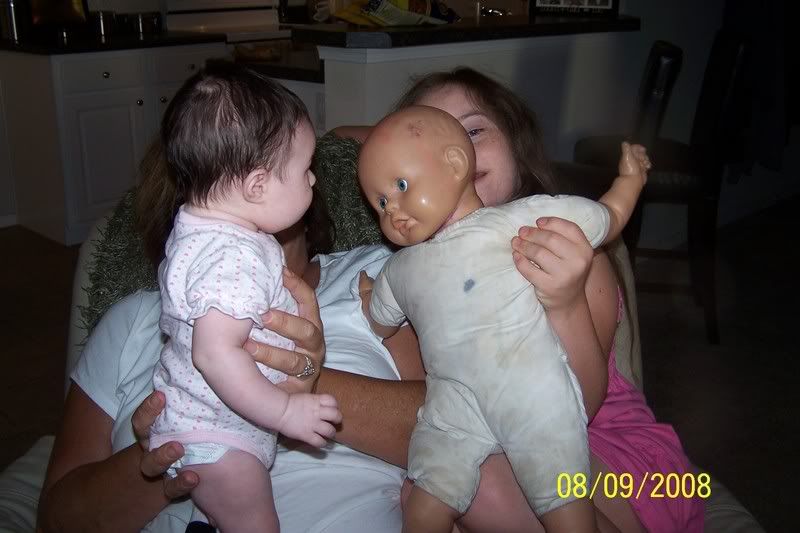 and just WHEN did they start making swimming suits this little???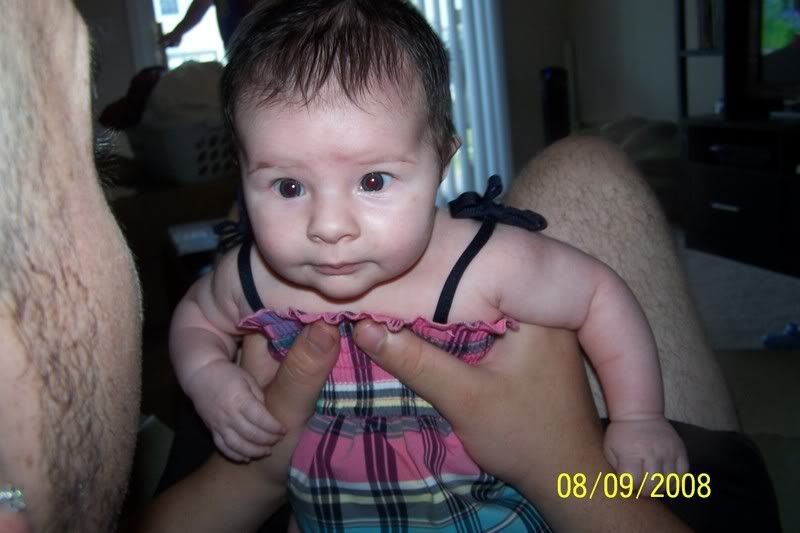 Oh, and all that lovey-dovey stuff seems to carry over to cats, I guess. This is Hattin, letting the sarge know JUST how much HE was missed on our Friday trip!!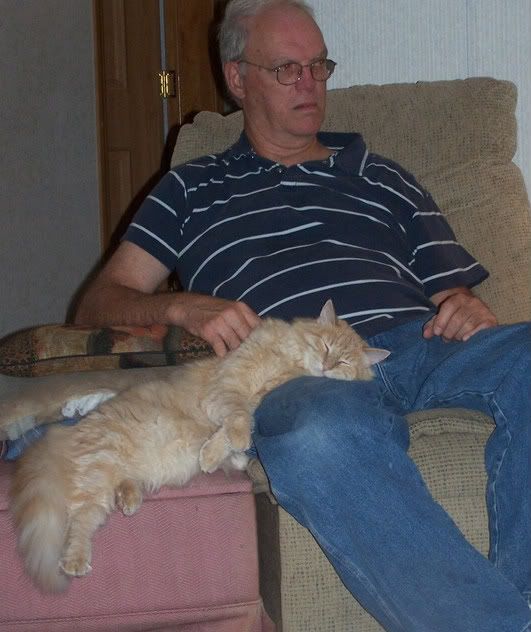 The only contact I seem to have with him, is an occasional bite, and kitty-screaming if I'm running the canopener! The two cats have managed to reach an accord, though...when it comes to naptime. It seems the only molly and dog free part of the house is now a "no-fighting" zone....that is molly's bedroom where the important things in life -like a good nap- can be acheived: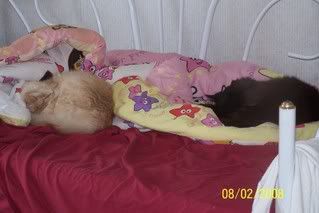 The Breaking News of the week? My parent's have finally succumbed to the constant nagging of their daughters...and have agreed to move in with us. 6 months here in the mild Ozark winters (we still have an occasional snow, but NOTHING like the poundings mother nature delivers to central Nebraska) and in the summers? They'll migrate to Colo Spgs with my eldest sister...they'll get to forgo the joys of tornado season, and the dog days of summer which this week?? ARE FINALLY OVER!!!! YIPEEE!!!!!!! More on this story later!
And regarding the wayyyyyyyyyyyyyyyy downside of this weeks Carousel ride:
Another guy from work...Gordon Voelschow: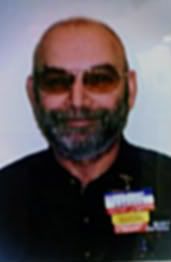 Gordon is an asst manager at the store. We met about 15 years ago, when he came to build the new supercenter. I absolutely adored him from the git-go! He's one of those guys who, when you run up to him and yell THE STORE'S ON FIRE!! would just smile, change directions, and walk toward the fire extinguisher in the same determined step he had been before.... and maybe flip back a funny story on his way. A no sweat...no worries....don't take yourself so serious - we'll handle this kind of guy. He was just a few years older than me, but seem to have all the answers - while I'm still struggling with the questions! It surprised me he didn't whistle the Bobby McFerrin "Don't Worry, Be Happy" tune while he worked.
I saw him in the back last week, right after I got my latest Aubrey pictures developed, and said "heya Jordan, (don't know why, but it was his pet name from me) have you seen my grandbaby lately??" He laughed, made fun of me as he let the grandchildren pics flow out of his wallet...and teased me about having only one. The one thing about this man that always stood out, was the love/pride/joy he had for his family. He glowed whenever his wife was with him in the store...teased her unmercifully...and she always was smiling.
He loved his black cowboy hat, his boots, his horses, and something I didn't know...in his off time (really none at all when you're in management) he donated that time and those horses to hippotherapy for children with special needs. HE DIDN'T TELL ME THAT!
Of course, that's Gordon....walking that determined pace...doing everything for everyone - changing lives and loving every second but never bragging about it. He definitely did not fit the pattern of a Walmart Manager.
Gordon went to the Poplar Bluff Walmart to oversee a remodel there. It was Day 2 for him, Wednesday, when he went to take a break, and dropped on the stairs of a (we think) massive heart attack....Lights Out-Party's over. No Goodbyes, No Fanfare...just gone.
Godspeed Gordon.
It IS true when they say "the good die young" Take heart, all of you that have lost little ones....the ultimate guardian just made angel ranks, and your kids could not be in better hands there. We will miss him immeasurably...and stuggle to understand that his work has to continue, just in a different place.
We are jealous that THAT place is Heaven and we have to remain here, anxiously awaiting the Ultimate Reunion.
Lesson for the week:
Take the time to tell your friends, workmates, and all those people that make you smile everyday, just how much you appreciate them. They make the ride bearable.
And make sure that when you speak of your family...EVERYONE knows how much you love them. Let the world see that love....it seems easier to complain about who broke what, or who SAID what...but do we GLOW when we speak about them?? we should...if not for all the right reasons, then...
In honor of Gordon.