School and work both start tomorrow, and the weather, which was 70 degrees yesterday, is threatening to make a blue day worse, by returning to winter. The great thing about living here???
we have tastes of spring all winter long....usually once a week. It also serves to be the bad thing about living here. One thing is for sure, you never pack away your summer clothes!
I would like to say that we are currently sitting in an IMMACULATE house, which was my original intention of taking this time off...but life also has a tendency to get in the way.
Movies,
playing with molly kate,
serving at the sarge's every beckoning,
and getting mom back up and on the road to health (as well as dad) seem to have sucked up all the cleaning time...but I do not regret one single "wasted" minute!
Mom missed every Mass throughout the Christmas Season, and finally got to go today, where they courteously had left all the decorations up. She came home BEAMING!
I did get my closet cleaned out (2 construction site bags to goodwill and one to the trash) and currently have 3000 plastic hangers for sale.
SPACE BAG HANGERS are the BOMB!! and highly recommended to all of you as short on storage space as me! (Who knows why he feels the need to hang onto that leisure suit??)
Molly and I slipped away Saturday morning and went to play with Aubrey Jo and parents in Springfield. I wanted the baby here with me all week, but they had other priorities, and THINK they are in CHARGE!! as IF!! (actually...we had the bug in the house, and did NOT want to share that with the family!)
OH SHE IS SOOOOOOOOOOOOOO BIG!!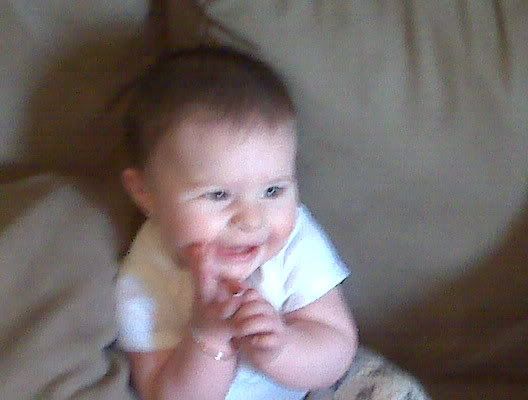 She's hard to catch on a blackberry (yes i forgot the camera)...because of her constant and fast movements...but there are diamond stud earrings in her little lobes, and a silver bracelet on her arm....such the little girl!!
she's rolling around now
(smashing in her pretty face on furniture)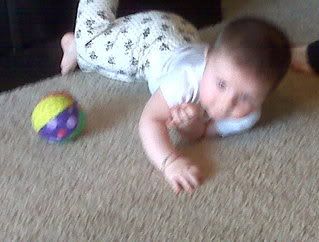 sitting up
(falling over)
and almost crawling
(tapping one foot behind her as she inch-worms up to furniture to smash her pretty face into or molly's lap)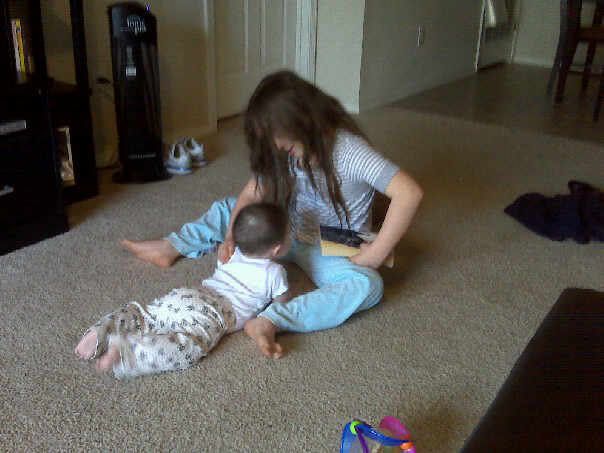 Her eye-hand coordination has progressed to the point of being able to pick up the cheerios, and maneuver them to her mouth, as well as spying the long hair of her doting aunt, and BAM getting a handfull and a tug in before anyone knows it's happening!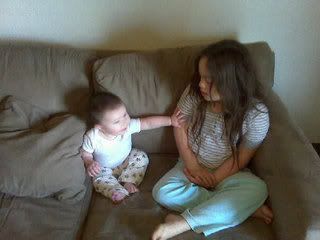 Conclusion? If she survives this week without any more bruises...she will be officially a Rug Rat!! (this is when they graduate to stitches!) She is just that close to being fully mobile.
She recognized Molly immediately and was thrilled to see her!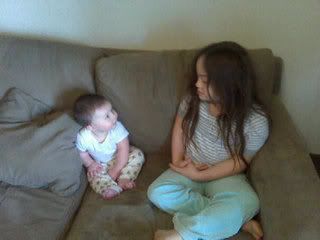 All of us made a run to Tar-zhee (Target) and although we missed all the good sales, there were still a few to be had. Molly ended up with a new Dora Puzzle, a new Spongebob, added to the growing family of 500.... but AJ got next month's wardrobe. This girl is growing at the rate that we will have to upgrade it monthly, for sure! Love it that mommy knows how to browse the clearance racks!!
As usual with shopping trips that mommy is looking forward to, there was a huge fight between the kids at the git-go!!
and I'm not talking molly and the baby...
molly and GABE!!
It seems that this mommy's parenting skills need some tuning up (cough cough) as I just try to make things right so that molly is happy (an enabler), but Gabe thinks molly is being babied and she should just DO WHAT HE SAYS!
Lemme tell ya, 15 years difference in age is no barrier when a sibling fight breaks out...I cannot even DESCRIBE the looks Gabe was getting for yelling at that "poor little girl with down syndrome" or the delight that appeared on their nosey faces when molly threw her shoe at him!!
I HAD TO SEPARATE THEM for Heaven's sake!!
We made that one a short trip, and then stopped off at O'Reilly's for a new starter, and did some work on Gabe's truck: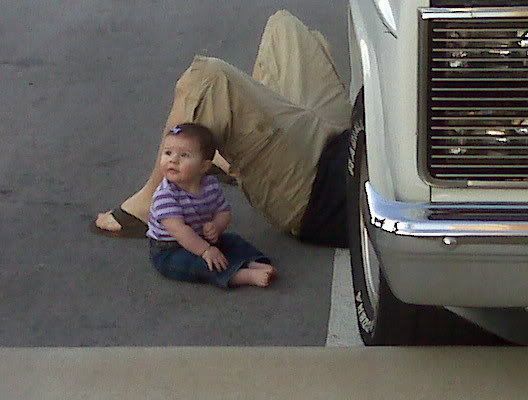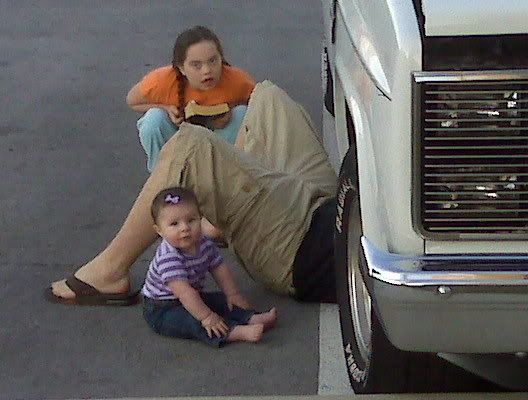 (Molly's hair is Gabe's handiwork...next time? we teach the art of the french braid)
And opened a few late presents...did someone say PRESENTS???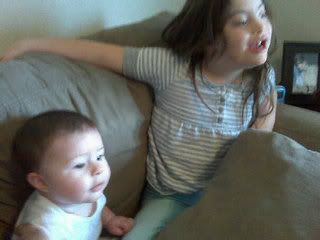 yay!! we both LOVE opening presents!!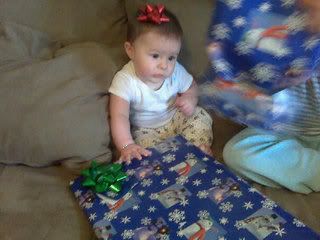 this is what Gabe and Ally got us....one of 4 portrait sittings, this one just made my heart melt.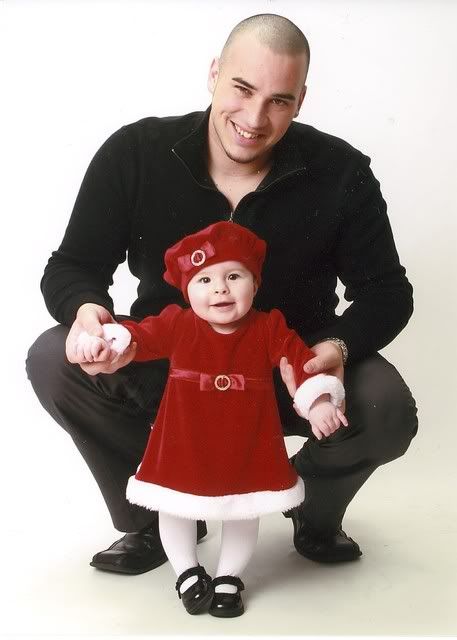 Alas...the day had to come to an end....Molly didn't want to leave, until i mentioned french fries...and then she was OUT THE DOOR!! There is no love, like the love of a girl and her McDonald fries.
Wish us both luck in trying to fit back into the "swing of things" tomorrow and please pray for her teachers!!
.I hope yall's transistions are smooth this week also....Good Luck with that....
and speaking of transitions...my little twin Coleman has taken up residency at a Hospice House. We continue to pray for a miracle.
www.carepages.com
cp ColemanScott
Stop by and say a prayer for this beautiful family who are such an inspiration to all of us!