I didn't get last weeks blog copied over here, so you'll
just have to go to myspace and read it there I'M TOO TIRED.
I think I'll just direct them all over here from now on, as
this one shoots to facebook, and i only have to type it once!
ok, here we go...this is my life (my kid's lives)
First Molly got an infection...we were quick to diagnose it
(ok, she did throw her pretzels at the bus driver TWO MORNINGS)
and then got her on some penicillin. GUESS WHAT?
Molly has developed an ALLERGY to PENICILLIN!! I dosed her once,
and this is what i got:
Day One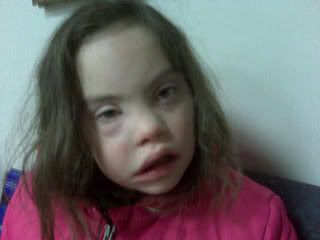 Emergency trip to the doc, got an antihistimine, and
had to have compounded a new anti bi (molly won't take pills)
and this is what we had day 2: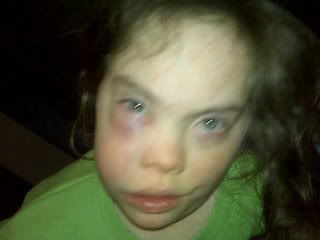 PLUS she is now in a world of pain, as NOTHING is touching the
original infection! EEK! We go back to the doc and get a blast
of steroids (IM) in office, and then to the hospital to get BOTH HIPS
hit with clindamycin! Molly was NOT HAPPY!
Day 3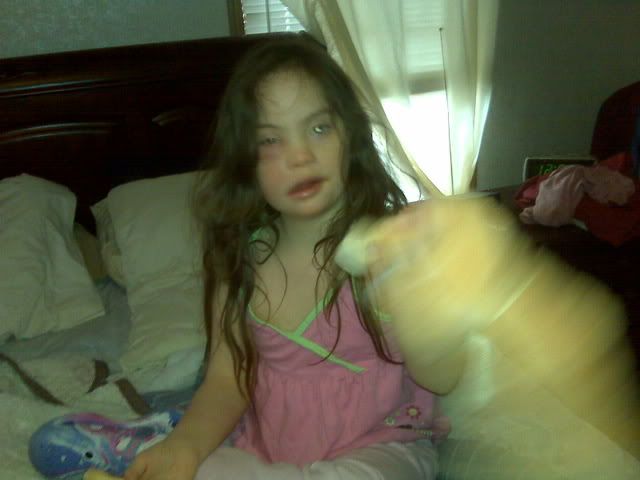 She's swingin a monkey there the nurses got her at the hospital...quick side note...nursey kept asking me if there was any health issues with molly aside
from the current emergency....i kept saying no....FINALLY she came right out and asked if molly had Down Syndrome! hahahahah i guess i just ASSUME
everyone knows that....but her eye swelling was such that it could be confusing!
Only one side of her face was affected, which was really freaking me out...looked more like bell's palsey than a reaction to meds...
She is back to terrorizing the cats, dumping her toy boxes, and leaving pretzels crumbs all over the house today.... YAY!! Mommy and Daddy actually slept last night!! DOUBLE YAY!! She is still a little swollen on one jaw, and her eye is discolored (looks like a red shiner) but her ATTITUDE is BACK!
Shauna??? Shauna ran her first marathon in Orlando last Sunday, and finished strong with a 3:44:50! She kept up an average pace of 8:26 min/mile! I AM SO PROUD OF HER!! (this is a shot of her last 1/2 marathon)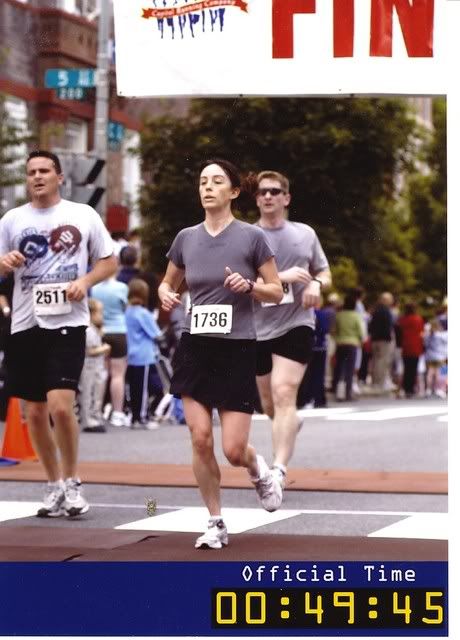 Her and Fritz also wanted to be in on this weeks Inauguration, but tickets were expensive and non-existant! So (drumroll please) After a $900.00 fee for the both of them, and background checks complete....Shauna and Fritz will be vending Tee Shirts/pens and other Obama Memoriabilia at the Fountain next to the Capitol Building!! These two crack me up....they are the epitome of 'WHERE THERE'S A WILL... THERE'S A WAY!" Congrats all the way around, shauna, and we'll be watching for ya!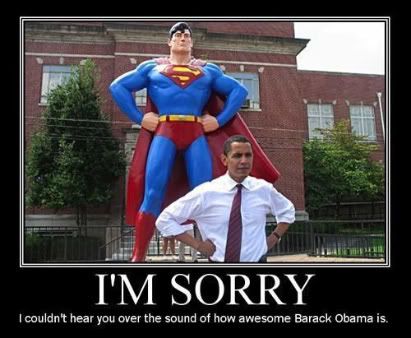 Gabe? not to be outdone with the others keeping my heart working overtime... GABE PROPOSED TO ALLY!! I know he's been working on this 'ring thing' for quite some time, and was SO STRESSING over the whole ordeal! D-Day was SUPPOSE to be on Ally's birthday (Jan 20) but her mom and stepdad came down this weekend (Gabe had asked her mom's permission some time ago) so he went ahead and did it at supper with them...(yes, the waiters had champagne waiting) I KNEW YOU COULDN'T WAIT, GOOBER!! CONGRATS!!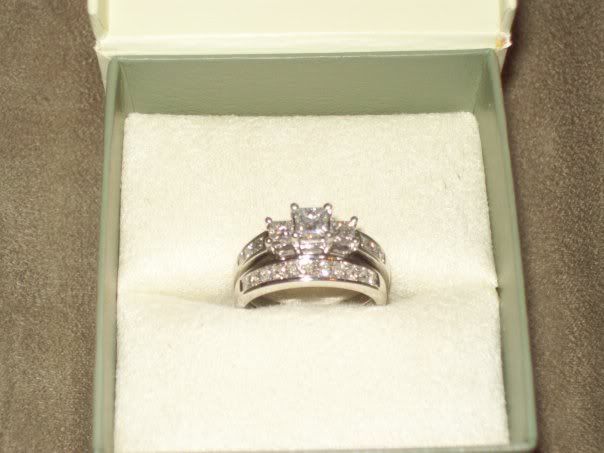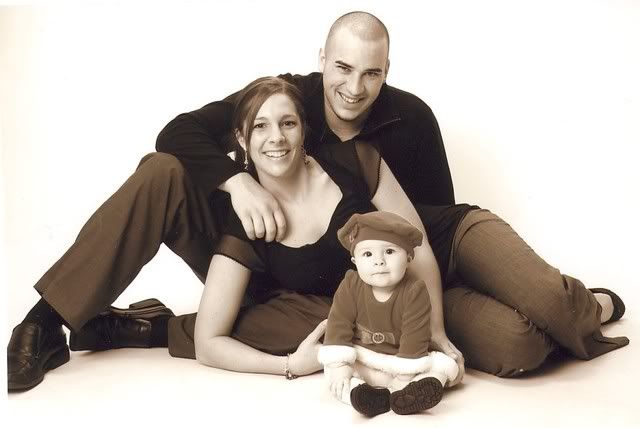 And my beautiful Bill and his Angela are home this weekend. I have no doubt that as soon as he saw molly's pics being text'd around, he had to get here to see about her on his own. He also has in tow a new Australian Shep/border collie puppy. She took a likin' to my mama: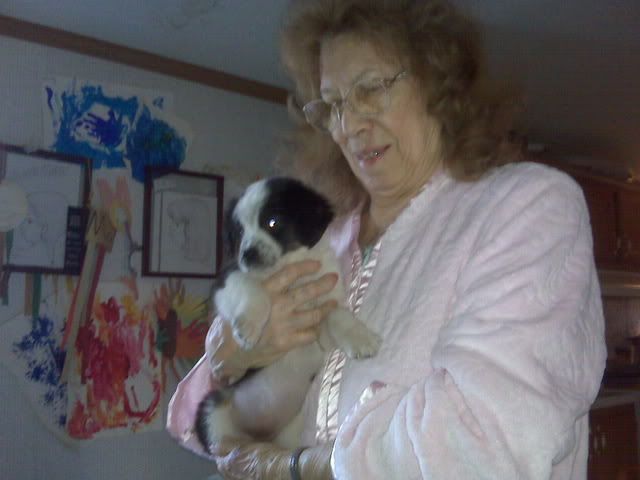 Not to worry, they still have the little SHITzu with them, the new puppy will be raised to help with the cattle. Yea, my bill has cattle, horses, chickens...ALL the works on a hobby farm IN ADDITION to everything else he does...*beam*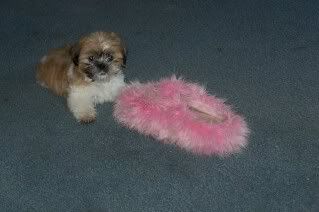 as well as the monkeys: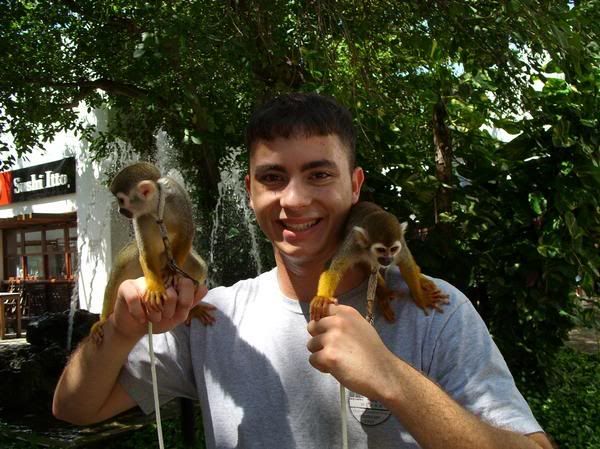 So how's about THAT for a WEEK!!
Thanks to my co-workers for covering me while i had the meltdown with Molly, to my boss for being so understanding, and especially to my Doc and his staff.
I KNOW when i am in "freak out" mode that it is just no fun to be around..your caring, empathetic professionalism is OUTSTANDING! Shout outs going to THE BEST DOC IN THE WORLD, Richard Bowles...as well as Shelly and Jo Beth! THANK YOU!!
To the nurses at OMC that made an awful day better for my little miss, complete with rides in a wheelchair, and a new purse with a ty monkey in it!! THANK YOU!!
To my sisahs? thanks for all the prayers and just being there with me while i waited for this to play out. Nice to have someone there with ya, when walkin a path like this!
Next week? I'm hoping i have NOTHING TO REPORT!! ha! j/k....I'll fill you in on the Inauguration then, and if you want some authentic souvenirs??? I gotcha covered!!