WE ARE HEALTHY!
Such sweet words! after the hell that was last week, miss molly
has bounced back to 100%! I cannot believe how fast our lives
can go from 0 to SCARED in 0.5 seconds. I cannot remember
being SO grateful the first time i walked into my bedroom, and
found toys and pretzels all over the floor! YAY! SHE'S BACK!
We have been keeping everything pretty low-key..have had some
early bedtimes, and just one morning at school where she was
"out of sorts" but she bounced back quick from that without
"mommy intervention" Shout outs to her team at school!!
Saturday, we decided to venture up to Springfield, and check on my OTHER baby! Aubrey Jo is growing in leaps and bounds, and her parents are constantly in a state of growth. They are realizing their dreams.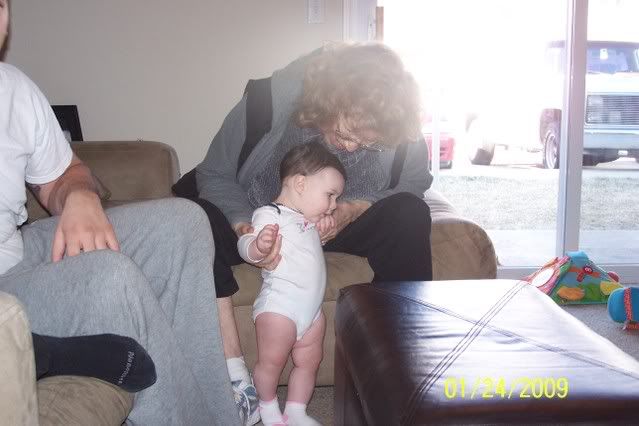 (check out those gams...that little girl does NOT miss a meal! OMG! She has my THIGHS!! :-)
They have found a house to lease, close to where Ally is student teaching, and one that has a big back yard complete with privacy fence. There will be a spare room (as they have lots of company)as well as a nursery!! It's beautiful, and in a beautiful, quiet neighborhood on a cul-de-sac. CONGRATS! Move day is set for February...although since the house is empty they are going to try to do it over the next month...one load at a time.
In the meantime, before their cat can be an outdoor kitty, they
got him little rubber toenails, so he can't accidentally scratch Aubrey's
face! hahahah who knew? When he scratches at the glass door to get
out now? He goes...squeak squeak squeak!! Too funny and amazing to me!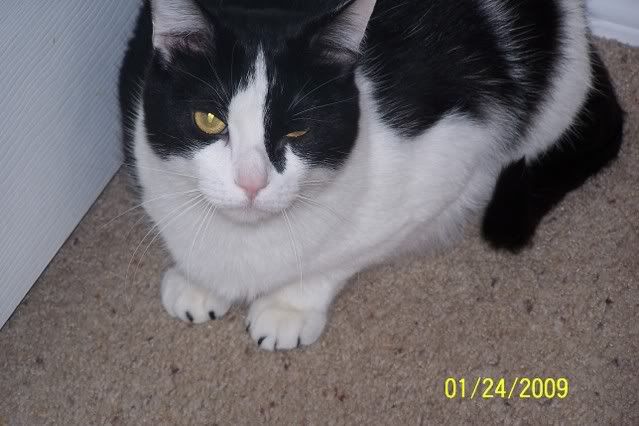 This is a shot of the angel's eyelashes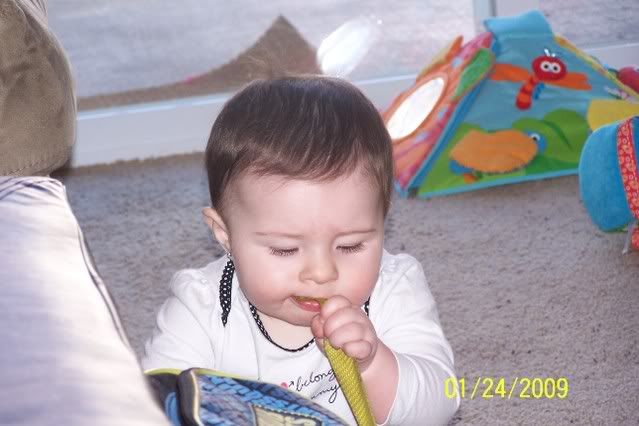 and the look on gabe's face as molly picks Aubrey off the floor, and
carries her to daddy. No pics of the incident, as we all just FREEZE!!
But Molly is careful, and just wanting to do what's best! EEK!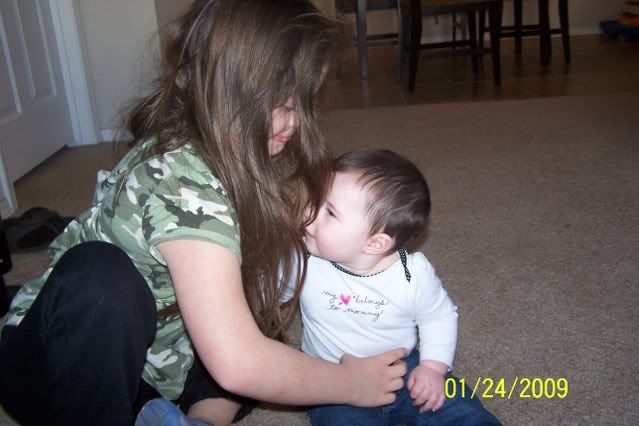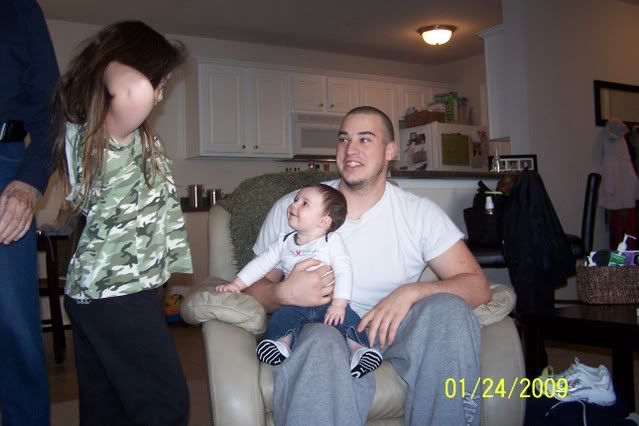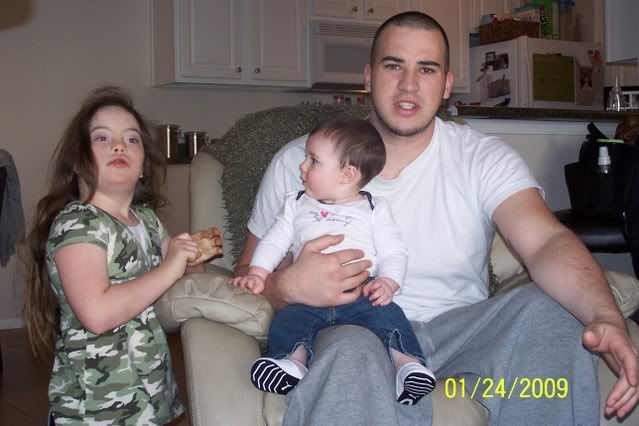 Aubrey loves her gramma, but is obsessed with Molly (and molly's long hair)
I see a long life of friendship between Aunt and Niece...and it warms my heart)
Diesel the dog took a liking to gramma and grampa, and settle in for
a quick nap with them, after a big lunch at red lobster!! YUM! He
is so goofy...here he is with one of Aubrey's toys he stole...laying on
his back and throwing it up and down! We have weird animals!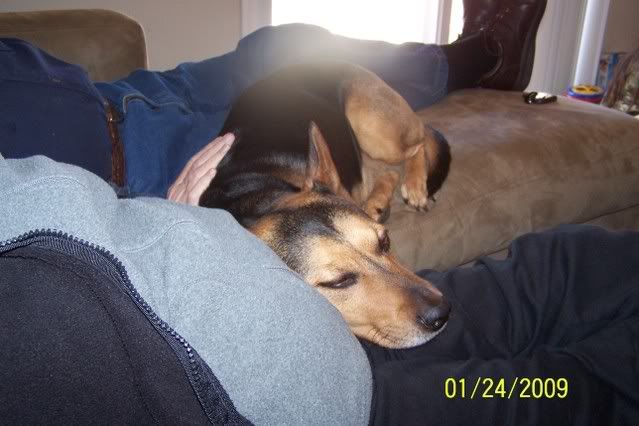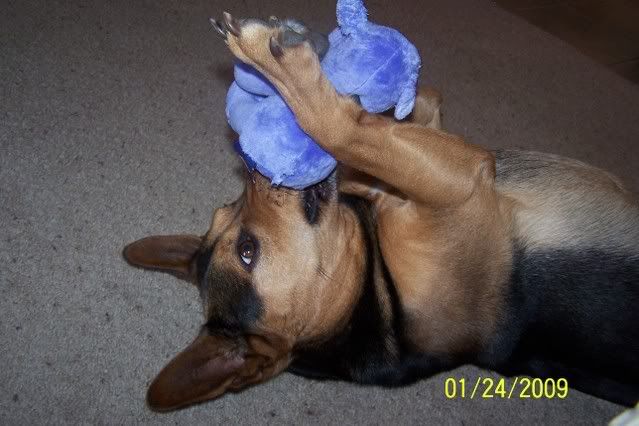 Then some playtime on the floor. Molly is LOVING all of Aubrey's
developmental toys...and the big ugly baby got to take a ride in
the Jumping seat...although her feet couldn't reach the floor. Cracks
me up as soon as Aubrey went down for a nap, molly sniped the
boppy pillow in traditional DS leg position!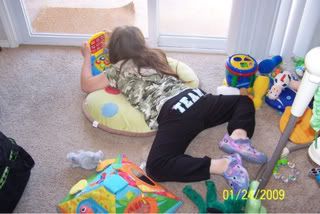 Molly took care of the whole "too short of legs" problem...as well has adorned
BUB with a tiarra! (teething ring)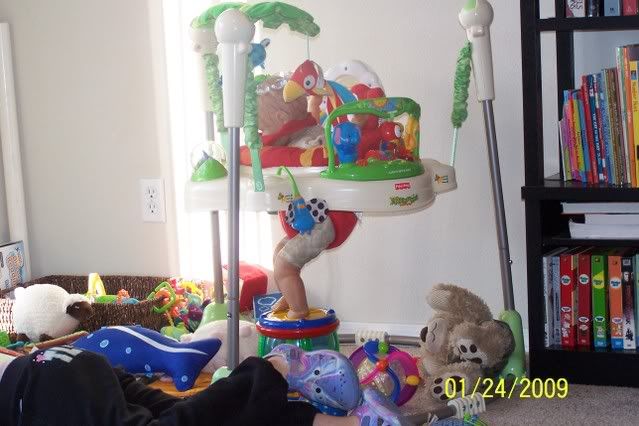 This week we are facing another winter storm watch...UGH! i am
SO READY FOR SPRING!! so there are movies, puzzles and a
beef stew brewing on the stove.
A short clip of a typical day at Ally and Gabes...as you can tell
as much as molly loves the baby....sharing of the SpongeBob
Back pack?? ohhhhhhhhh that's a tough one!!
Life is good when everyone is Healthy....I won't take it for granted again!