where have i BEEN???
I've been in the back yard!! HOlee MOlee...i was hoping to come in and show you our project...BUT IT ISN'T DONE YET!! When it is, it will look like this: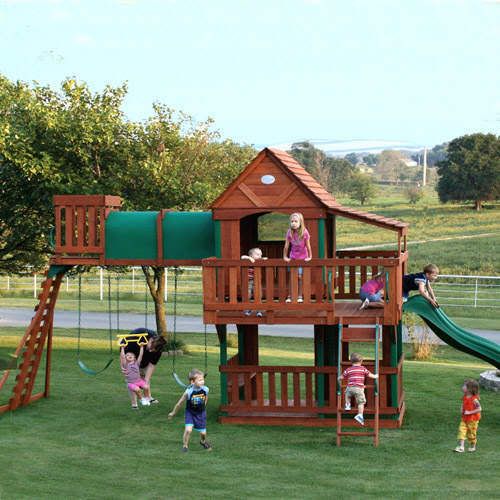 but as of now? it is just the two story base, and THAT took 3 men 4 DAYS!!
Molly keeps bringing us the picture, and saying SWING? WEEEEE ??(her word for "slide" is WHEEEEE)
Yes, Rapunzel...one day this year there should be a swing and a slide on your tower!
If you EVER attempted such a project...take the week off and make sure you get an RX for PROZAC!
We laughed at the fact that we could have it assembled for a MERE $700.00!!! now? I'm thinking, maybeeeeeeeeeeeeee that wasn't such an outrageous price!
School started and with a few bumps.
First, our beloved bus driver (rita who also drove the bus when the OLDER kids were in elementary school) lost her mom, so she didn't start the year. JB did. JB is a bearded man, probably 7 foot tall and weighs about 400. He is driving the new BIG AS A TRAIN school bus, will all the bells and whistles, and molly DID NOT LIKE THIS ONE BIT!
so mama drove her in on days off.
THEN they didnt start her special classes for the first week, and even then? Miss Kristie the speech teacher, lost her FIL, so she has still not been there!
Blessings out to both families.
We are working the calander here, and molly has gained a new appreciation for the weekends. I'm back at work full time, so today was celebrated two-fold!
Last night? Stand Up to Cancer aired on television...one section featured King JuJu and his mom's words. Her's is the fourth story to be read, and she got to be in the audience. CONGRATS MIMI!! Your hard work keeps this precious childs name spoken, his memory fresh, and the fight continuing!
I cannot wait for a cure to be found! The scientist working on it last night, sounded like it could be JUST around the corner!
Other than our rough school start...things are Fab here. Molly had BOTH her brothers home last weekend, and we all got to share watching shauna run a 1/2 marathon in virginia beach...online!
She did fabulous, and is working on the next one...and her first full marathon in Orlando in January!
I'm thinking we all need to be there LIVE for that! YAY!
Next week, dear readers...back with a MONTAGE of the project! and hopefully with pictures of the FINISH!