well, except for the whole Joplin tornado thing, and the 3 weeks of searing heat that followed it! We FINALLY got a break from the heat, and on the day of the (DSGO Down Syndrome Group of the Ozarks)Buddy Walk. WHAT a BLESSING!
Got to Spg early, Ally was already off taking the Praxis to open up the ages of kids she already certified to teach (now middle thru high school) I was amazed that even though she had this big event to prepare for in her life, she still had her bizness "Whole Hog Barbeque" as a sponser for the Buddy Walk, AND a Birthday Party to put on!
Gabe was getting the house ready for an informal barb-b-que they were hosting honoring miss Aubrey Jo's 3rd Birthday! We met the other grandparents in the backyard for a pool party, and Larry headed for KC to pick up Kelsi: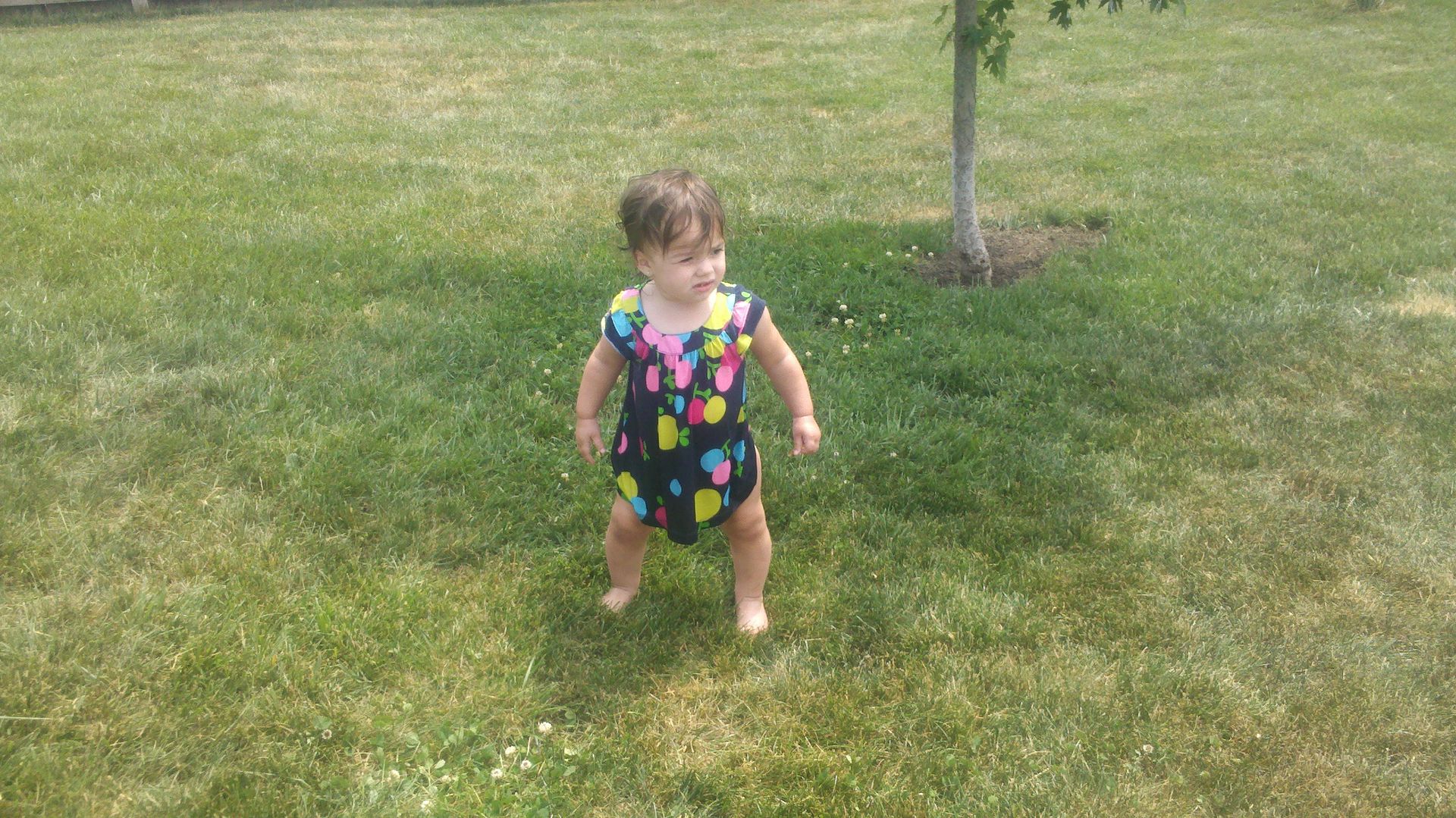 Ally's mom Chris, and her hubby Steve (the artist) were already there enjoying the beautiful day: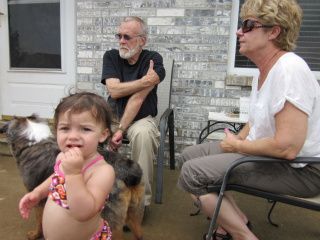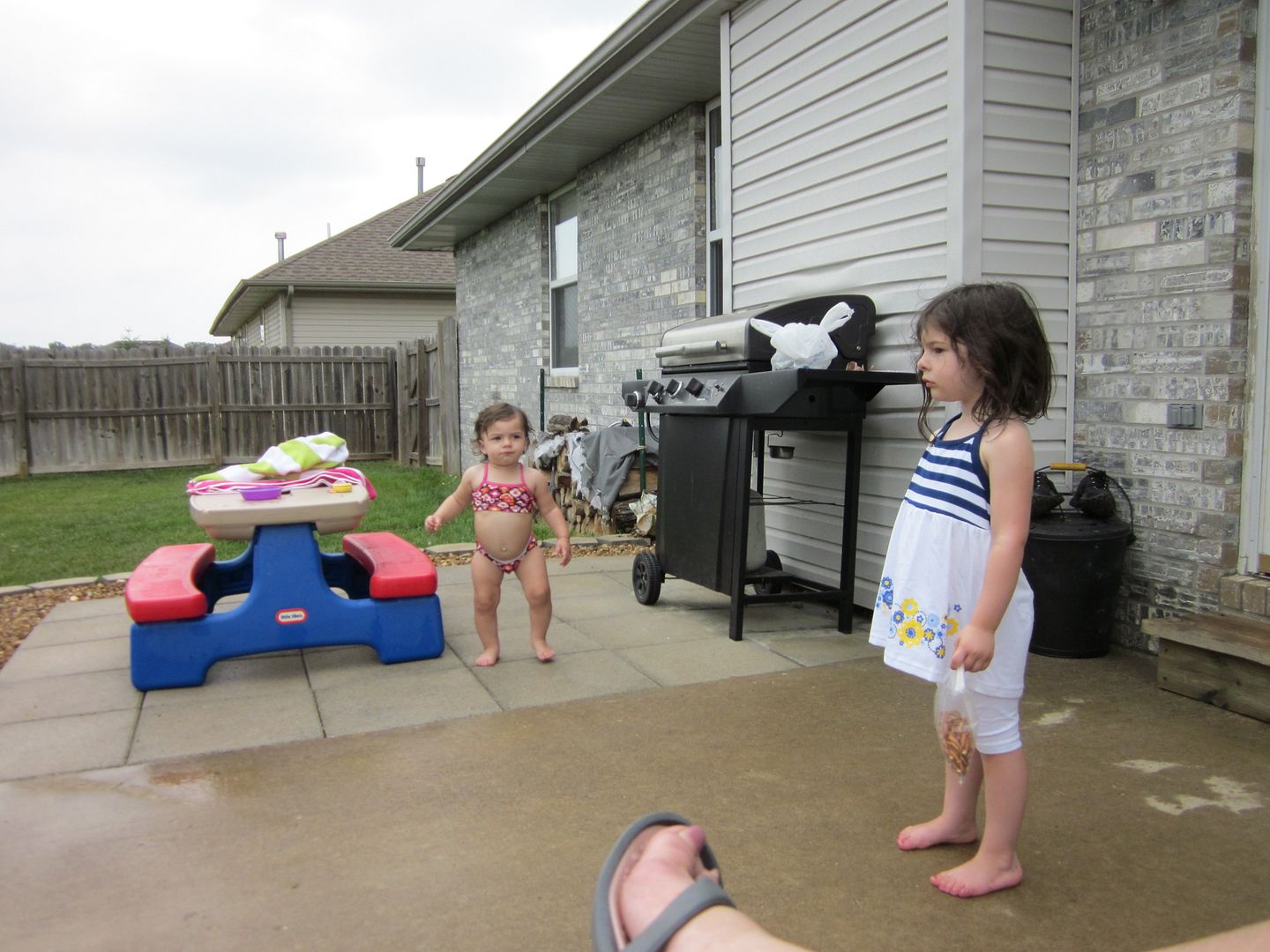 I hadn't given Gabe a graduation present yet, mostly because he couldn't decide what he wanted....when it dawned on him...PATIO FURNATURE!(and maybe new siding to replace the spot where the grill WAS :-)) They love their backyard, but it just wasn't set up for dining...so off he and I went to attempt to find some.
That was a disastrous shopping trip...we hit every store in Spg that had patio sets, but they were both cheaply built AND overpriced...as we resigned ourselves to folding chairs and borrowed tables when he spied a store just minutes from his house and YAHOO!! found the perfect set and a store owner who was negotiable and which matched the chairs they already had! We passed the big test when Ally got home and was pleased *whew*!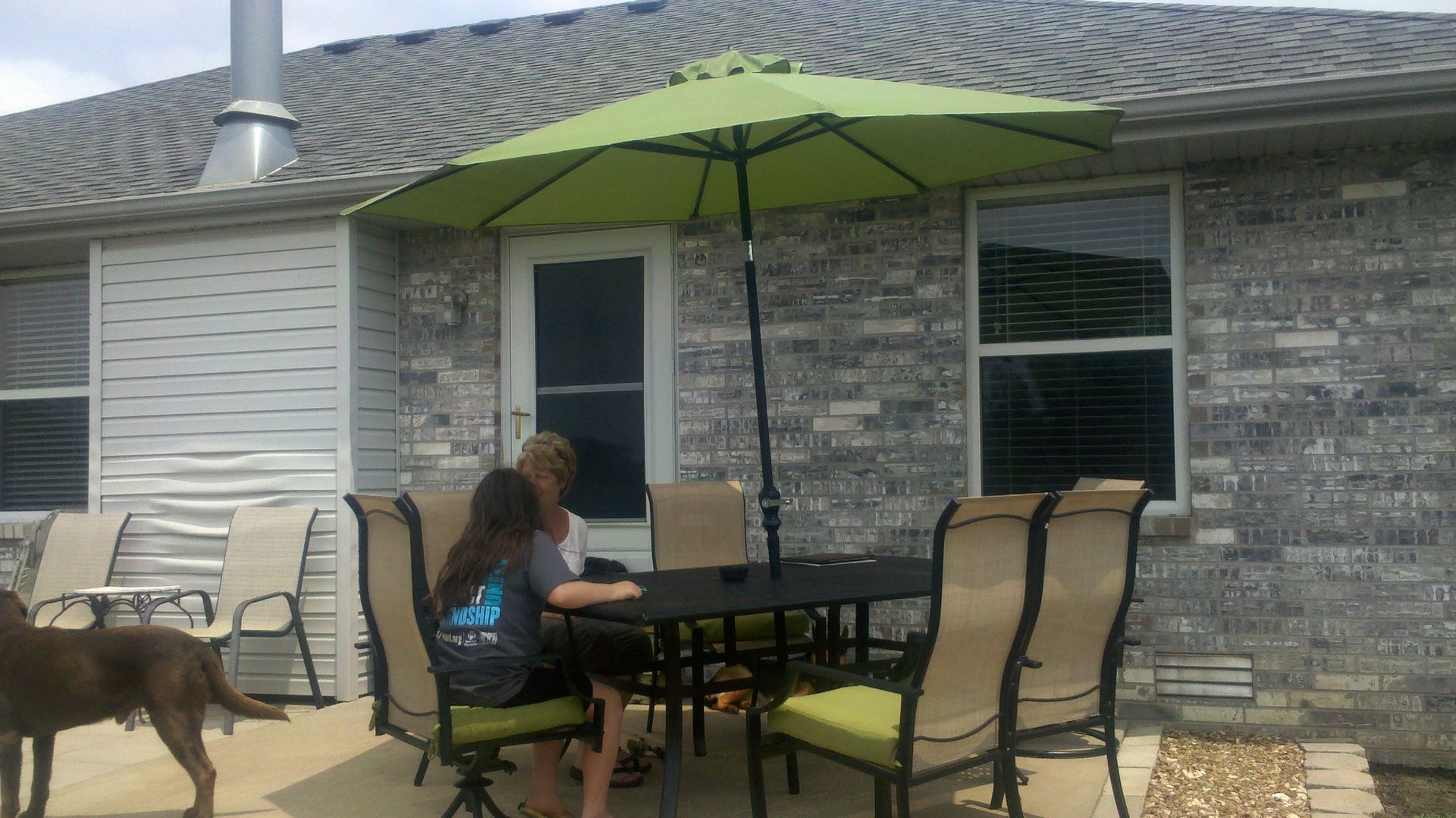 The mail was delivered, and perfectly timed the long awaited confirmation of many years of work...TWO DEGREES!!
Just after Ally arrived, we sped off to the ball park! Thanks to Domsmom Cathy Ward for the R-word Tee's to make an entrance in!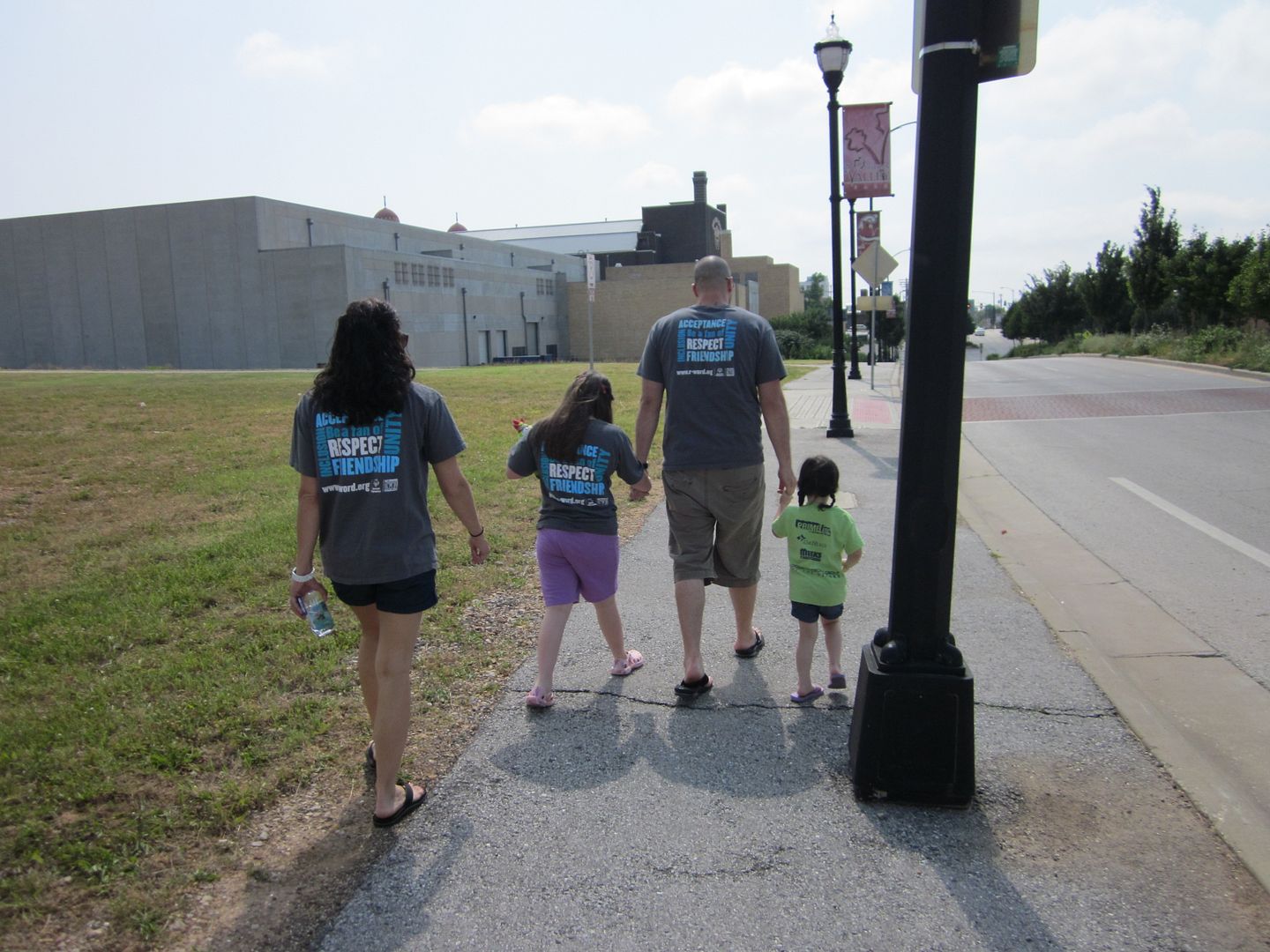 Got to meet Elena Thaemlitz...had no idea she was so young and pretty!! :-) OR that we had mutual friends...i.e. Allyson's Boss! Thanks to a lady who works tirelessly to bring a DS Group to our neck of the state.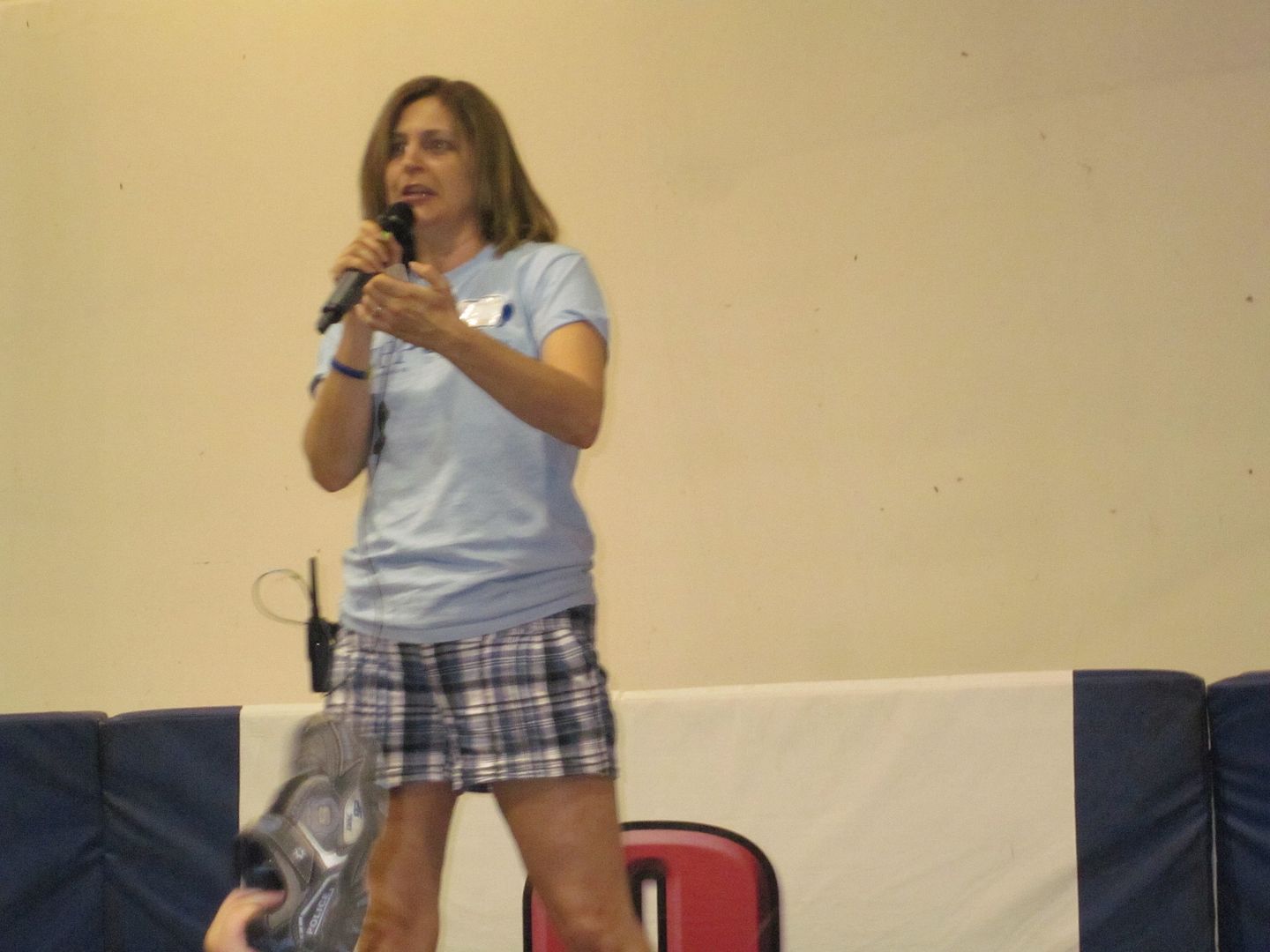 we did some face paint...and this is not an easy task for a child with Autism, but she wanted it SO bad she tried to stay patient: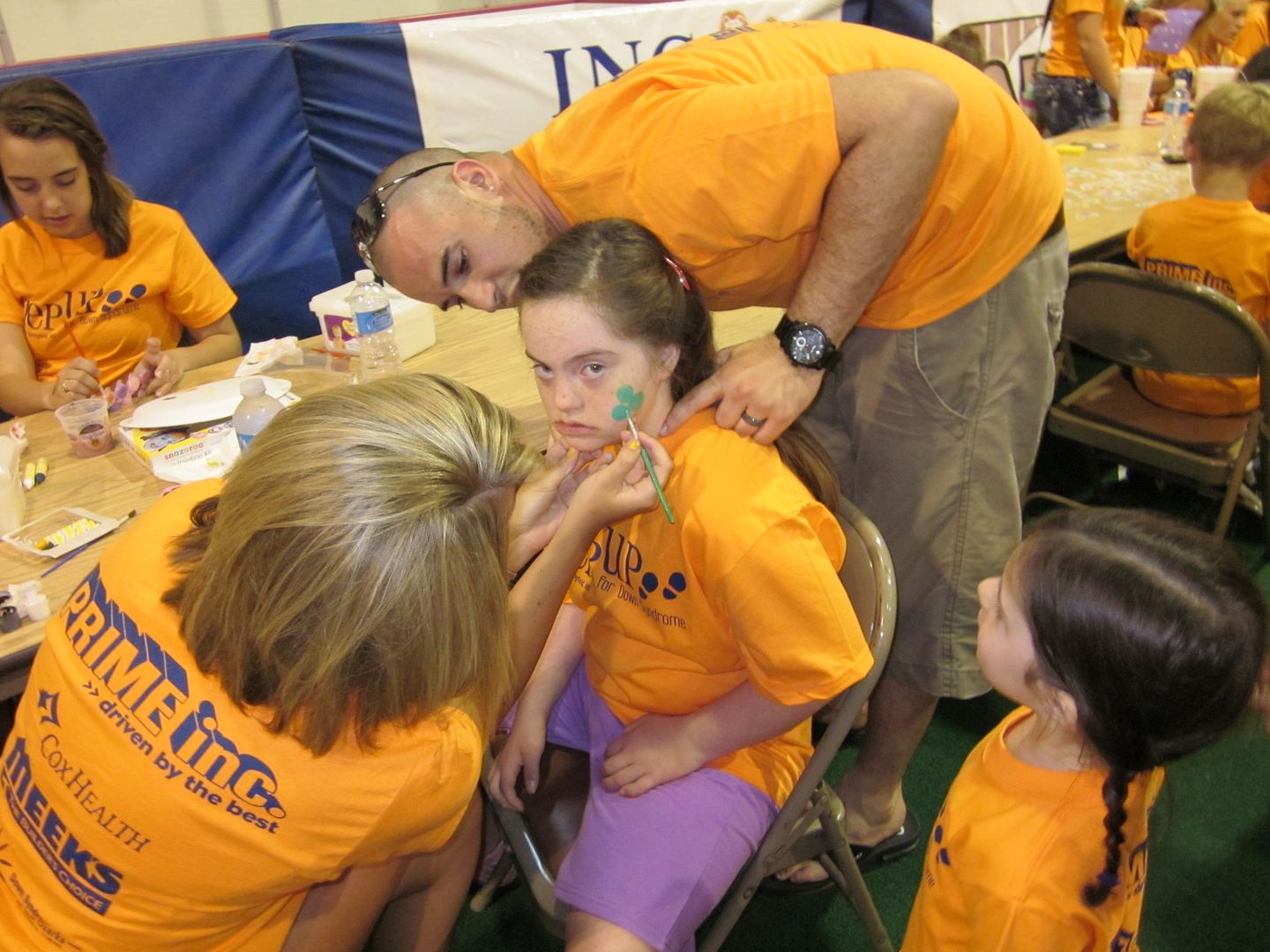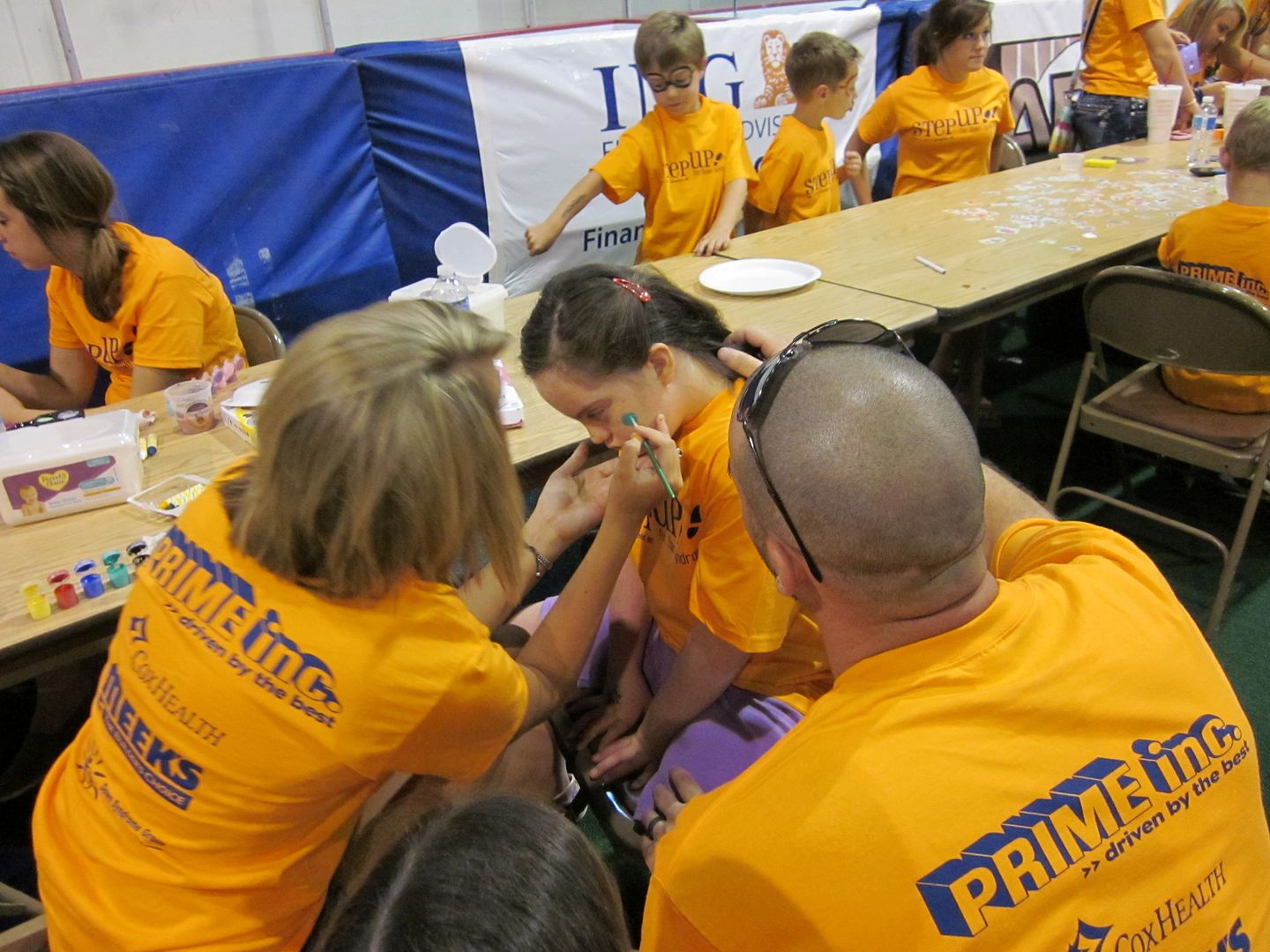 and danced ALOT! That guy in the black shorts was ROCKIN it!! So funny to watch as he kept getting close to Molly, and SHE kept trying to find a spot for herself!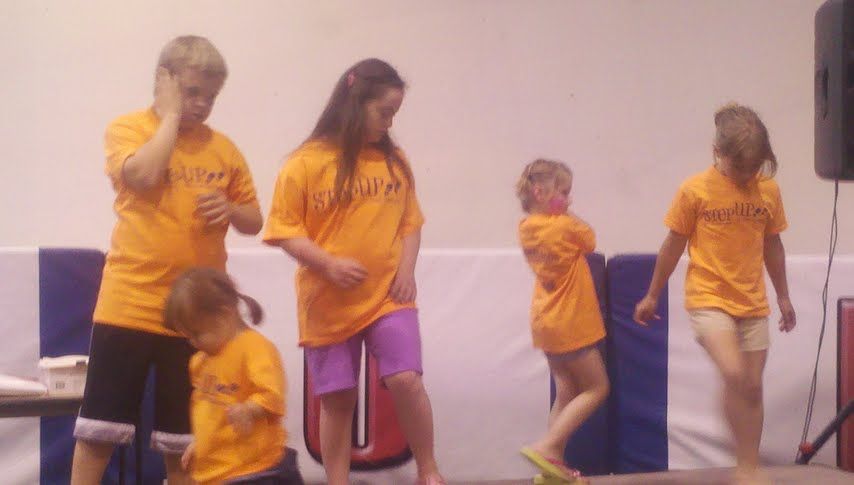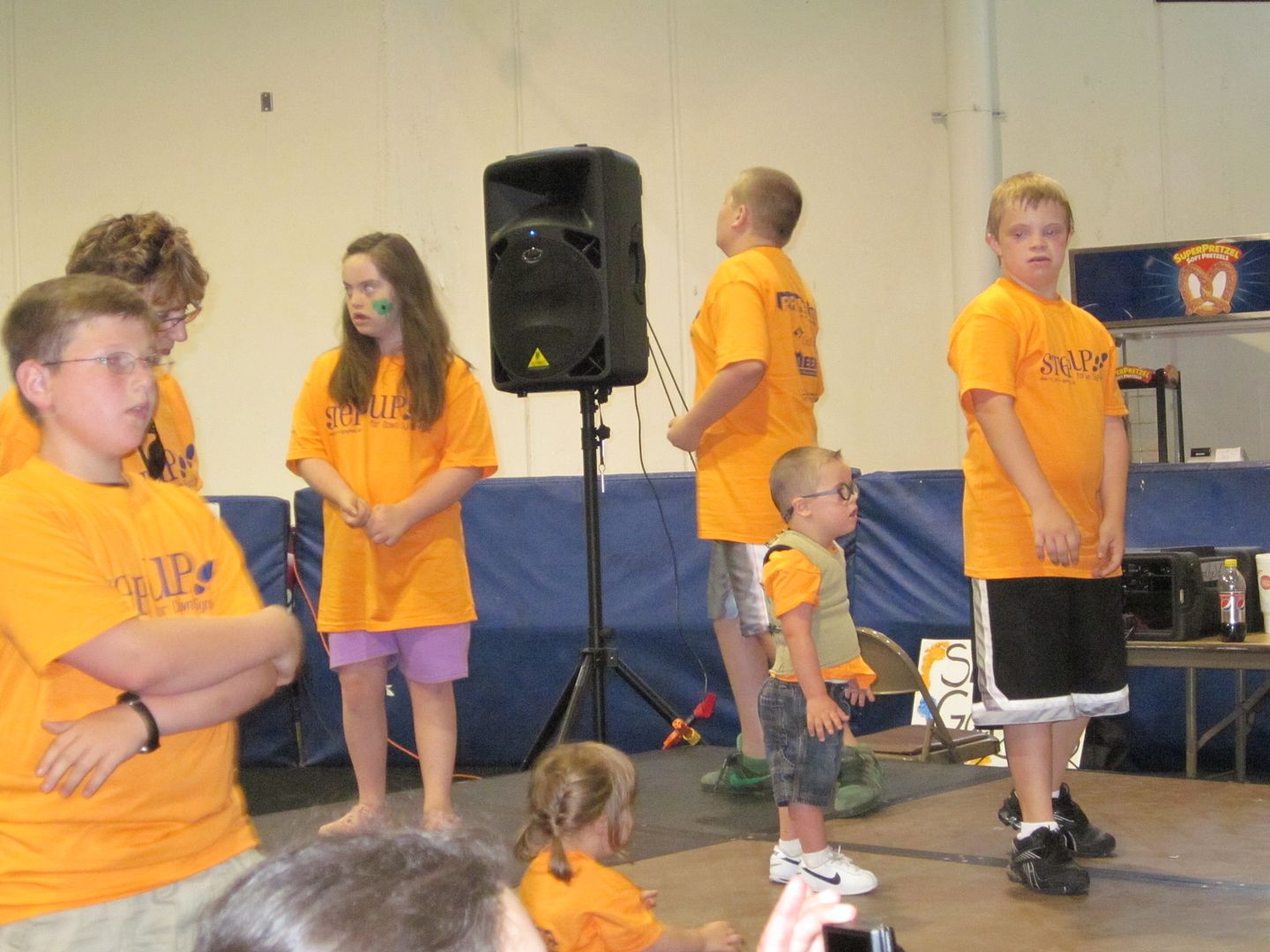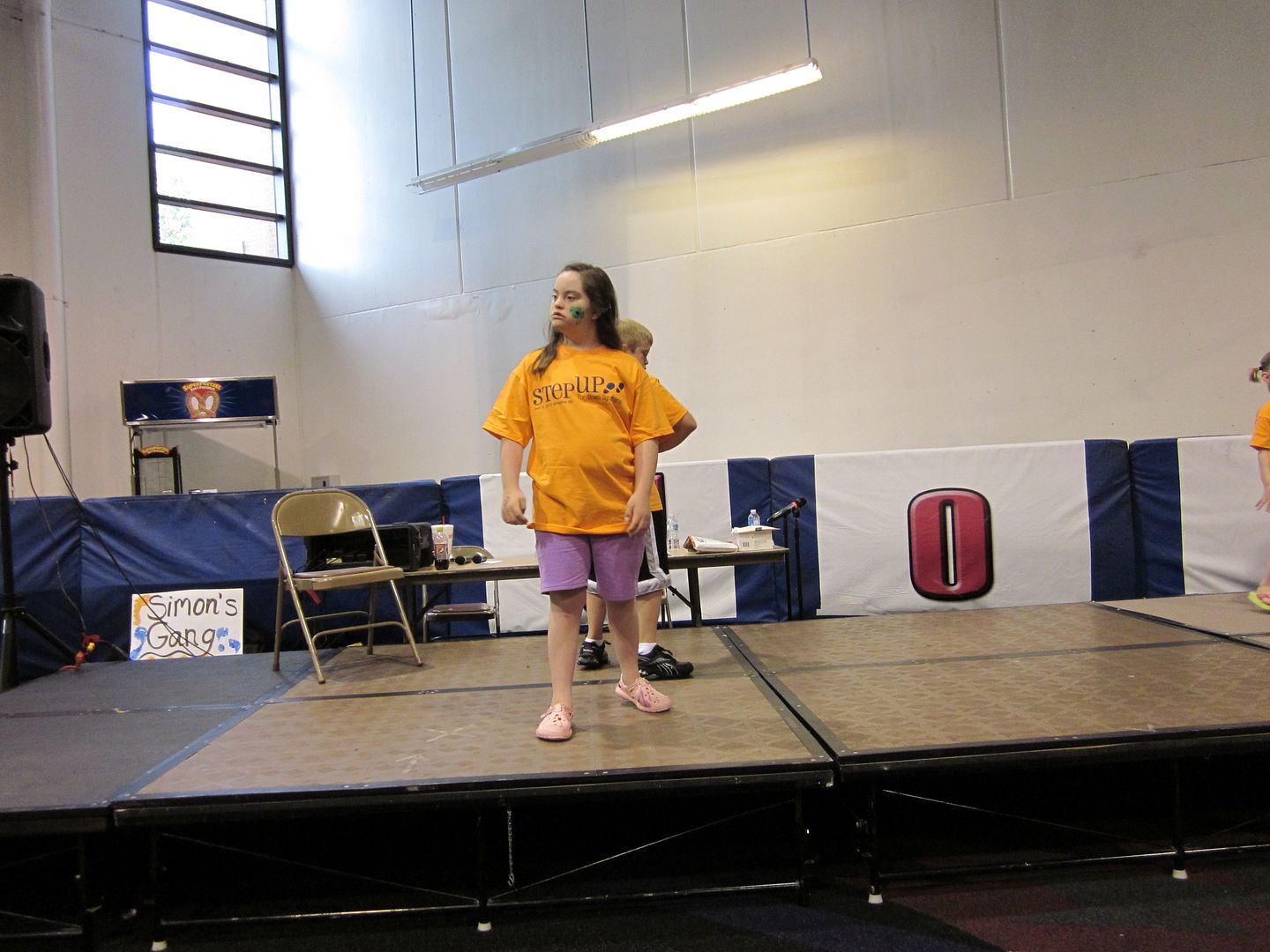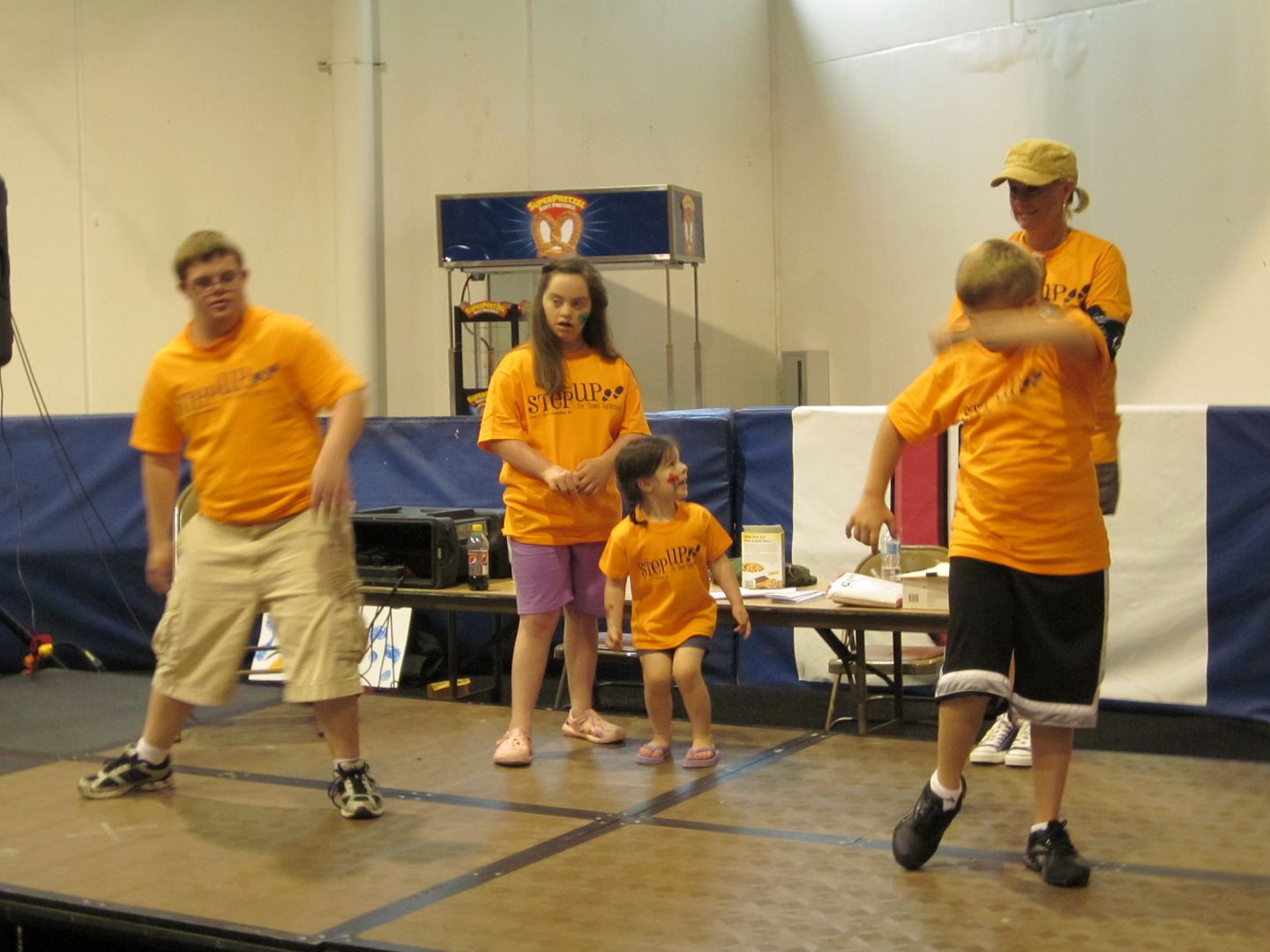 AND met back up with Glenda and Veronica!! They used to live here, but moved to Lebanon, and we haven't seen them since LAST year's buddy walk. Glenda had a little surprise for me: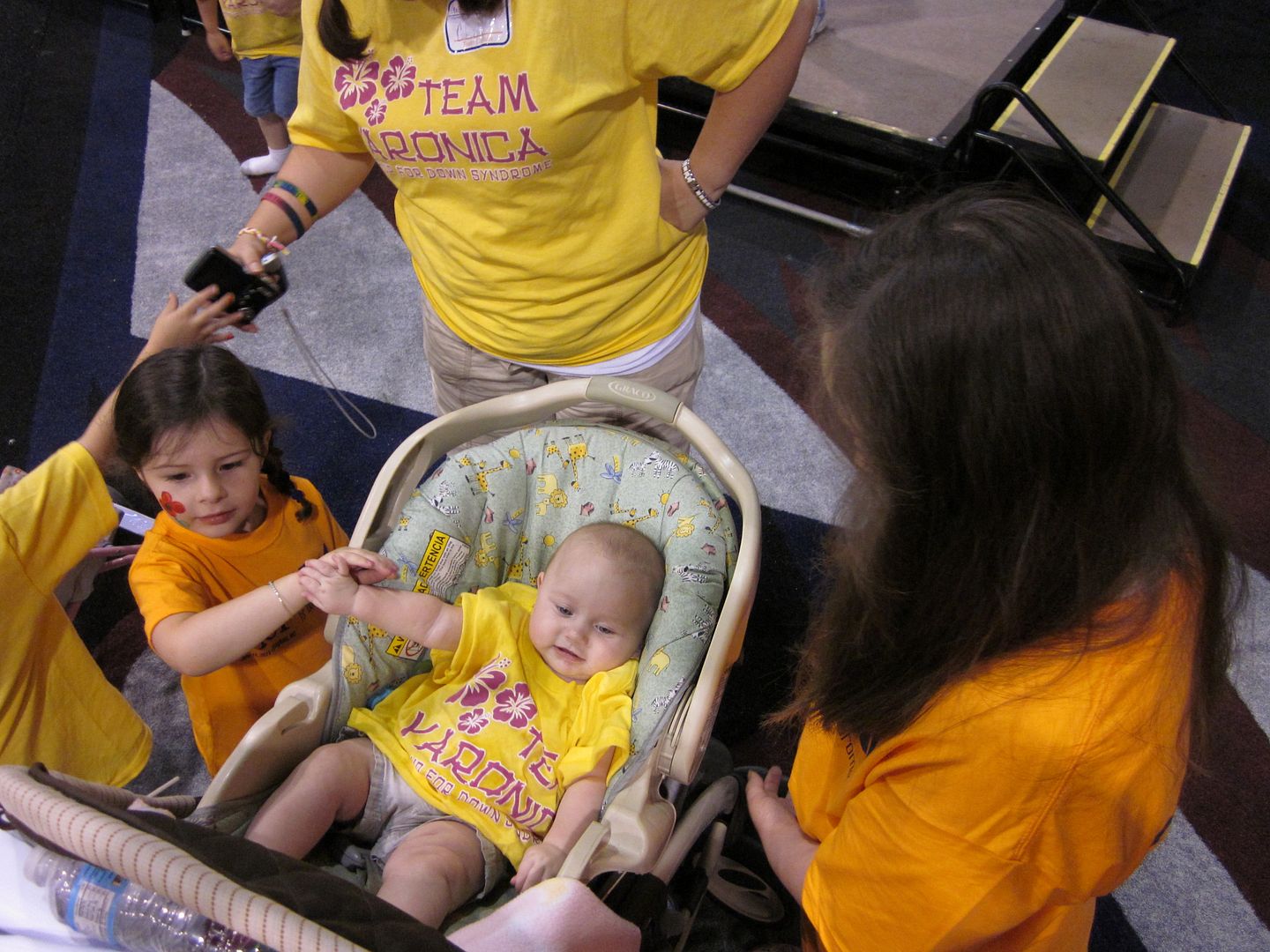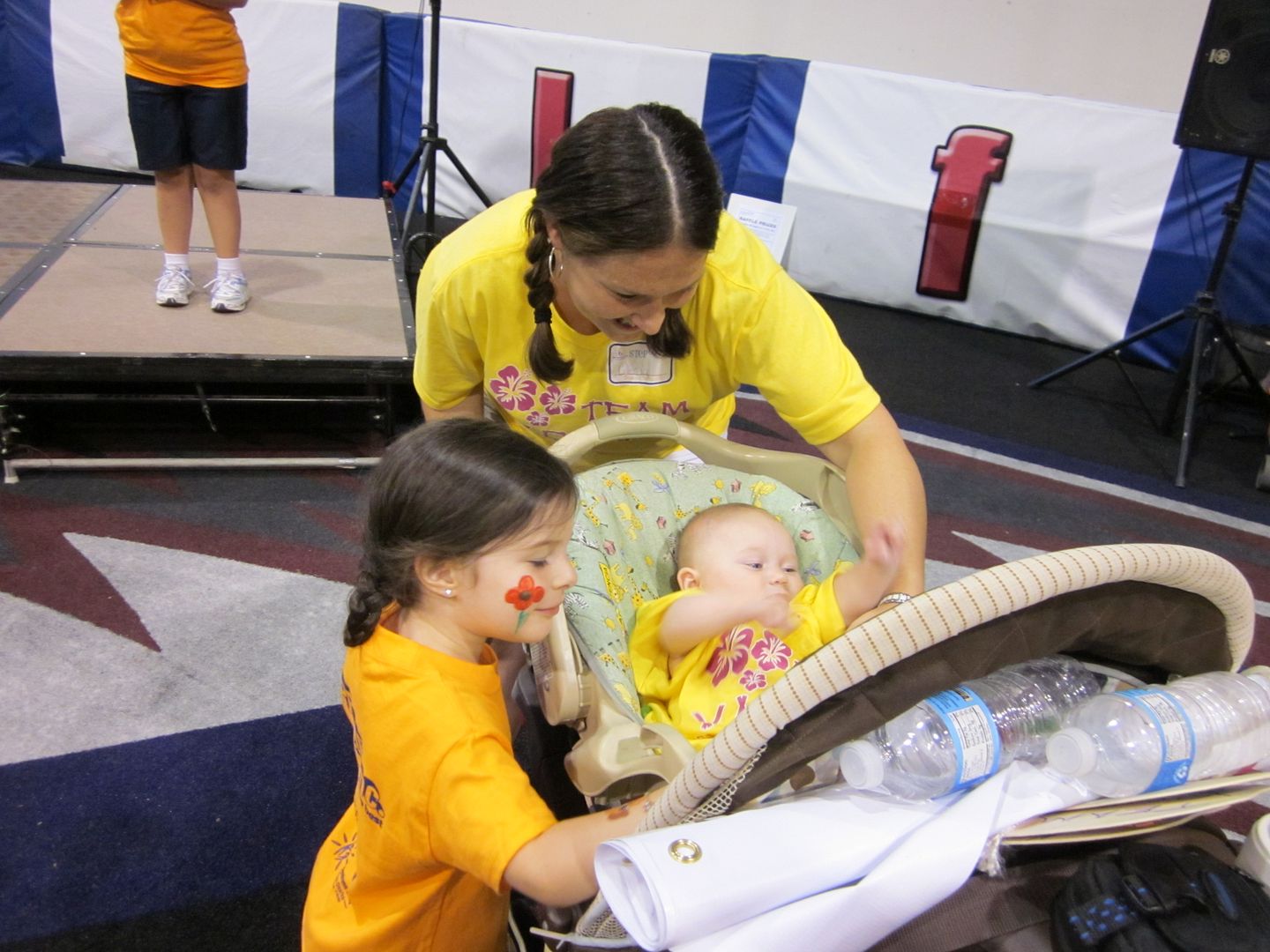 She has fallen in love, remarried, and had ANOTHER little girl with Down Syndrome!! This is Tory, and she is ADORABLE!! She has a good lead off girl in sister Veronica: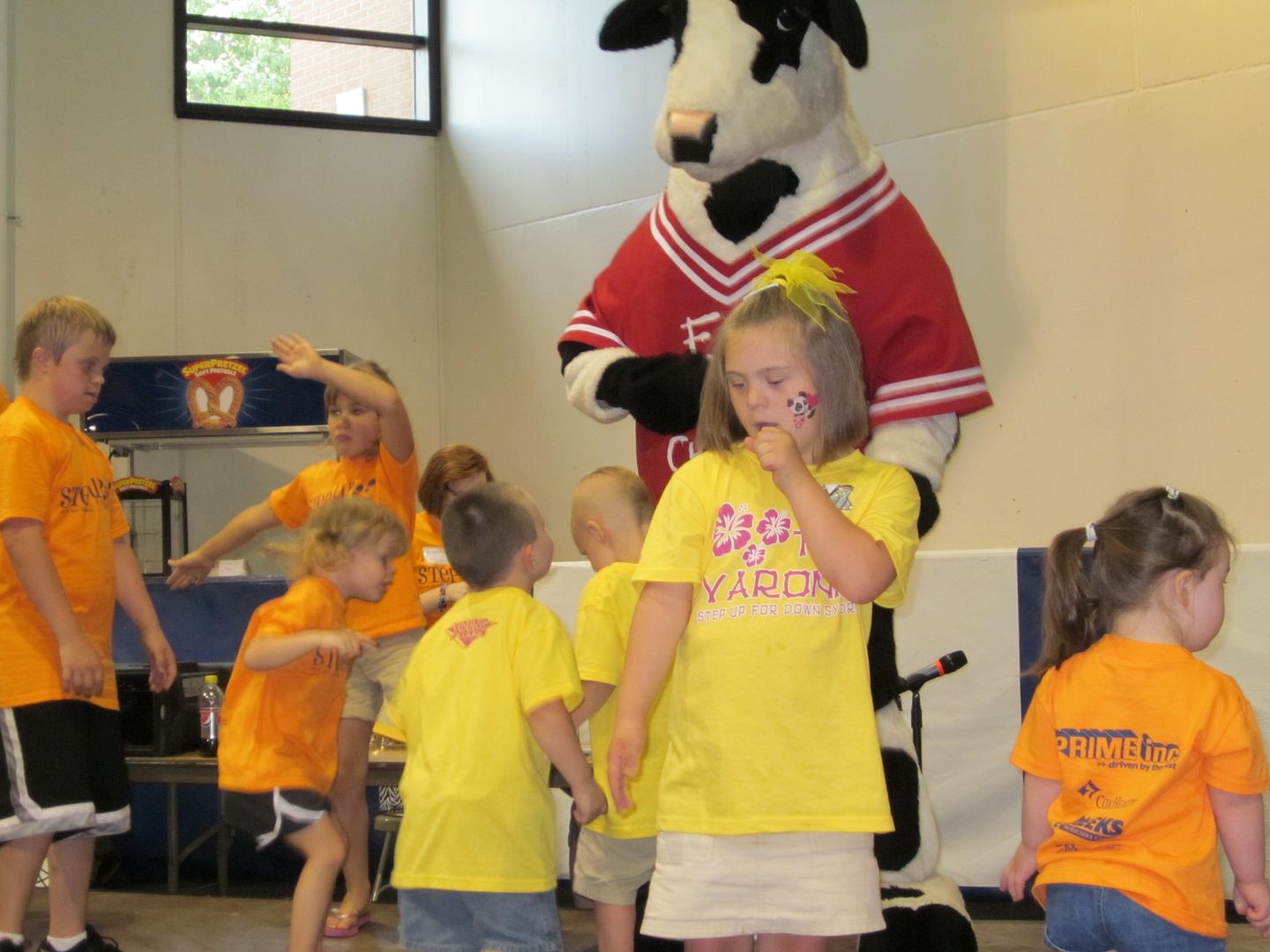 We walked to the infield: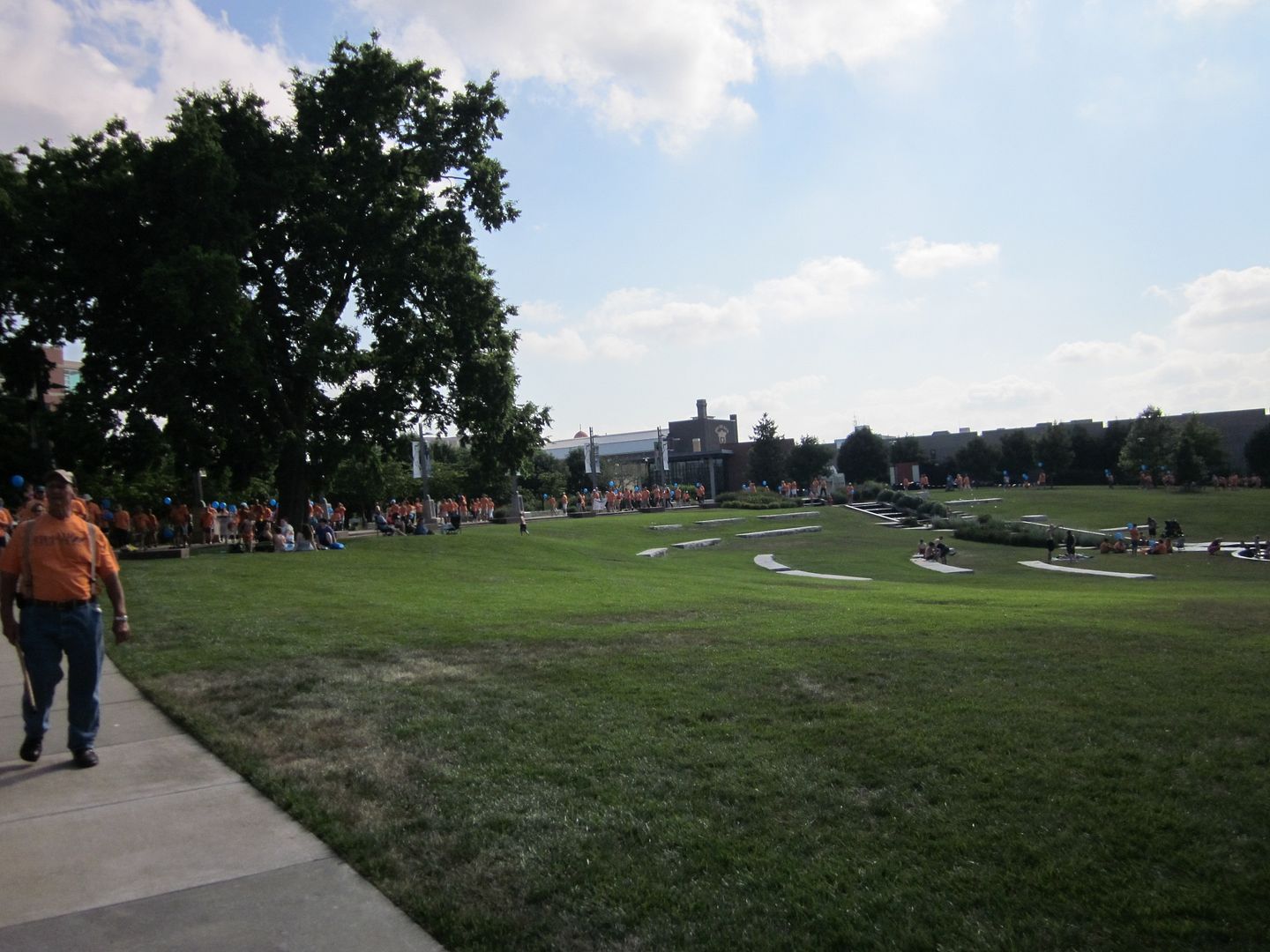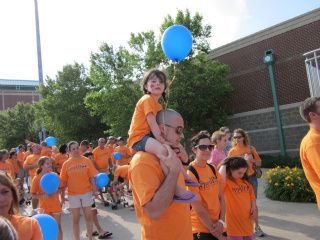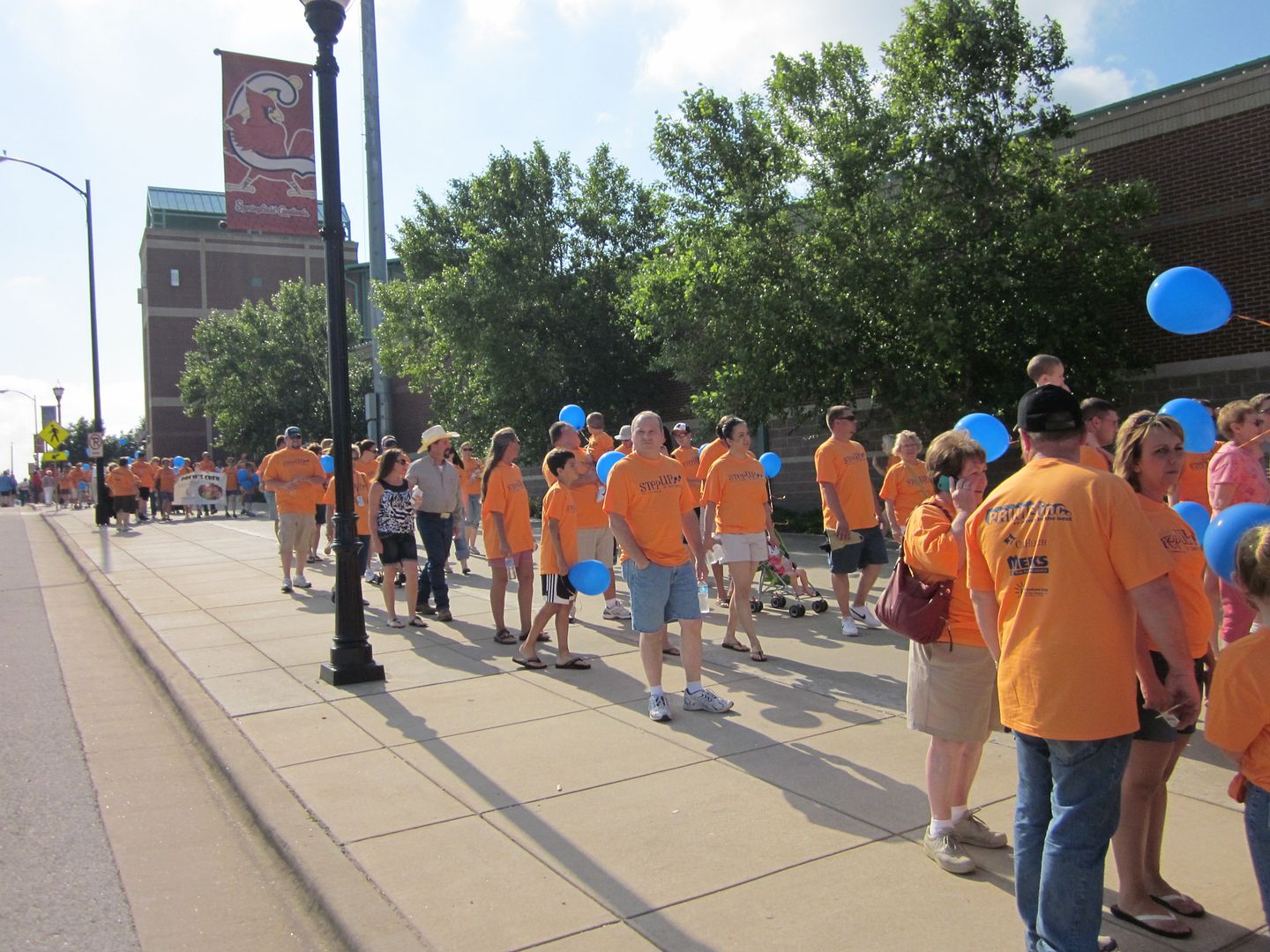 Then gathered to walk the infield and let off the balloons: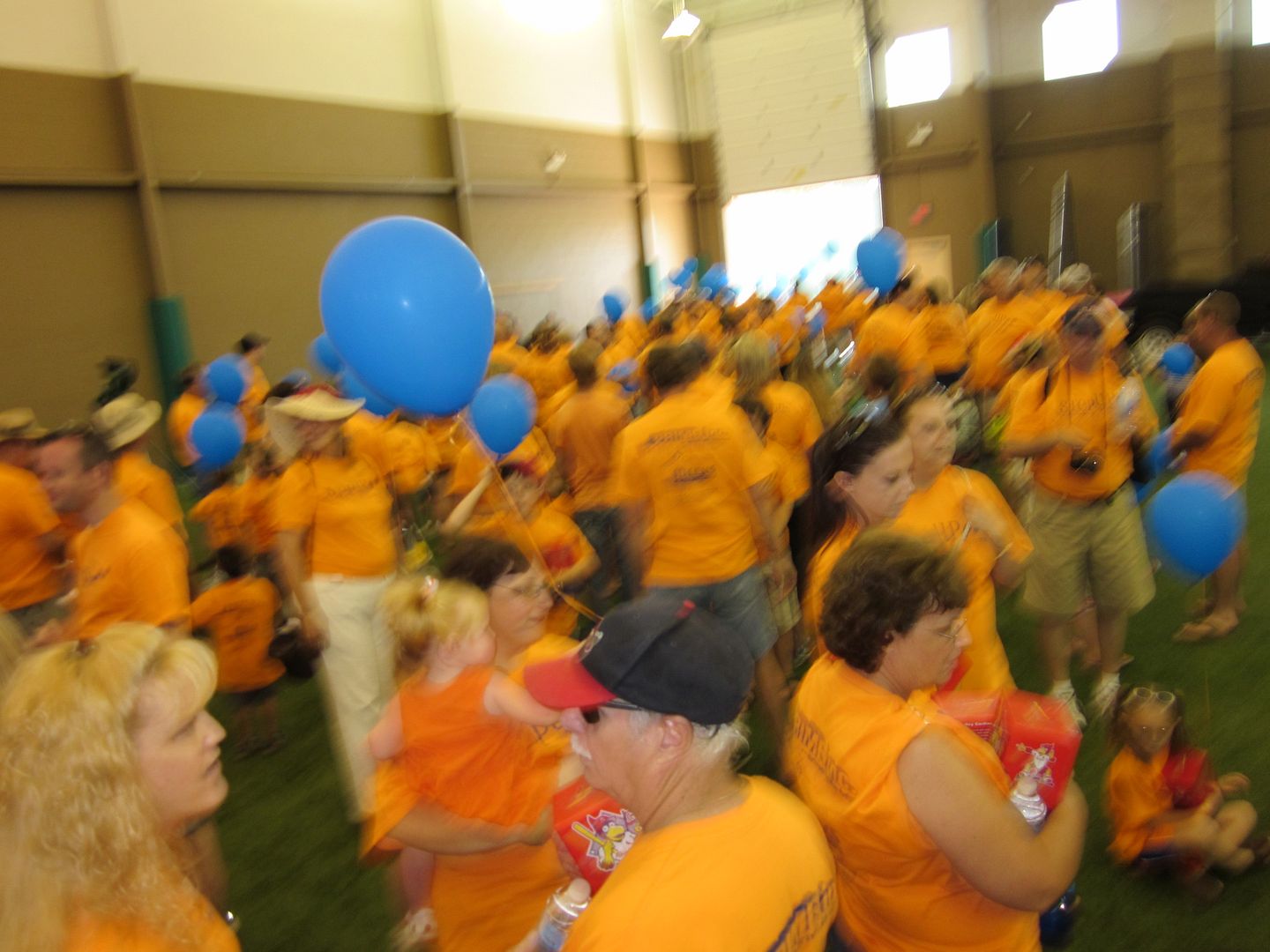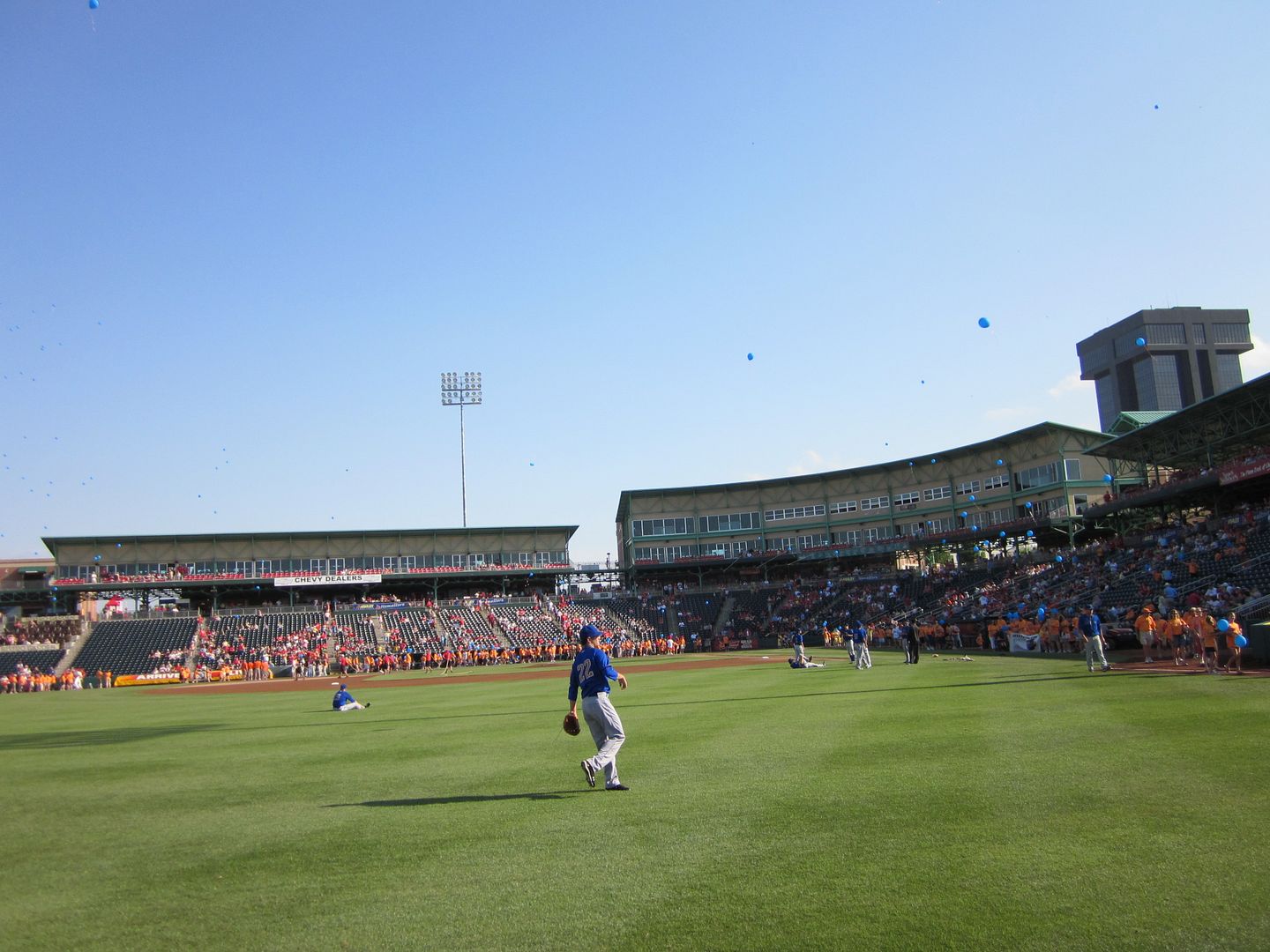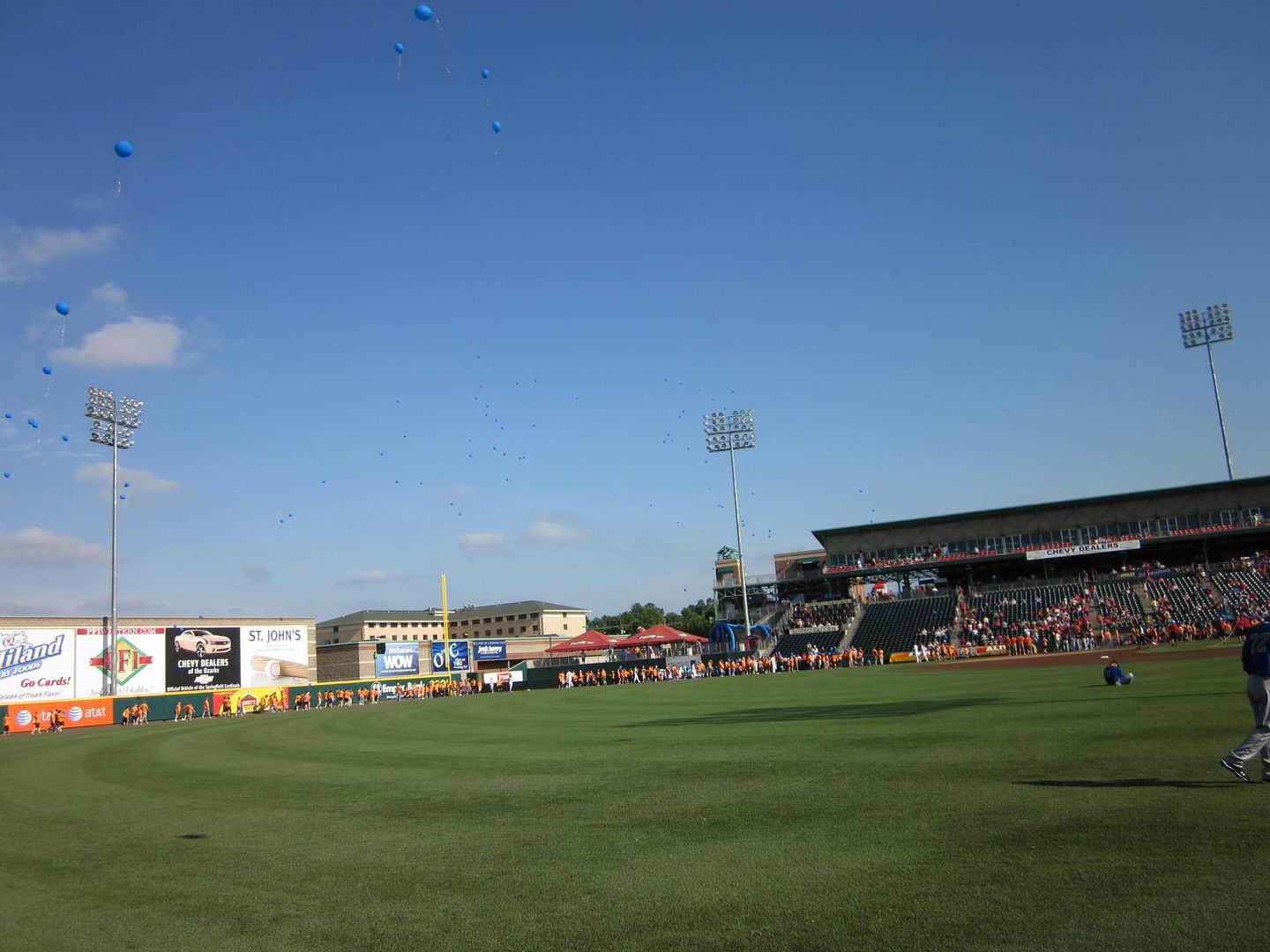 Would have loved to watch the game in the beautiful weather, but the clock was ticking so instead we (literally) ran for the car and zipped home to set up for a party, and start welcoming company!!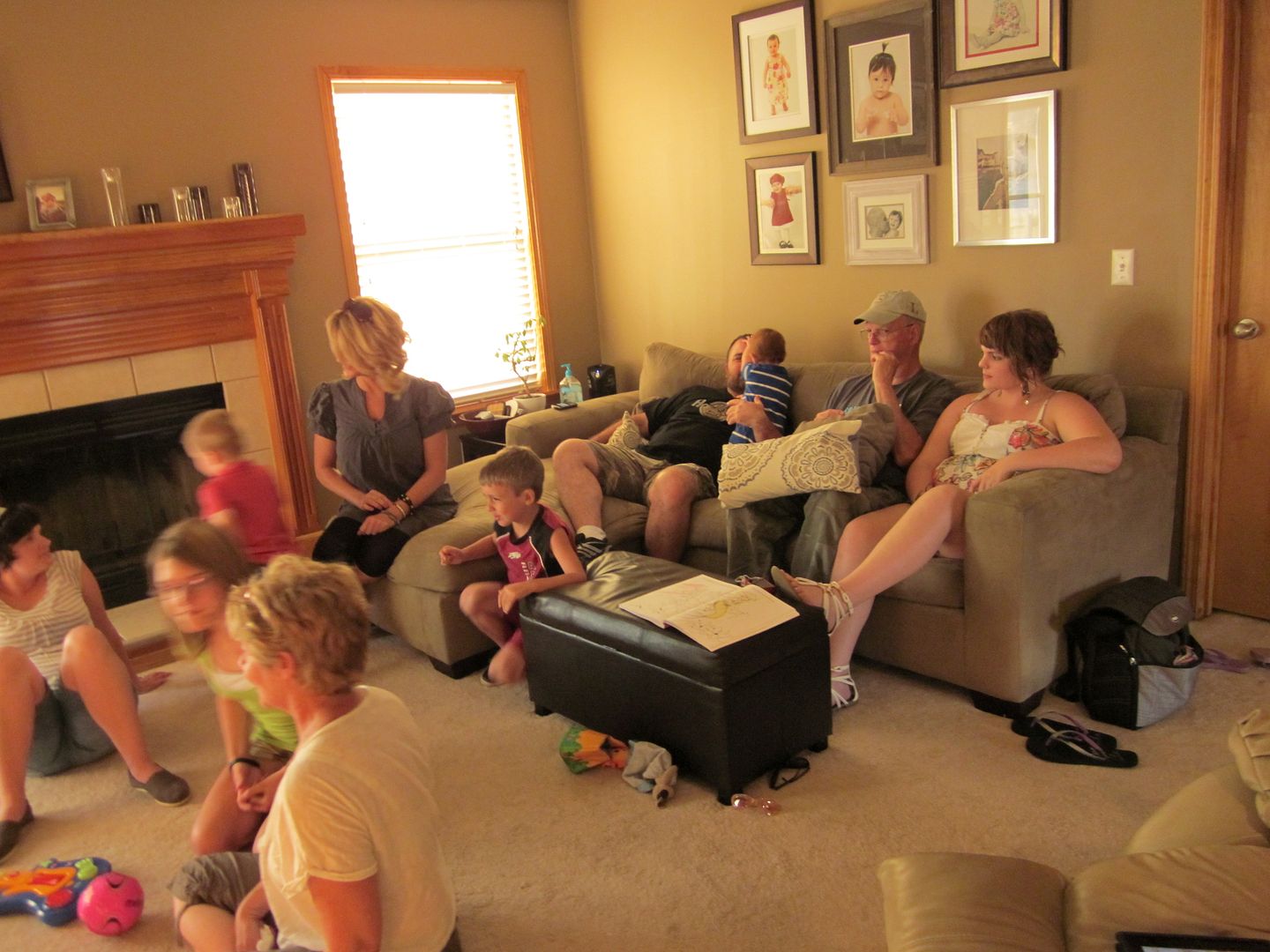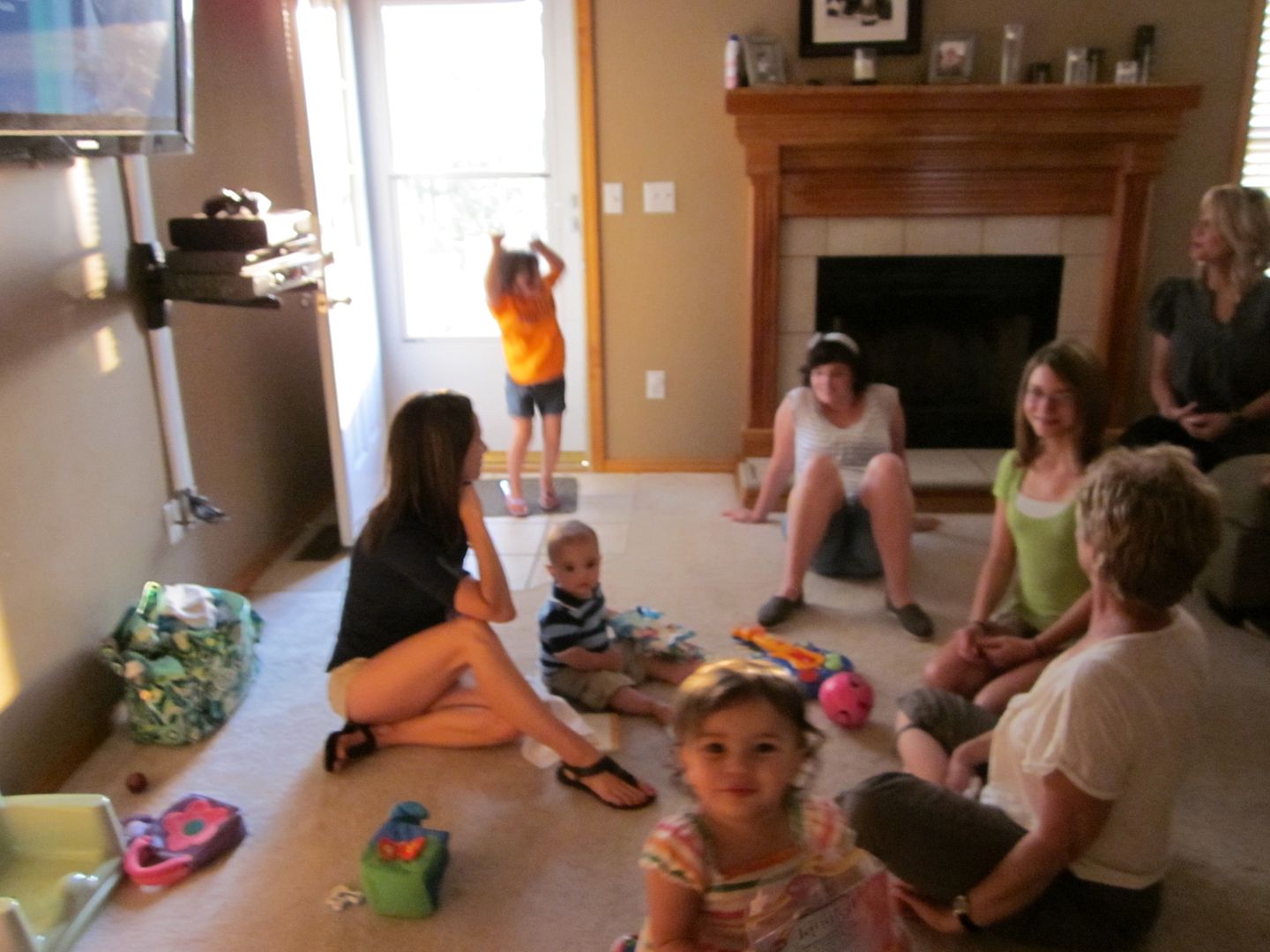 and had a chocolate ice cream cake that was to die for: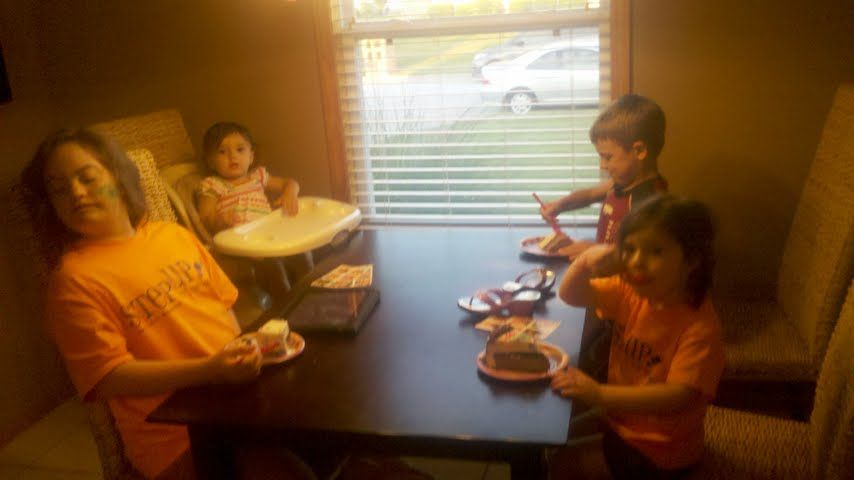 Happy Birthday to Aubreyyyyyyyyyyyy (That's some of Steve's work on the wall...he's FABULOUS and gave gabe 3 paintings for the other wall for Graduation...I LOVE MY INLAWS!)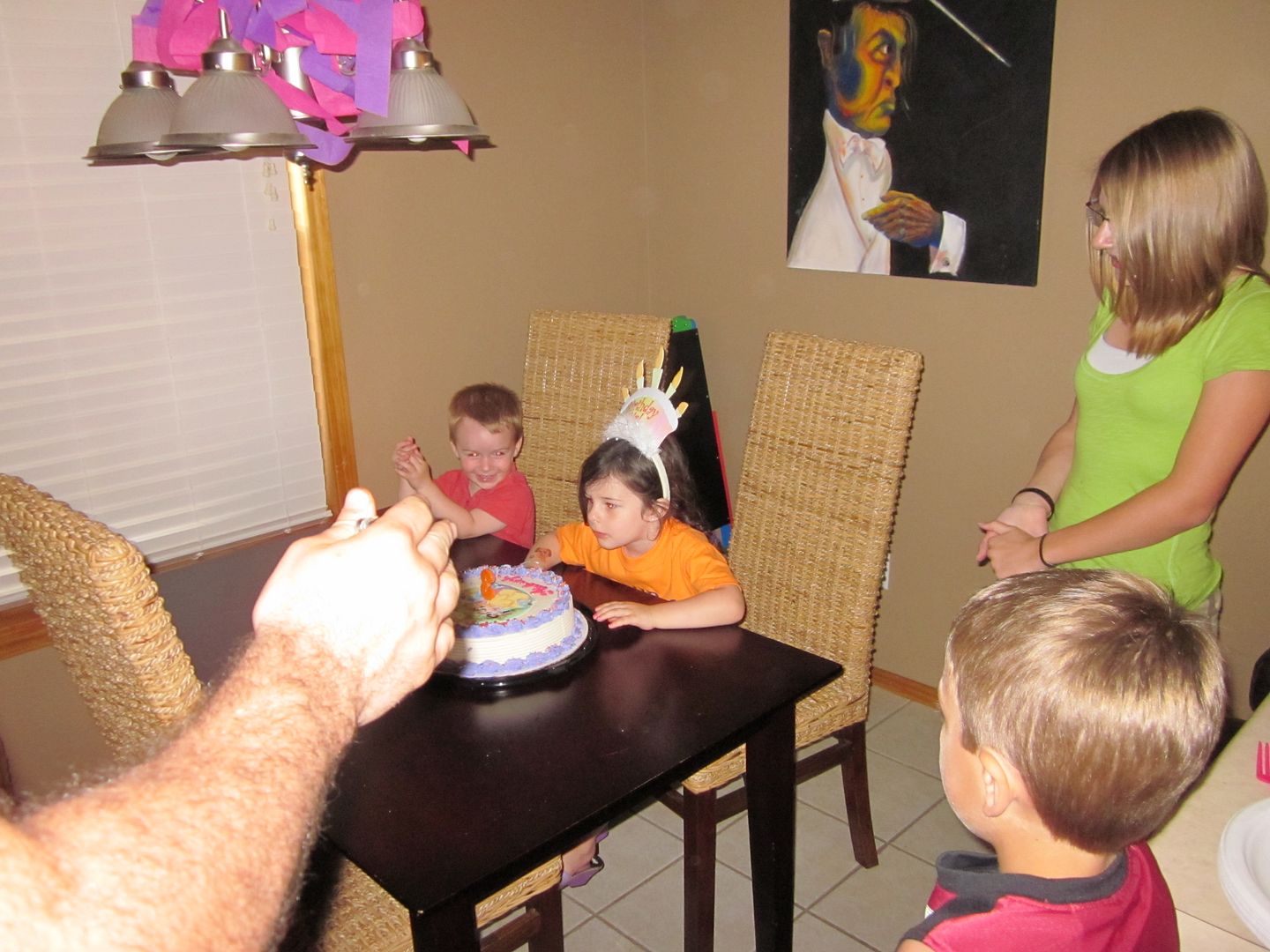 We got home after 10pm last night, spent, full, and happy with the day.
This morning? It was obvious that Molly enjoyed her day there...as the face painting continued: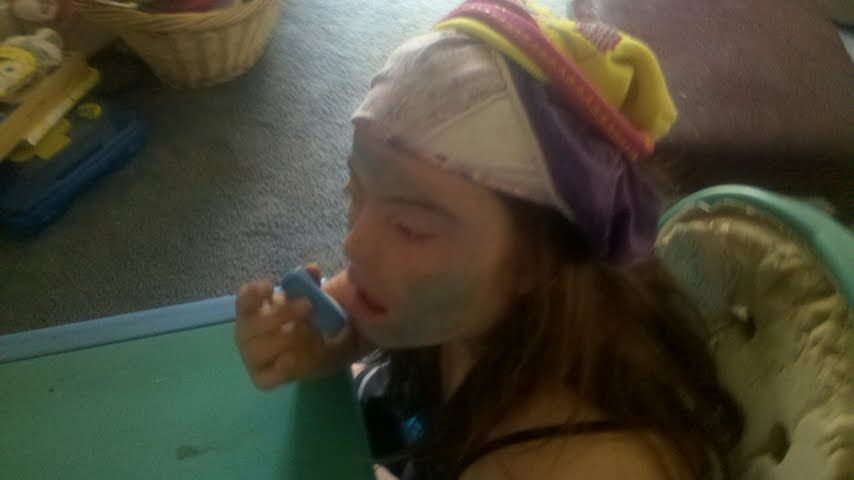 Such a great weekend, although this old body was feeling the activity this morning! I love and am so proud of all my kids and the way they make things happen, and how important Molly is to them. Can't wait for next time!!