Priorities
Priorities...i will always be a priority driven girl. I try to keep ahead but i think, somewhere genetically, it is just impossible DNA...
My name is Eileen, and i am the queen of procrastination.
Blogging took the back seat last week, the priority being the Christmas tree, the lack of lights, the purchase of wrong lights, and it's finally up, but not to my satisfaction....i will probably buy more lights, take it down, and re-do it soon.
I tried to stay on top of it! REALLY I DID!!
i found a note in my PDA from last december, lining out what i needed to do to prepare this year, as last year i threw out all the lights...but failed to decipher the note. (*bonk* oh THAT'S what that note meant!)
My mom and molly kate are both croup'd up, so we've maxed out our ability to buy Mucinex D for the month, and are treating with that and other OTC stuff...with me being frustrated because mom has no voice, a deep chest
cough...and WON'T GO TO A DOCTOR!! I'd give my right arm for 3 Zithro 500's right now.....She's worse about seeing the Dr than the SARGE! I suppose when she can't walk anymore, i load her into the truck and take her against her will....she must be a priority driven woman, also.
grrrrrrrrrrrrrrrrrrrrrrrrrr
Molly is maintaining but her nose is running so much she now has a "Kool-aid smile" chapped face...and nothing seems able to calm it. HER priority in life seems to be finding new and exciting ways to shoot liquid medicine out her nose, while daddy and mommy have her hog-tied with warm washie in one hand, and a syringe full of Dimetapp in the other! She probably would be all better now if these danged ole pharmacy companies would make all these otc meds... IN SUPPOSITORY FORM!! I'm currently sporting half of her dose in MY HAIR!!
My mom and dad are not attending Mass this morning (they really have to be sick to skip THAT!) nobody got to go to the Christmas parade, or the Bowling Birthday party for Evin, we did not "shop with a cop" all those events occurring on Saturday....and we had hoped to make it to Branson today to see the Santa train pull in, and i would have TRIED as we could have just stayed in the truck and watched....... but???
Our weather is making a change for the drastic. The only trip we're making will be a run to town for extra gas, and digging the generator out of the garage. The Ice Storm of 08 is heading this way, although I'm praying that we're jussssst far enough south to miss what my gf's in New Hampshire are experiencing...but I'm not taking any chances.
Maria, Jackie, and all the readers in the nor'easter states? My prayers are with you, and I'm hoping your power is restored soon.
I have also procrastinated the upgrading of the cell phones, but got a blackberry message from gabe yesterday showing Miss Aubrey Jo SAYING and SIGNING "Da-da"!!!
WOOOOOOOOOOHOOOOOOOOOOOOOOOO!!
She JUST turned 6 months old on the 7th!!
WOOOOOOOOHOOOOOOOOOOOOOOOOOO!!
That little girl is too bright for words! I am so excited to see all that awaits her in life! Gabe works with her all the time so I know he sees it, too.
Molly Kate's arrival into our family... and all that came with her seems to be trickling out 8 years later in the parenting skills of her older sib. It's fabulous to see the gift that she is,
continuing to shine in the world.
Anyway............I have to sign up/download something in order to save that file and show YALL, so it became a priority to get my own blackberry...hopefully I'll only have to download
one set of software, and then i can come show you....otherwise, you just have to be on the *big-mama brag email addy list*, as that's the only way you can see it!
(edited to add...if you are in 'blogger' you can go to aubrey jo's blog! and see her DO IT!!)
Little Bill just traded up for one, too....so we'll ALMOST ALL be connected! (elbowing shauna here)
Being trapped in the house (with the exception of that one run to Wal-Mart) did force me to take care of the Christmas cards. They are in the mail with many thanks to the sarge for his calligraphy pens, talent and addresses being done for me!
My mom and dad got a Christmas card from the Bush's on White House stationary. They have one from every sitting president since forever, except for my hero, Bill Clinton. *sigh*
I will start on my bedroom next, and the bills....ahhhhhhhhh no rest for the wicked.
Priorities again with me....it's awful. I got a note from the bank saying they had dipped into my savings to cover December spending splurges, and Master Card actually RAISED MY INTEREST RATES as soon as they saw me charging in VEGAS.....AS IF!!
Hence...i will get balanced and back on budget track today...and transfer my balance
all to AMEX, as soon as they release that good deal in January! I don't keep much $$$ on the cards....but to RAISE my INTEREST rate because i'm in Vegas?? AUGGGGGHH!! No WONDER people get into trouble!!
The bedroom priority comes from ripping my foot on exercise equipment currently stored in my master bath.....hahahahahaha. Yep, today is the day! I still don't have the clothes all put up in the new furniture...but THAT is because of the way my brain works
Let me try to explain it...
i have to move an old chest from the master bath into the laundry room (first moving a folding table from the spot the chest has to go into) THEN i have to take all the clothes out of a HUGE walk-in closet and PACK THEM UP TO GOODWILL!!
My closet is so full of clothes that don't fit (i am estimating about 7 different sizes in there) that we cannot utilize it for clothes that we DO WEAR! (currently in bins waiting for space)
AFTER that, then i can go through the bins...do the same to them, and then put the clothes back where they belong! I'm forcasting only having 2 drawers full in the chest, but one pickupbedful upon completion.
No one understands that....they just wonder why i'm sitting at the puter, and not putting my clothes away. AADHD is misunderstood in adults, and I thank God everyday I am married to the only man in the world that does understand. He stays patient enough to know that it WILL happen, and when it's complete it will be glorious and be done in one day to perfection.....oh yea, that is the other thing that sux about being an AADHD procrastinator with a disconnected agenda...we are PERFECTIONISTS!! hahahahaha
Had to laugh at my dad, yesterday and I think he must be responsible for some of this mess.
He went with me to Wal-Mart yesterday, and even though he worked for Wal-Mart in Nebraska...he has never seen southerners freak out about the ice storm! We left and i cringed the "oh i forgot something" cringe that comes from trying to think while you are in a tornado of
shoppers...when I hear that familiar "man tone'come from him.....
"what did you forget?"
"nothing important"
"well, WHAT??"
"a puzzle"
??????
"we like to keep a puzzle in the house, in case we're stuck for days...it helps, trust me"
So we get home, he goes to his "magic car trunk" where he has stored everything-important-in-his-life-for-the-move-but-hasn't-got-unloaded-yet, and comes back in with a box that has 10 puzzles in it!! 2-1000pc 3-750pc and 5-500pc jigsaw puzzles!!
LMAO! HOW LONG has he had this gift stuck in the trunk for JUST THIS MOMENT!!
That's how we roll here....have a great ONLY TWO WEEKS BEFORE CHRISTMAS EEK!!!
week!!
***********************************************************
Here's my card...taken from my favorite pic where Molly Kate, and her little niece Aubrey Jo
had a little too much turkey and passed out side by side on the couch.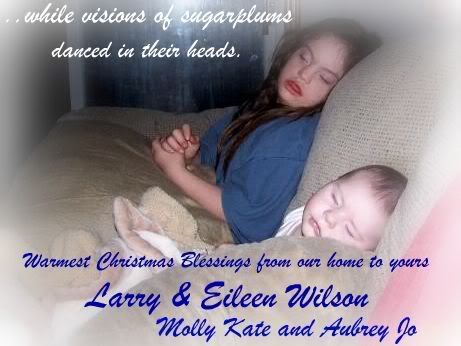 Oh and a BIG PSS!
I'm begging for prayers for my g/f who is struggling in the aftermath of a pediatric cancer dx and treatment of her child....it's a bad time of year to try and deal with THAT!
and for my co-worker, who finally got her baby girl, only to find "issues" and a quick trip to Children's in Little Rock. More to come on that...but for right now....please pray that baby stabilizes and gets home to the loving family that God has blessed her with, and with whom God has blessed THEM with! (she doesn't know about this Blessing stuff yet, but I have no doubt she is about to experience the JOY of her LIFE!) *BEAM*