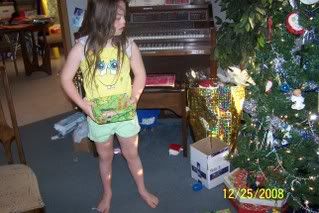 ok..it's becoming evident that i can only blog every OTHER week now! HA! Maybe it's just the holidays catching up with me....or the weather...or my parents...or molly......or????
Maybe that is the OTHER reason Christmas is such a blessing! IT'S DONE!! and onto NEXT YEAR! Here's hoping 2009 is the year that brings you all you wish for!
We keep Christmas very low key here..especially after the party of Thanksgiving....and enjoy that, but it is never low key enough to think you can't do ANYTHING...the stress to perform like June Cleaver always lies lurking in the hearts of women everywhere.
Here's the scoop. Last Thursday, after me nagging her for a week, my mom finally came out early and said YES! she WOULD go meet my doc! YAY!! She had HAD a cold, but it had progressed to being scary!
She then proceeded to go into her bedroom to get ready, when i heard a thump....i hollered at the Sarge to check on her (i was in the other bathroom getting ready to take her) but the German Shep was already on duty and alerting us to a problem. He BARKED BARKED and then went back to her room, laid down
on the floor, and tried to shove his nose under the door while scratching at it.
Mom had collapsed against the bedroom door, and we all FREAKED!
We got the door open enough to check for a pulse and then scooted her and the door
inch by inch until we could gain access. Quick trip to town and she's in the hospital with double pneumonia, dehydrated to the point of renal failure, and somewhere in the fall/rescue...managed to break two toes. EEK!
We stayed in the hospital until Sunday and brought her home (12 degrees here EEK!)
She was just starting to show some signs of depression so we may be a day or two early, but they had unhooked her from all the fluids, and her 02 stats were staying up...so we took the chance. She is very impatient with the healing, still a little weepy, but getting around, and doing what she should to get better. She is very happy to be home! (so's the dog who had been camped out in front of her door since she left, and
will forever be her "hero")
We have been iced in, and i gave up on a timely Christmas, but Christmas Eve morning the weather warmed up and although i had to work all day, i grabbed a cooler and ran into town early...got all the shopping done before i had to work a full day PLUS an hour, and finally got home!!
Molly was SO FUNNY under the tree this morning, and again made me feel like the 'bad mommy'. She wouldn't open her presents!! When i asked her why, she looks at me with the stink eye and says
"BOOK"
"NOOOOOOOOOO it's not a book!! Santa did not bring you ANY educational toys this year!! PROMISE!"
So she opened it and enjoyed it all...although she knew what was in the DVD wrapped one, and was a little unhappy cuz we made her wait till last on that one. we KNEW she would immediately run to the TV if it was opened! (she loveeeees spongebob)
I'm pooped but about ready to go start the big dinner. I work tomorrow, a long day in retail,
and then I'm off for the week! I can feel a cold coming on, and just know my productive
week off is going to turn off into THE FLU! grrrrrrrrr.
My video of the day is here and is the true meaning of Christmas in my eyes! What a gift SO many people had to come together to make happen. Go down below and click on 'view video' to see, its definitely worth the load!
http://www. myfoxatlanta. com/myfox/pages/News/Detail?contentId=8124636&version=1&locale=EN-US&layoutCode=TSTY&pageId=3. 2. 1
off to shove a Zycam swab up my nose, and OJ down the hatch! I'll update more next week
Maybe
MERRY CHRISTMAS!!
Sarge the Wonder Dog, and Jager got presents, too!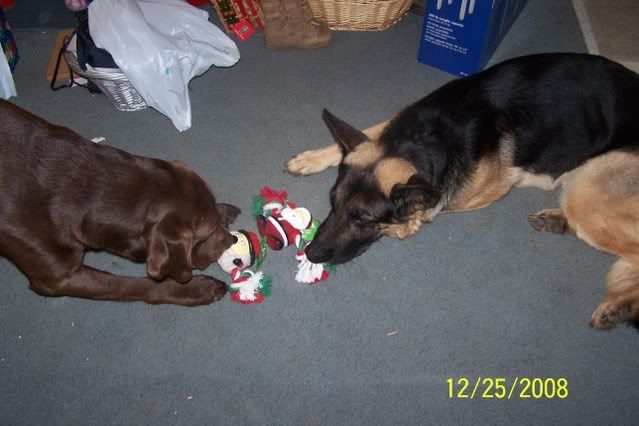 And not forgetting miss Aubrey...she's been entertaining her parents by playing
peekaboo while they're trying to study for finals!!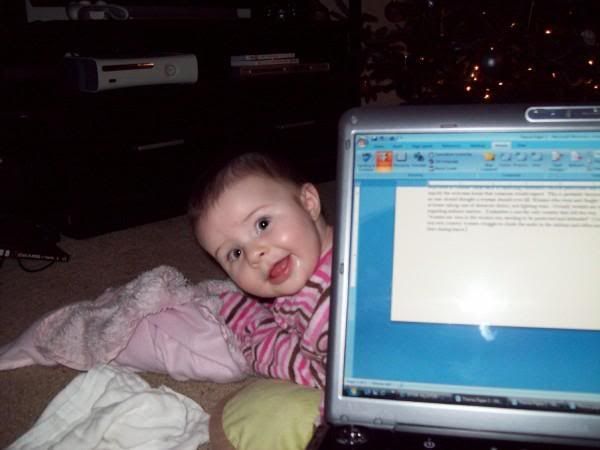 Please keep Coleman in your prayers....My little fighter was all set to do his first
big family Christmas in years (always have had to keep him secluded from the
bugs) when he took a turn for the worse.
http://www.carepages.com/
ColemanScott