It's winter in Missouri and has really been a calm season, but as soon as we turn the calender to February, and even thought the Groundhog said we were done...it's cuts loose!
When the rest of the country got buried last week, we got a coating of ice.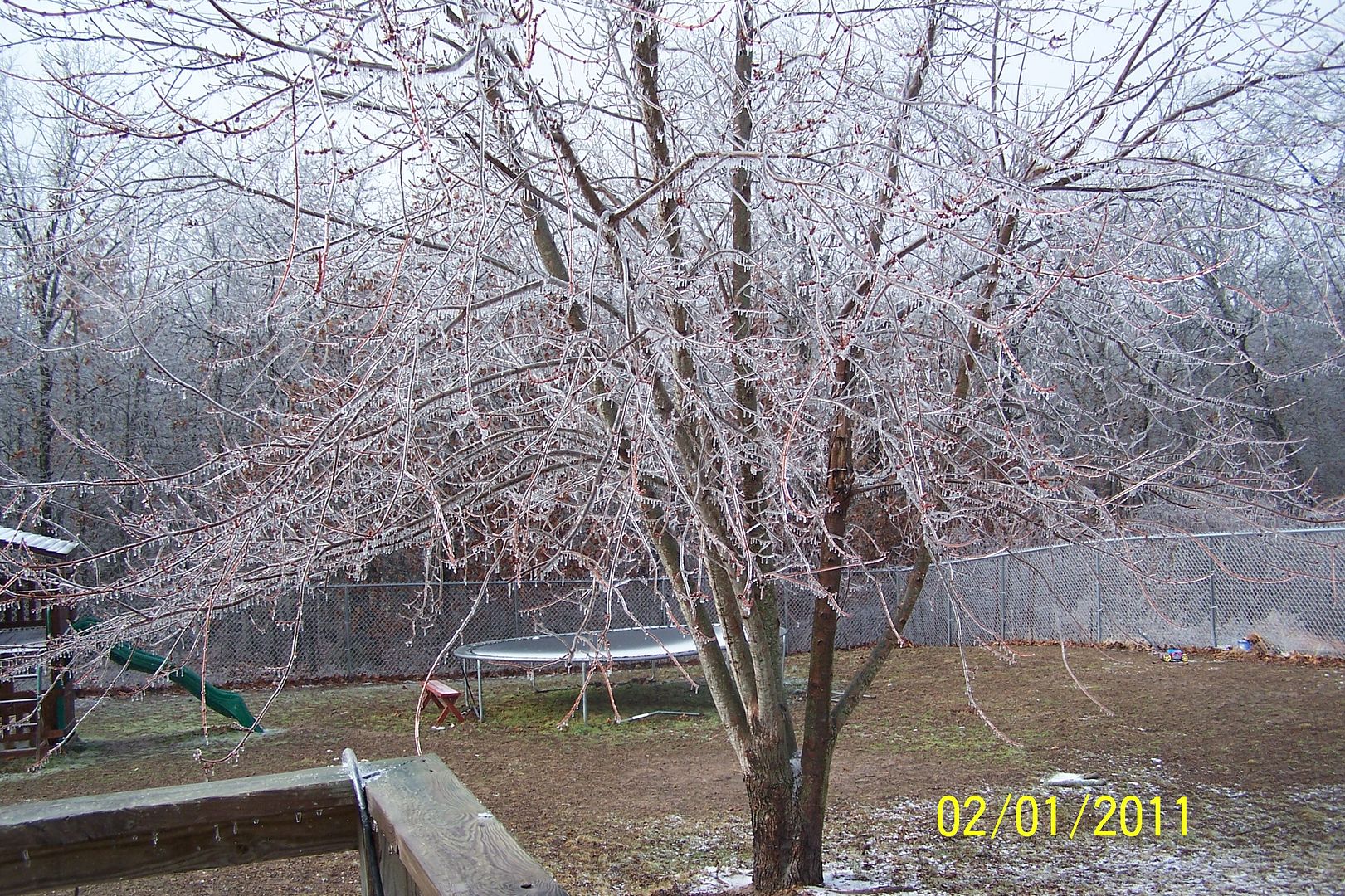 I'm guessing we shouldn't have done the "happy happy in-your-face dance" because another storm came up from the south last night, and got us.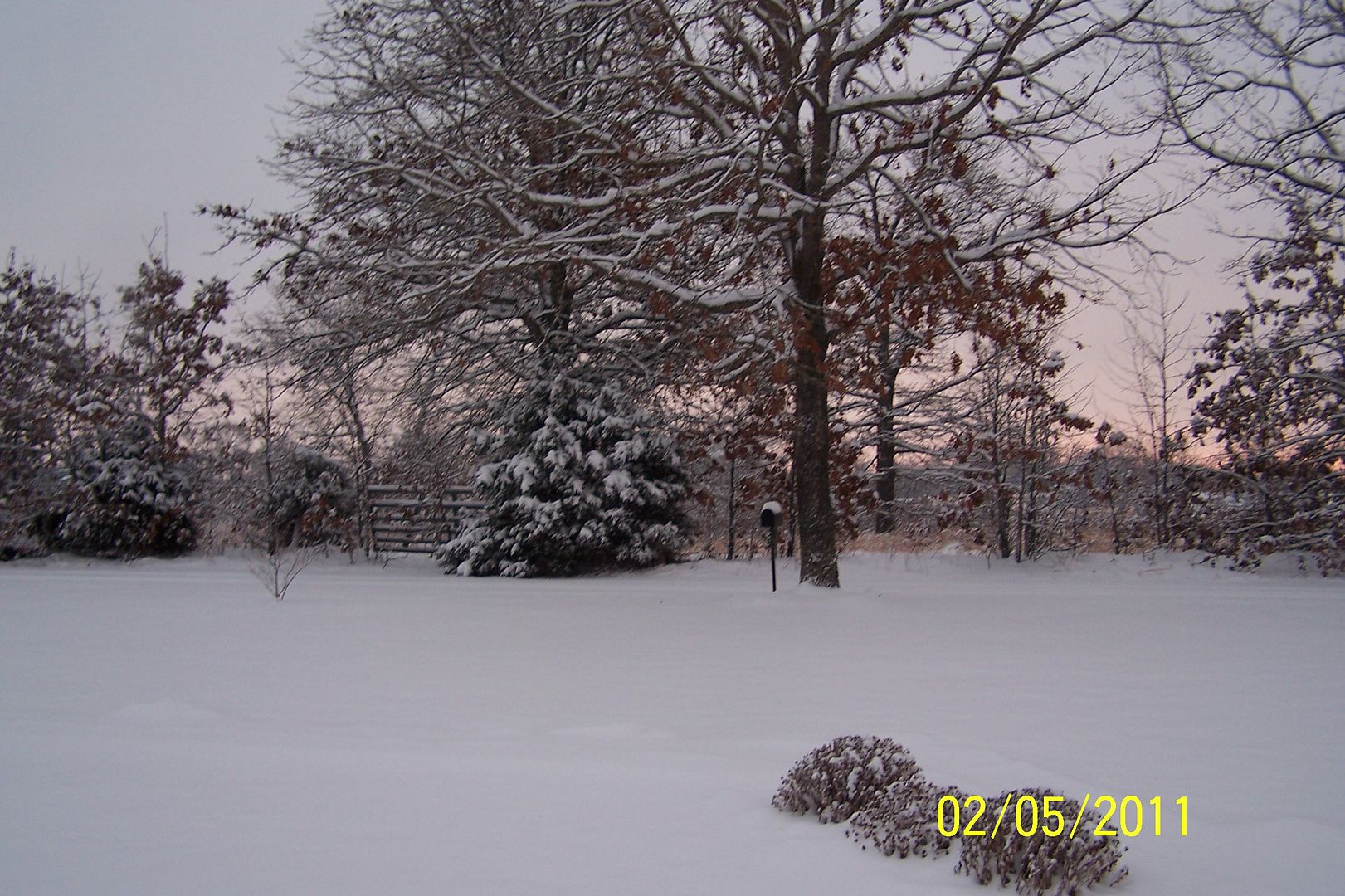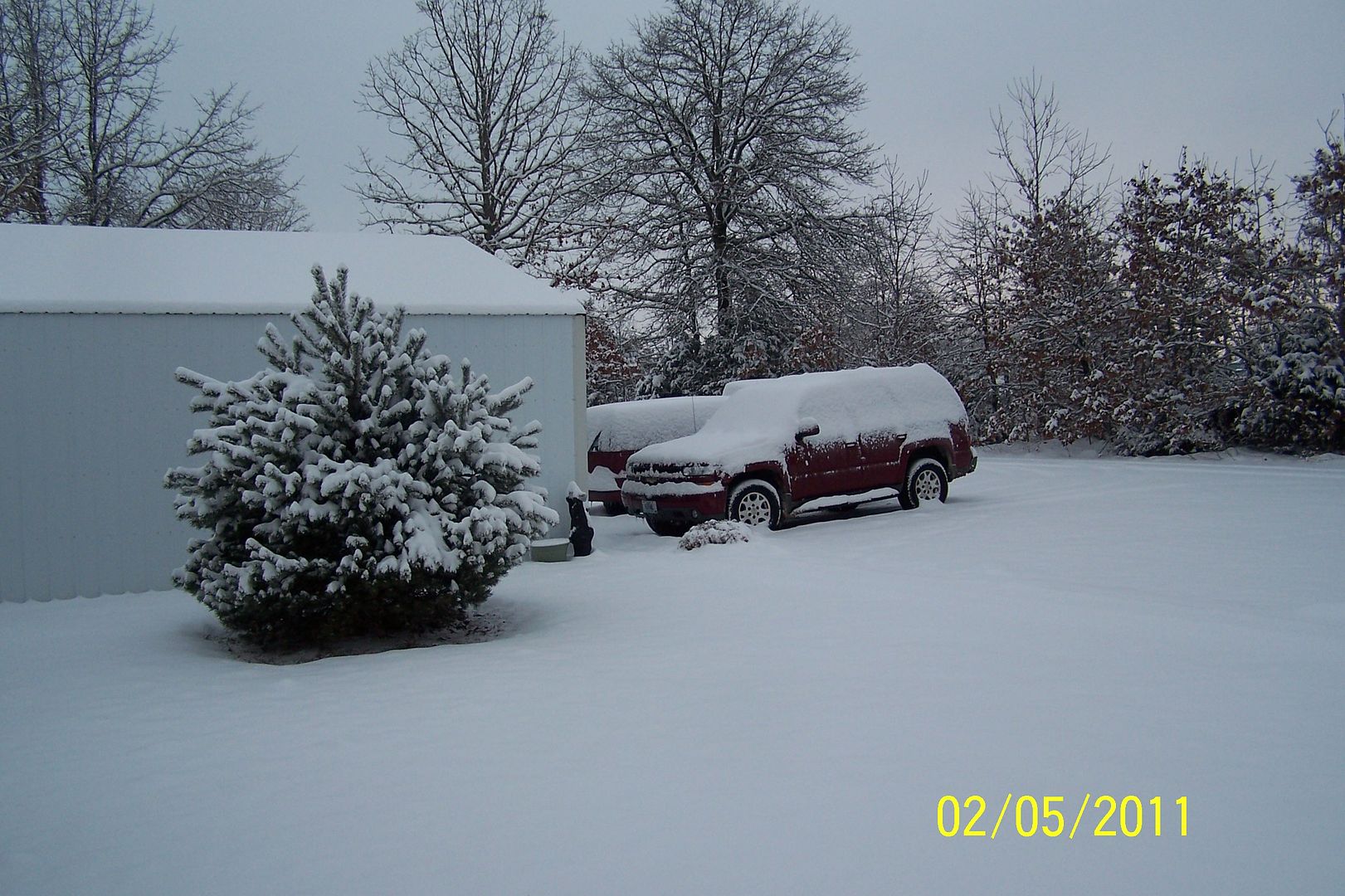 My beautiful woods: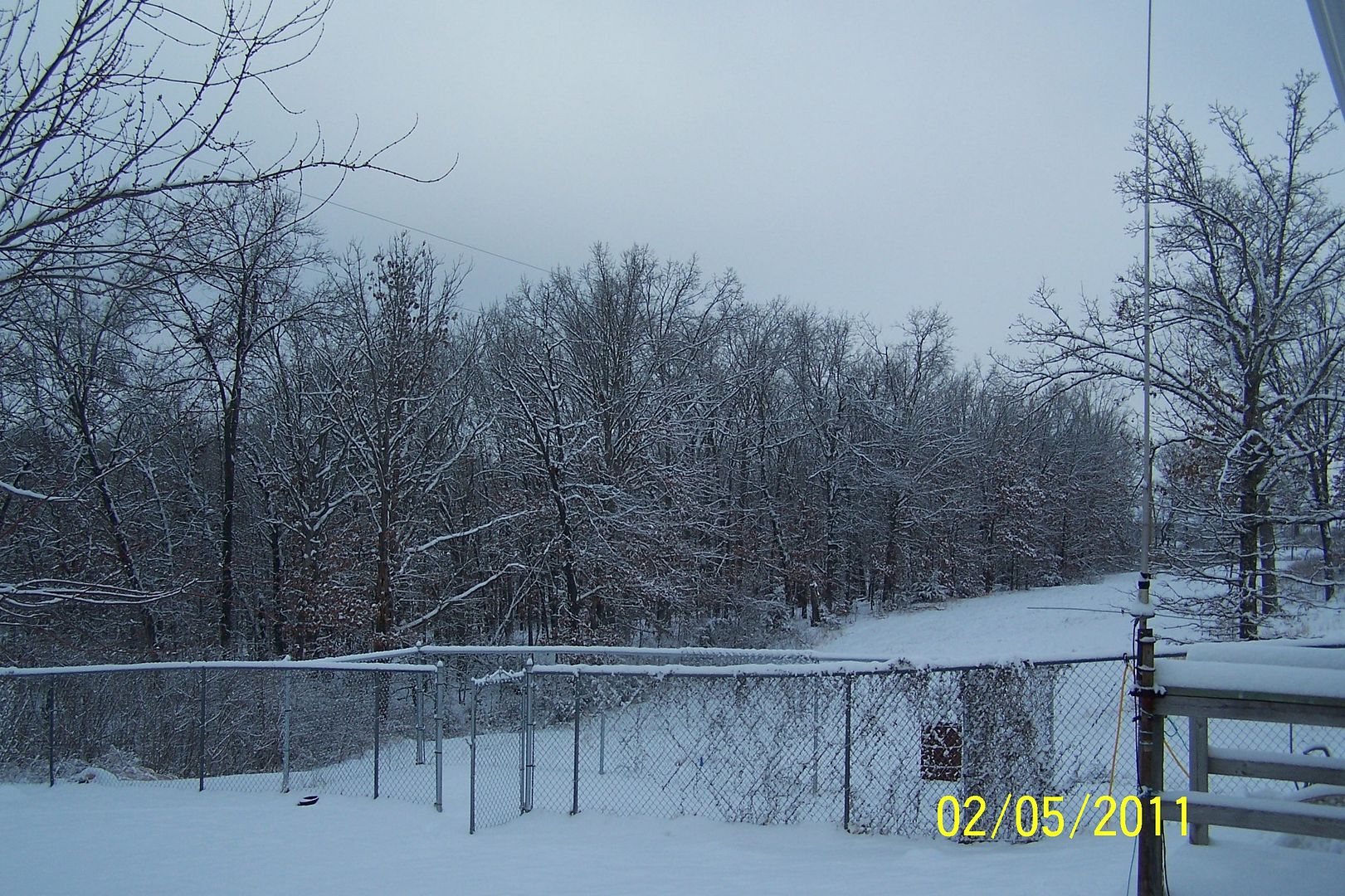 We're all up early (the cats and molly do not understand the phrase "sleep in") and when I stumble out the sarge tells me "I'm betting 6 inches, oh and Hattin went out" Now Hattin-the-cat is our city-kitty, and does not know much about snow. I look out the window and see no kitty prints....open the front door and see this: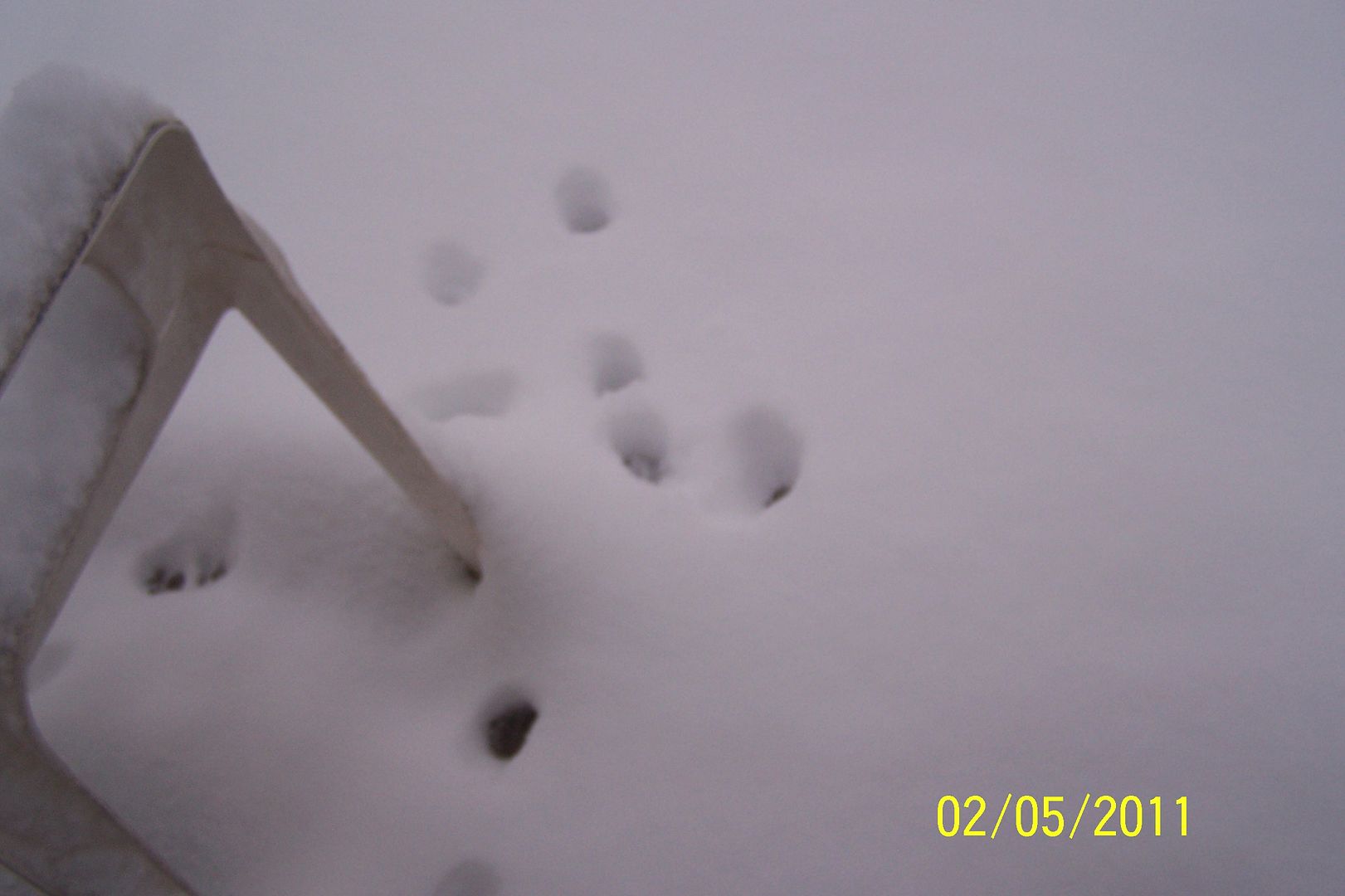 WTH? and call the detective over also...look at this!!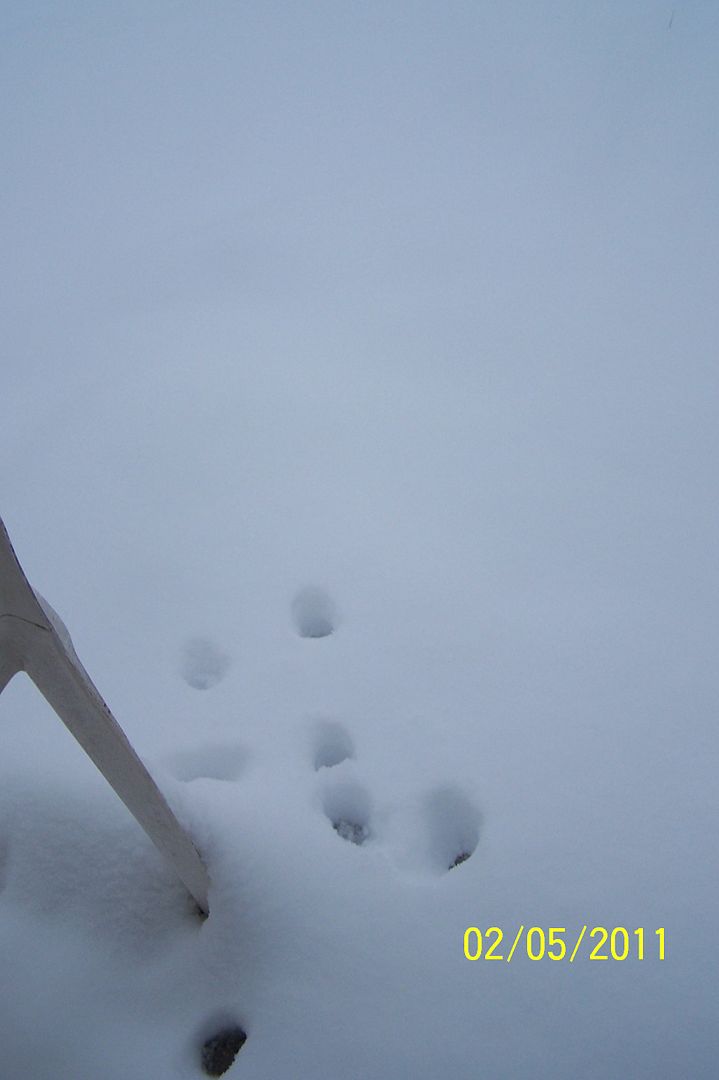 The cat went out but there are only a few paw prints leading to nowhere! Now I realize he has some spring, but seriously...this is wayyyyyy too much! Now the sarge and I are both staring out the door, letting all the cold in, in our jammies, mouths gaped and brows furrowed examining this phenomenom...we hear the crunching of frozen leaves: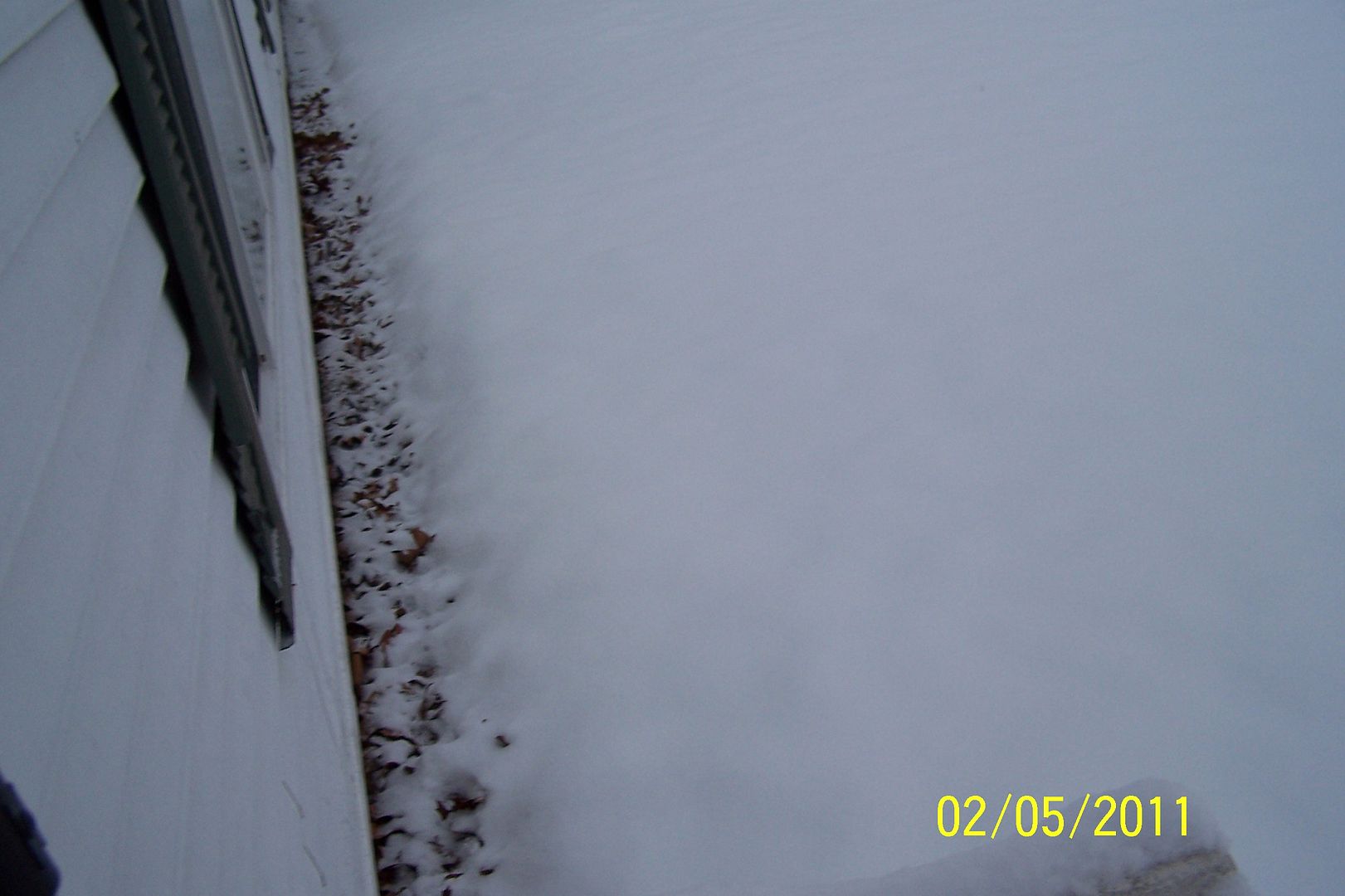 Hattin had sprung over to the house and ran to "do business" via this eave route! HAHAHAHAHAH Cats crack me up!
Molly Kate is not waiting for spring, but blooming now..her words are finally coming! I even got a call from her speech therapist one school day. She was BUSTING with joy because she got a 6 word sentance!! Instead of bringing me a glass and a gallon of milk? Molly said "ma milk" (my milk) YAY! We know the words are in there...but getting her to use them has been a chore....even words she used to know are gone, and I can watch her struggle to bring them out...but she's learning how to do it!
It's weird, and if a picture of a hippo pops up on the TV, you can hear her spit out the word "hippopotamus" with no problem...that's the flip cards that have been imprinted on her brain, and if she doesn't have to THINK about it, out it pops! But if you ask her to say "ice cream" a word she used to have down pat....her brow will furrow, and she will try, but the sounds that come out definitely are not those two old familiar words. I don't understand it, but am blessed to have THE best speech pathologist in the area working with her. LOVE YOU KRISTY!!
We had the babies for a week, when gabe and ally went to vegas to get married on 1-1-11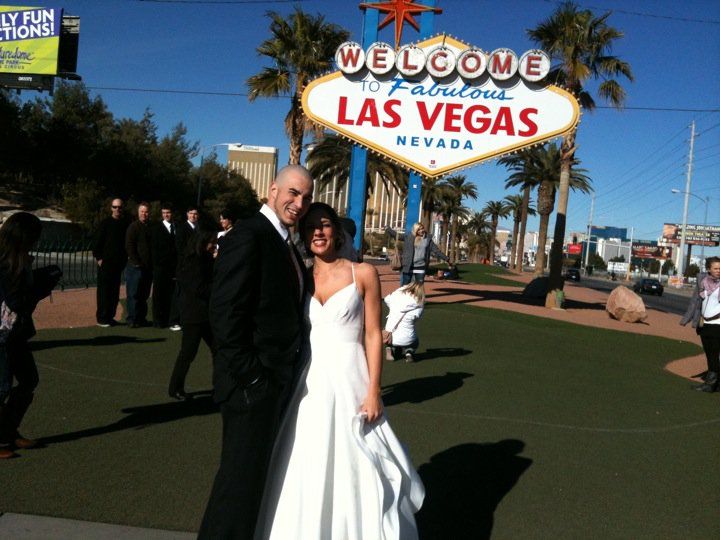 and then again last weekend. All is well in Molly's world, when her nieces are here to play. Her and Aubrey now argue like sisters, get into trouble together (jumping on the bed) and eat me out of house and home. The baby has just started walking, and is adored by her doting aunt, as well as by her grandparents....she's something special!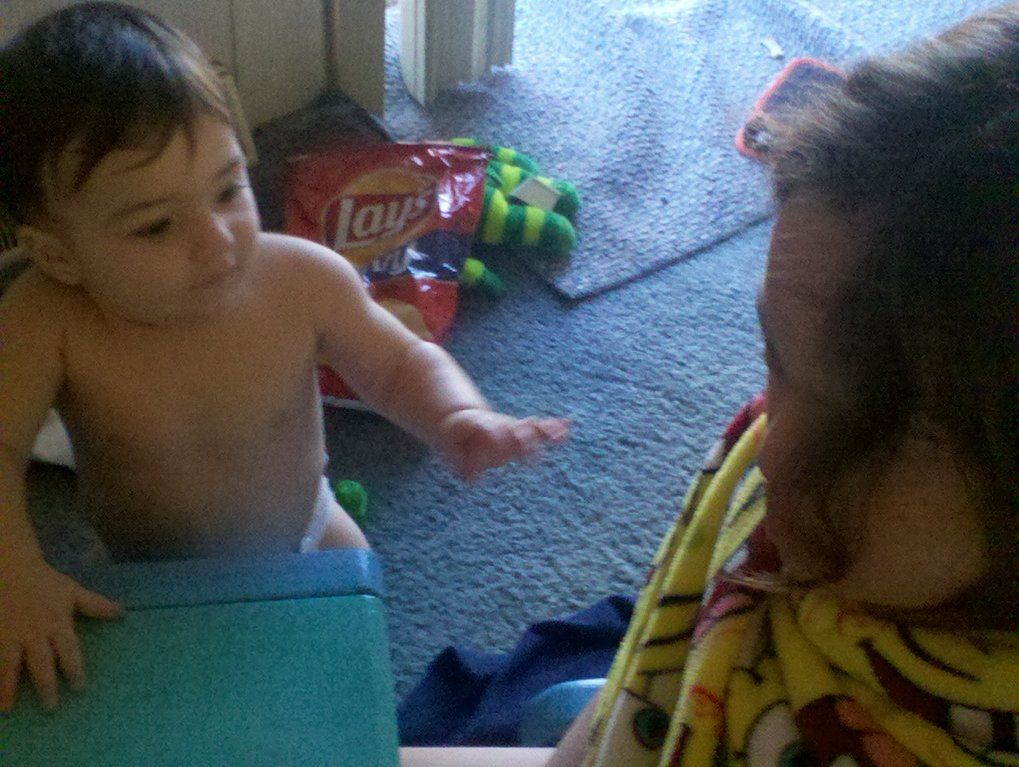 a messy room, and the stolen bag of oreo's: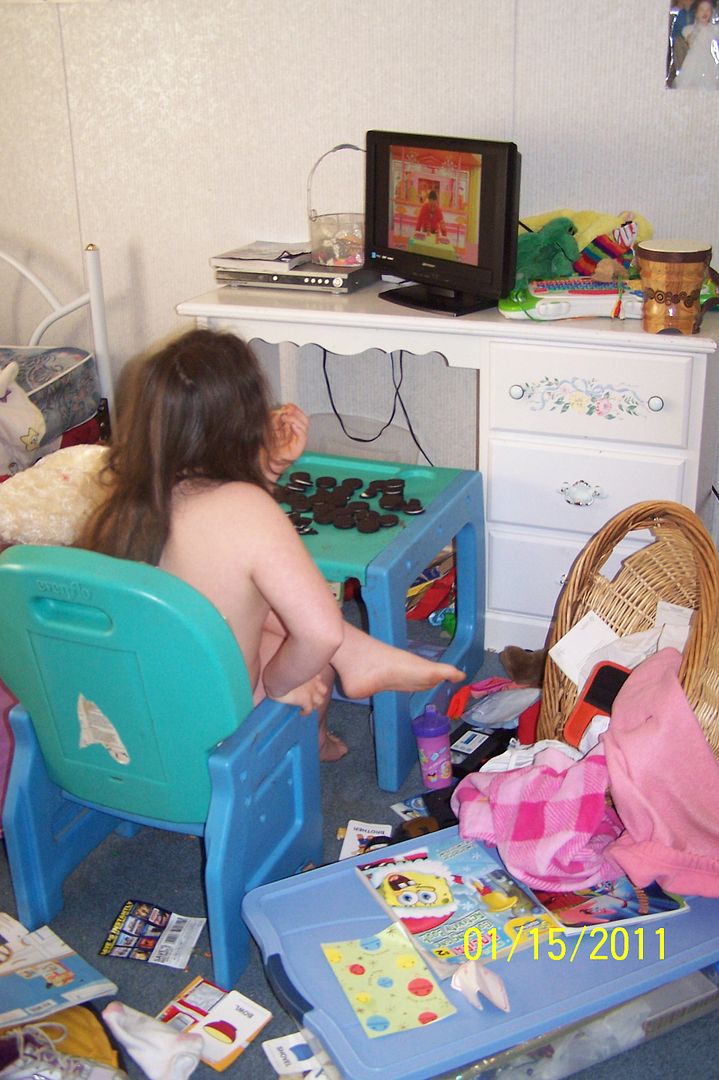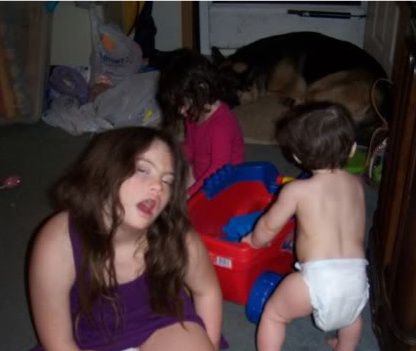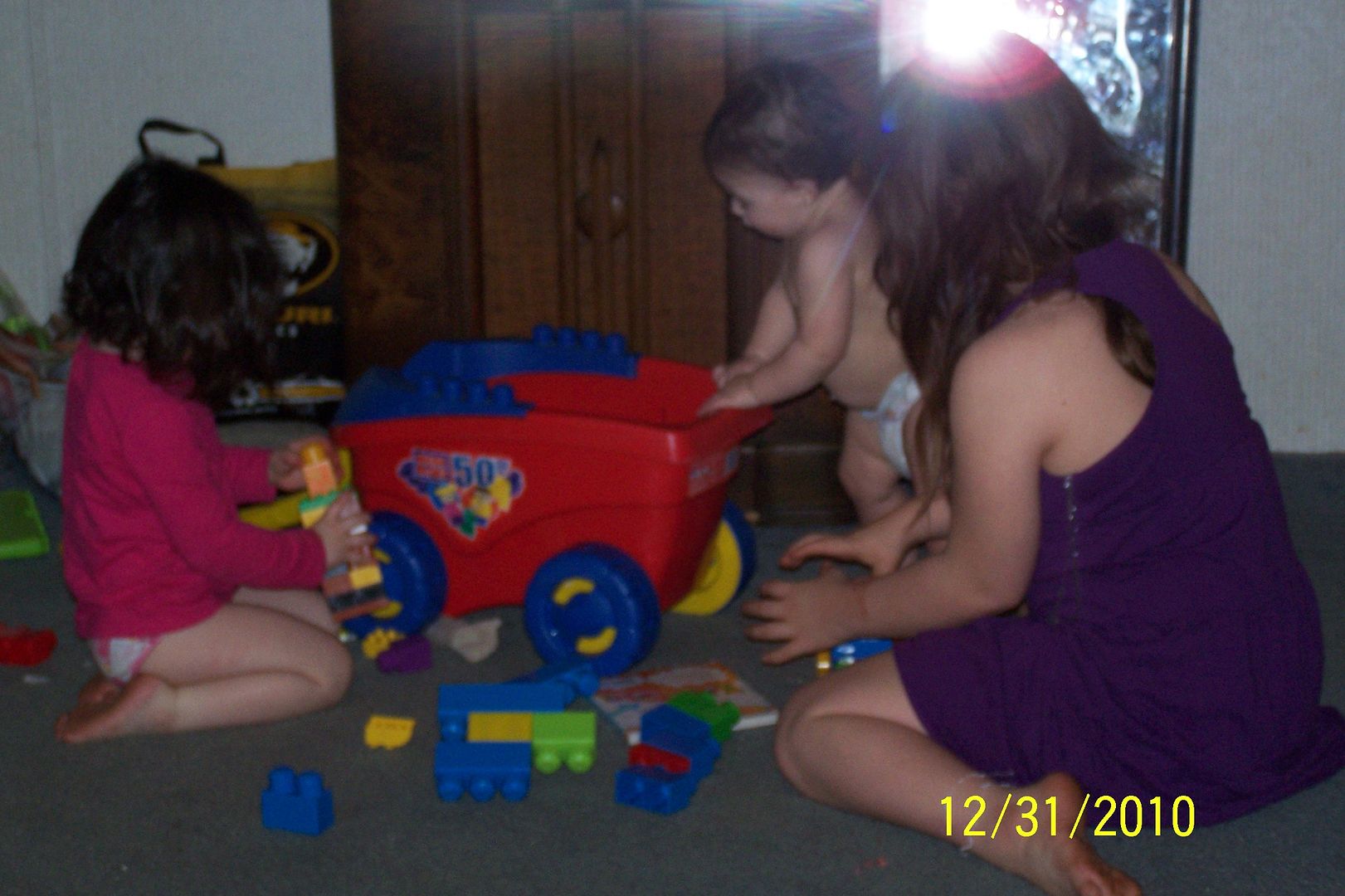 Bill and Ang came down for a weekend after new years, and hung out. He works 24/7 and has 3 phones ringing constantly....so we shut them all off and lay low while he's home. All the grown kids are dieting and working out, and all are skinny mini's! Very proud of the determination they have, and their outlooks on healthy lives and healthy eating. I am so very blessed.....you never know when you're raising them what kind of adults they are going to be....I am blessed times 3 plus.
And on the other side of the life spectrum, mom and dad are anxious to get back here! Mom is progressing, although slower than she anticipated, but is steadily getting better. They are a couple of impulsive kids, and we want them here....but are hoping she is good and strong before they attempt it. It's been 2 months plus since she released from the hospital, and they finally got an appt at the Nephro....waiting on that visit to see before making any plans. We are currently arguing the case of plane vs driving. *sigh*
Love to my sister Patty, who had 'the crash' on her watch this time. She is an angel who has managed to balance a houseful of grandkids,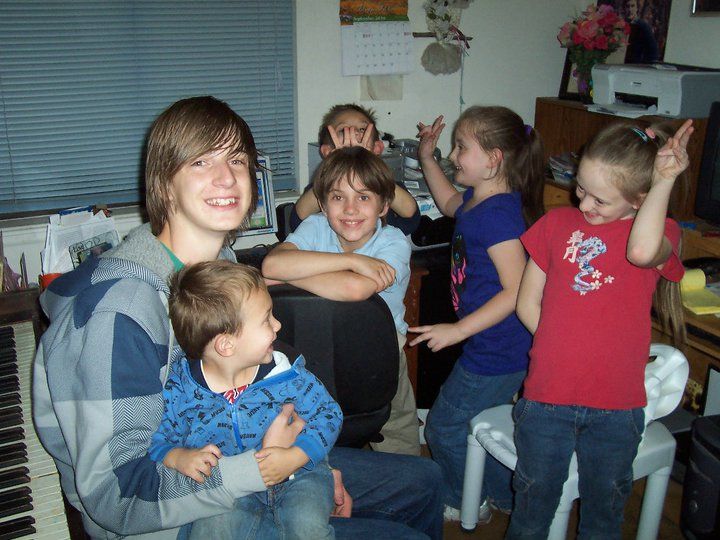 a full-time walmart job with bringing mom back to good health, and all that it entails! Love you patty!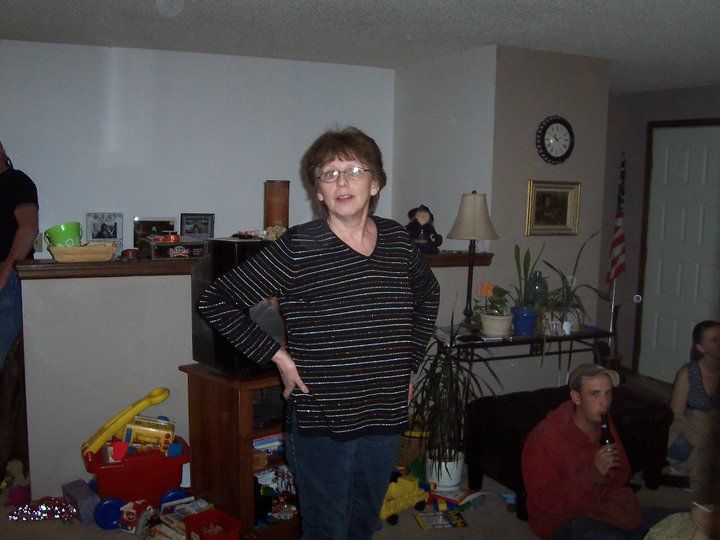 The one improvement we did make that allows us to relax during the weather, is a whole-house generator. We are all electric, and losing power can be dangerous...we were out a week in the ice storm of of 2008, and snowed in. Now? there is 250 gallons of propane hooked up to an auto generator, and if we lose power, we're out for 15 seconds, and it comes right back! *whew* I am blessed to have a husband that knows how to pick out the perfect gift. :-)
Although this morning's snow is beautiful (Saturday and I don't have to drive in it) we have been going through the calender and mapping out the upcoming summer's activities....ohhhhhhhhhhh can't wait! Until then, I think I'll pour another cup of coffee, crawl back into bed, and read this new book! There is something to be said about forced hibernation! :-)