Wednesday morning, i got a call from sister Patty. ..I worked late (10am) and had just finished getting Molly ready for school.
My mom, had been taken to an ER for SOB (shortness of breath) and weakness 3 days prior. She just needed a couple of pints of blood, and was fine. Dr wanted to do an endoscope, just to make sure there wasn't a stomach bleed, as she was wayyyyyyyyyy anemic and he wanted to find out what caused it.
The anesthetic for the endo, caused mom to crash...she was in ICU, on a respirator, and when I asked patty where her fear factor was (our method) she said "10" and started booking a flight on the other phone.
God Bless the sarge, when he heard me ask "Is she still breathing?" he scooped up molly, ran her to school, and filled up the Tahoe. By the time he got back i had a carry-on packed, had called work, and ticket was purchased (side note, to charter a plane is $1200.00/hr w/ a 3 hr minimum...didn't ask about the jet that was offered) I decided that commercial was the way to go.
I guess i look pretty bad...didn't bother with the hair or makeup..just made a beeline for Spg..which is an hour and a half away. I was pulled out of the security line, asked to place my palms out, and ordered DON'T MOVE until I've been given the "thumbs up". They take the swipe, run it through a machine, and then give me the sign..I try to explain to them that I'm flying for a medical emergency, and am assured the checks are random. (yea right-remember, fix your hair before entering an airport)
So...on the plane i start looking around, and see the whole plane is full of grown ups with special needs. There is a company called "Sundown", and they arrange for group tours and chaperons for excursions.. Turns out, this group has been to Branson, and are heading back to Colo Spgs, like me. I settle in, and know that my karma is in place.
I chat with the guardian, and she tells me she is from Seattle, and will be flying out of Denver (yep, we all have to change planes at Denver) and the 4 that are sitting closest to me, will travel on to Colo Spgs...sweet.
The second we got at cruising altitude, the man with DS, and his roommate/girlfriend pull out huge, matching sandwiches and start noshing...I put on the new Bose buds i scored at the Katy, Tx mall, and drift off to thoughts of my mama.....when a horrible odor interrupts them...roommate/girlfriend has hurled that "yet to be digested" sandwich 4 rows ahead and 2 across, and is currently in the bathroom (I'm sitting across from it, yay) and won't come out. This has caused much dismay to the line of people who need to whiz (on an hour & a half flight-my new lucky number) and are squirming in the small aisle....not to mention the four rows of passengers who are picking pastrami on rye out of their hair. The kicker is that odor...we're on a plane...we can't open a window...so it just gets evenly dispensed so that the passengers in first class can share in our joy. This is truly the Cosmic Calamity that follows me like a dark cloud...I jump to help, but can't wipe the stupid grin off my face...this whole scenario is hysterical.
For some reason, we're delayed getting into Denver..i just need to check with sister patty, make sure mom is still alive and bolt for the gate. We land at gate 38, our connection is at gate 90, and chaperon asks me to hold the plane for my new friends, as she knows they cannot sprint the 50 gate marathon. I get there TWO FRIGGIN MINUTES after the connection has left, and am given boarding passes for a flight that leaves in .......an hour and a 1/2.
I call Patty and tell her the struggle I'm having to get off the sticks, about my delay, and that I'm heading outside for air (God Please fresh Air!) and to do the nasty (really a burden cuz this means another trip thru security) She gives me news i didn't know existed anymore! DIA has a smoking bar! YAY! It's at gate 38! BOO! The 50 gate marathon begins again, and I sniff my way to the bar.
I walk out a little wobbly as I decide while smoking, I should self-medicate (beefeater martini's) and remain calm for the next leg of the trip...a whopping 15 minutes....plus i don't want to walk into ICU and start beating up doctors who were TOLD that mom crashes with the big meds....they SWEAR, they just used a little bit of versed~Not that it's in my plan, but panic and me do not mix well...i HAVE to remain calm! It's a long walk back...and at one point I'm standing in front of a gate leaving for DuBai and seriously consider it.
Get back to almost gate 88 of 90, and am hit in the chest by a freight train who proceeds to wrap around me...wth? It's now-stinky roommate/girlfriend!! It seems, that even though there was a 1 & 1/2 hour delay, chaperon still went to catch her flight, and left these poor souls sitting at the gate! THEY WERE SCARED! Lord, I never thought to check on them, and NEVER thought they would be dumped in DIA. I assured them everything was OK & they tell me some "Juanita" is suppose to be picking them up. They don't know her last name, but do tell me the name of the community they live at...I look it up and call, but get an answering machine...it's after 7pm in Colorado. This is NOT GOOD! I have someone else to focus my panic-rage on...maybe.
We finally get to board, and i ask for their passes...they are positioned all over the plane. We get to board first (membership has it's privileges) and they stop when i crawl into the window seat on row 7. "hell, just sit here with me" and we promptly fill the row across both sides of the aisle. As people stop..look at the four us (remember, I am a WRECK) and say "I'M in 7B", I just hand them a different boarding pass and say, "Nope, now you're in 23C" No one argued, again, it's hysterical....the fear that jumps from ignorance.... Always amazing and funny to me.
We finally made it to the Springs, and sure enough there was a frazzled, young woman waiting. Anita and I had a chat about cell phones and contact numbers needed for these excursions...and I left my new, stinky friends with her *whew* and went to find my ride. Poor cousin Michele must have been driving for hours around that airport.
Enter...the ICU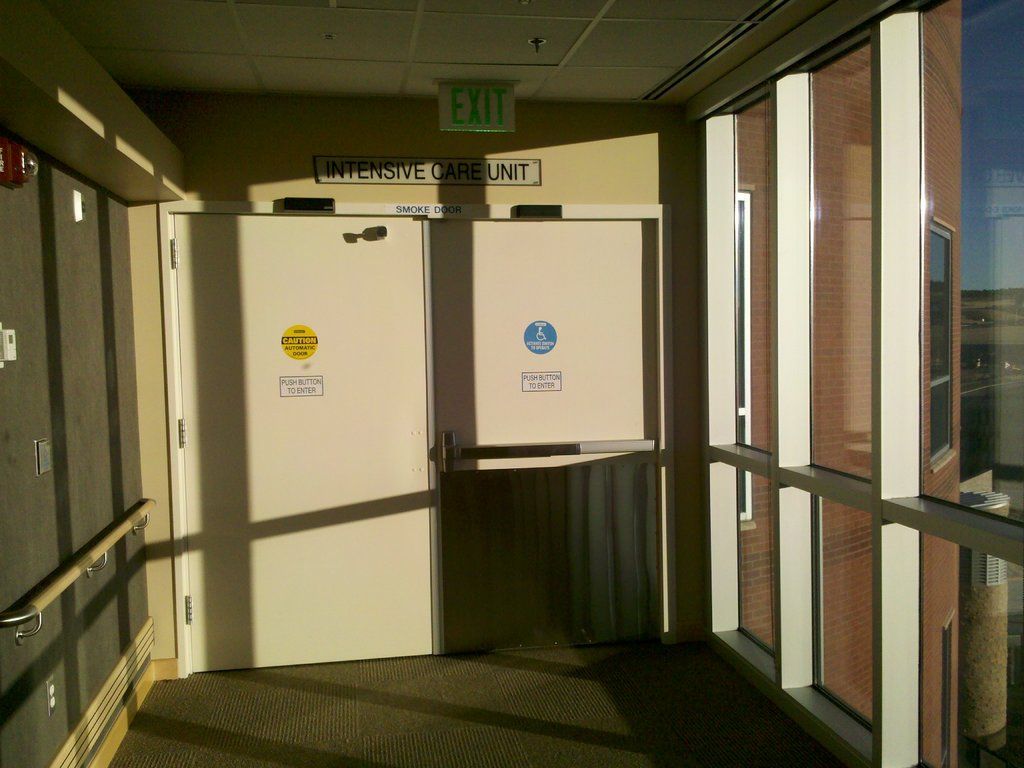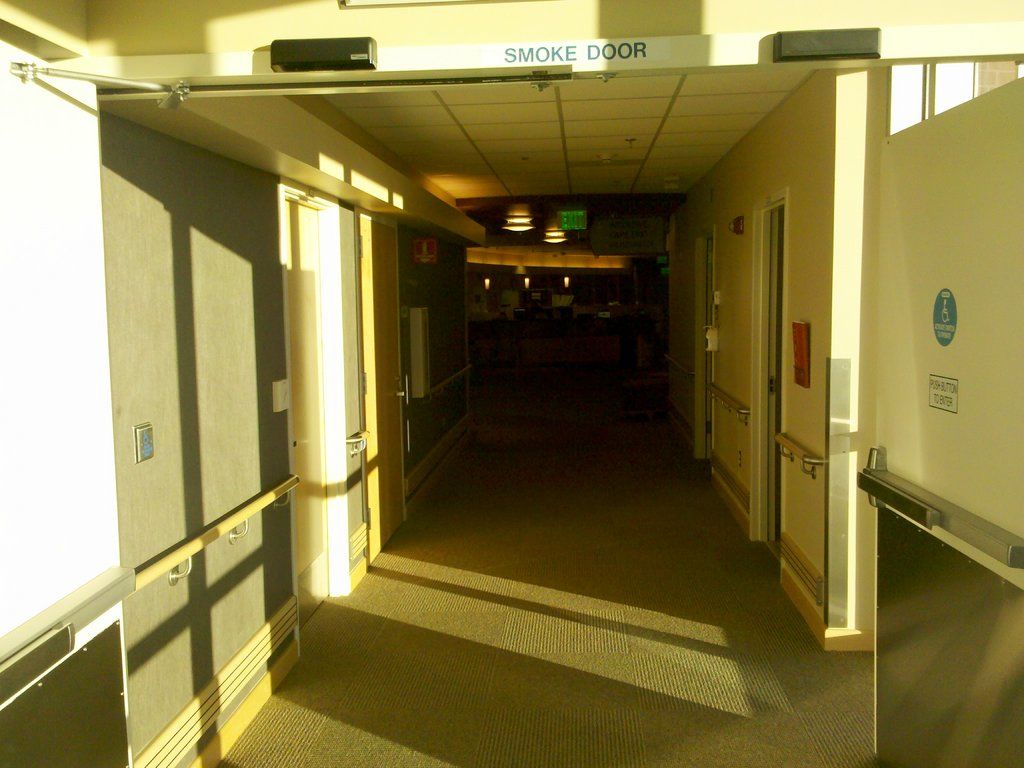 The hospital has a hard time being too scary, it's 2 years old. I was amazed all all the innovations that were being used. Mom's blood pressure was monitored in a vein...no cuff. The other thing that stood out, was how quiet it was. There were no beepers and bells ringing 24/7...which can confuse elderly patients. A wonderfully electric shade made sure we had a bright view of the mountains in the morning, and it was dark at night..keeping everyone well-grounded. It also only served meals by call (no racks of trays coming up...you eat when you feel like it, and all orders are made to specs) and *drum roll* had a STARBUCKS downstairs, and only served SB coffee everywhere!
(Hospital lobby with view of Pikes Peak)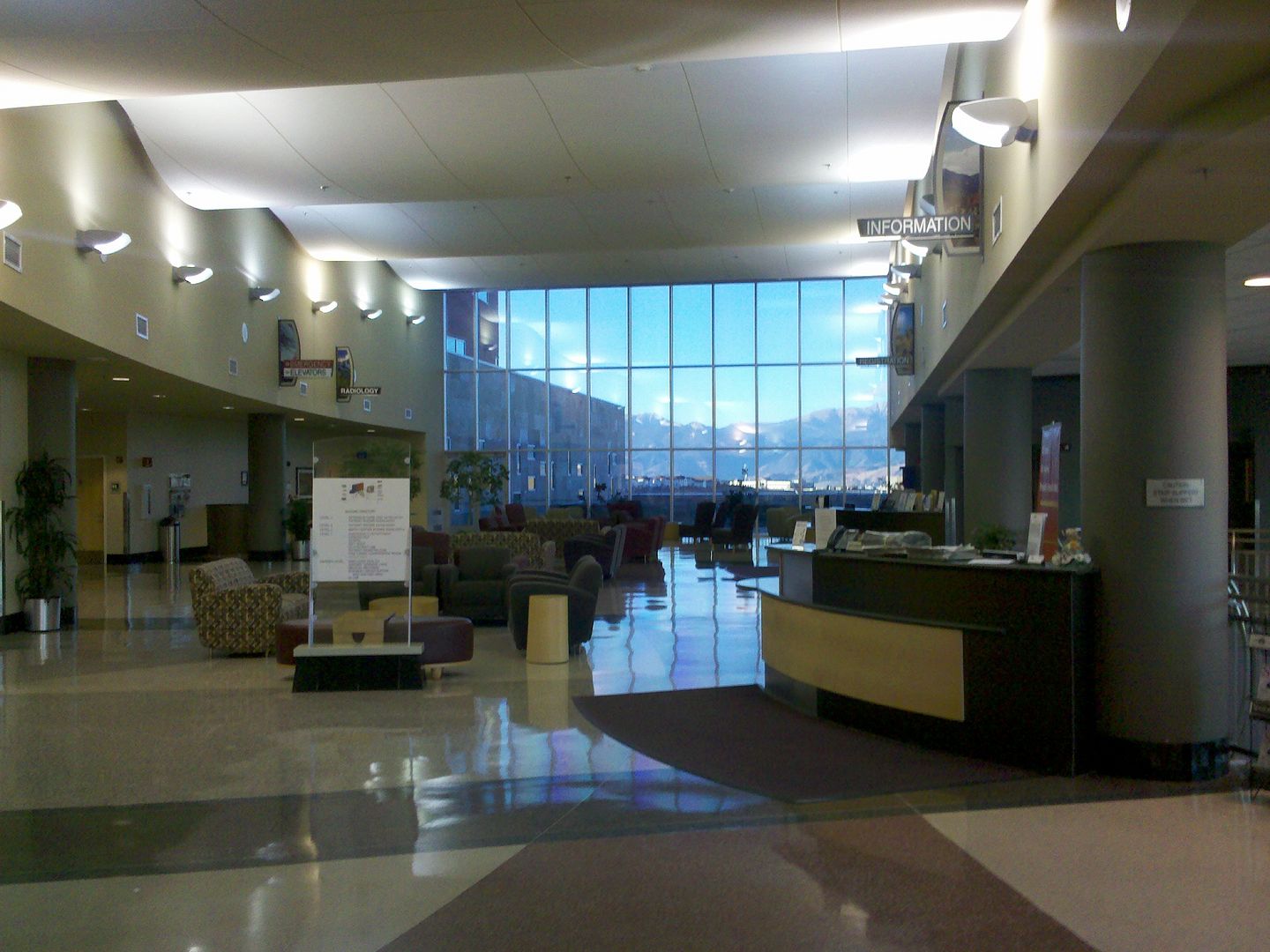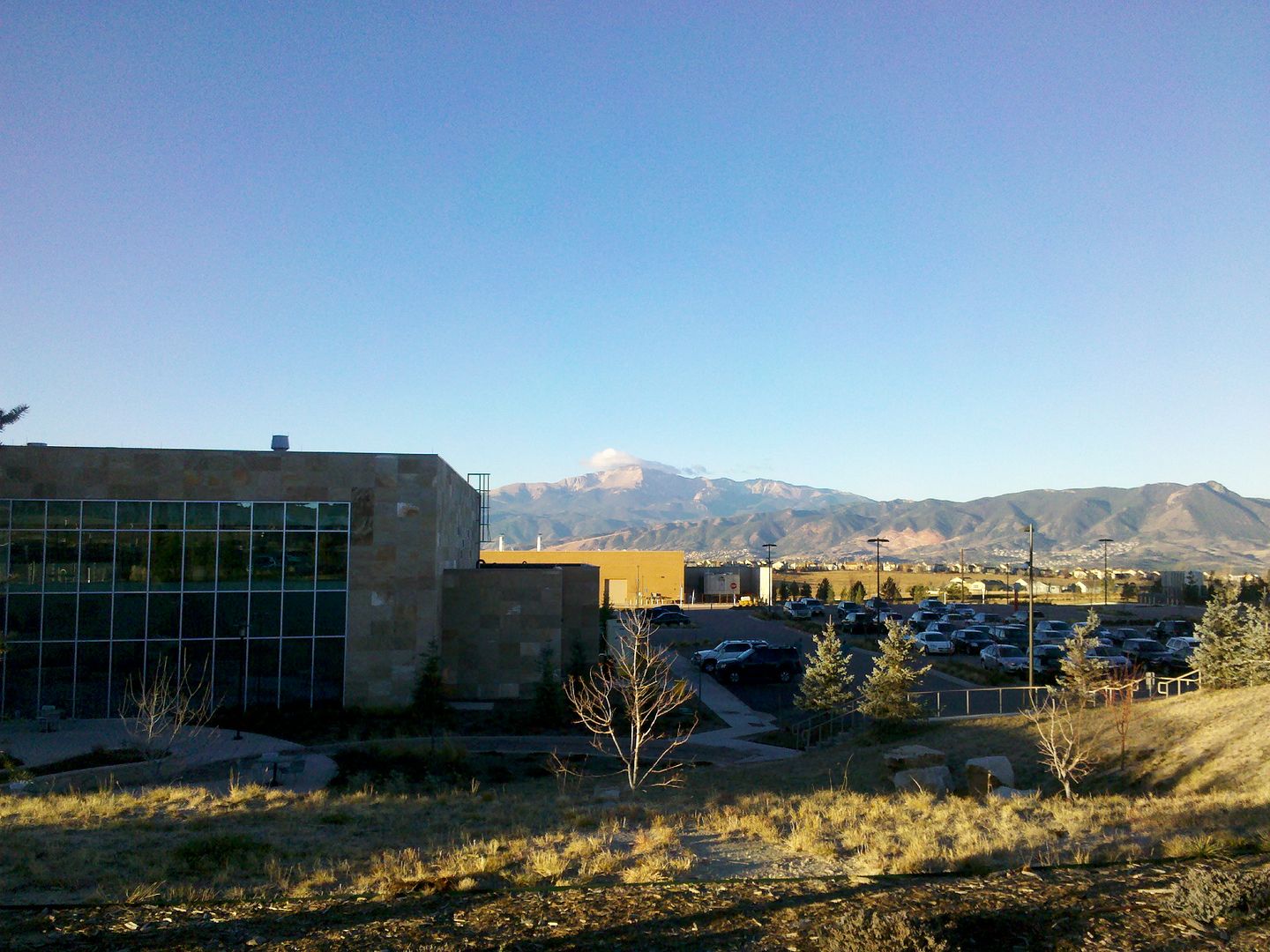 Fast forward 3 days, the vent comes off of mom and all my sibs make it to her bedside. My dad is...well, not reacting to things the way i would (edit/erase/rephrase) but it's not something we have to worry about too much, because my Uncle Bob never leaves us, and is handling Dad. Everyone reacts to panic situations differently i suppose...and Thank God for Uncle Bob, he was a Godsend and a rock.
(Uncle Bob and Aunt Ursula)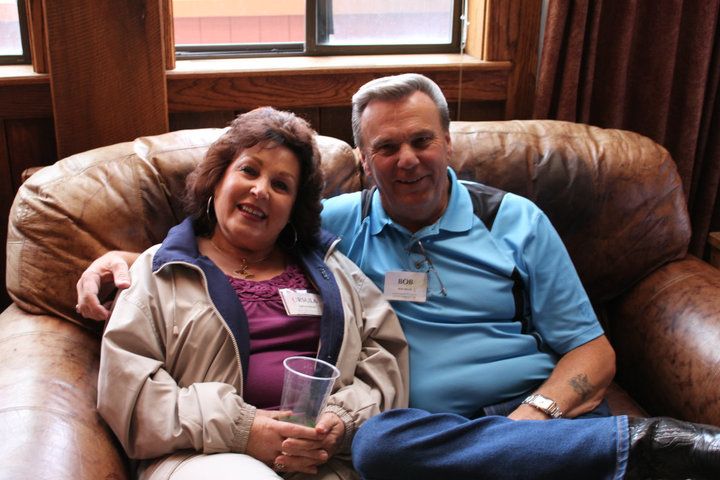 The Respiratory Therapists were pretty funny, asking me about my CPAP...guess my snoring was quite the topic! With the exception of that bit of teasing and humor, it was terrifying being up there in ICU...in 12 hours i watched 2 different families lose loved ones...one 55 yr old dad, and one 21 yr old daughter. There is no escaping the sounds and the sights of the grim reaper...and I couldn't wait to be out of there. (Blessings on those families) They let me stay with mom every night, in a very uncomfortable chair...which was fine with me, there would be no reaper visiting our room, not on my watch.
Interesting side note...she had to be kept under while on the respirator, but not on any usual downer meds.(SHE CAN'T TAKE THEM!!) and i asked about the milky white drip hanging with her other IVs...i recognize names like Levaquin and Bactrim....but not the 3rd one.
Nurse Ratchet said "Proponal"...and I'm all "oooooh, that's the Michael Jackson Juice!" She did not find that at all amuzing at all and was not impressed that I knew that..just said it was an anesthetic, they did not call it that, and it was only used for special cases, and only while people were on respirators. Then she winked and said "We call it Milk of Amnesia"
Interesting because of the speed in which it dissipates from the system. It's magic..if we needed to have responses from mom, or do a breathing test, they would just turn the dial down from 10 to 5, and immediately her eyes would pop open. They would leave her up just long enough to satisfy whatever question they had, and as soon as she started to fight the vent, would turn the knob back up to "10" and out she went. They told me she would never remember being on the vent. Amazing stuff....and made me angrier at Michael's doctor.
Terror, humor, and family connection...sounds weird...it was, seriously...we call it "Bizzaro World" but I soaked it up, anyway... Got to run to Patty's house one night, wash the clothes i had been wearing for 2 days, grab a shower, and meet the herd of grand-nieces and nephews...they were amazing. Ages 16 to 2 yrs..Patty's house stays like grand central station. There wasn't an empty sleeping-couch while Mom was critical...all the little ones were there, all the parents took care of each other's kids, so that one couple could always be at the hospital. My sister Jeri and her hubby Carl were staying there, as well as Alyssa, Patty's daughter, who flew in from Texas. She is just like my shauna, immediately went grocery shopping, and kept everyone fed.
Operating like a well-oiled machine, i don't remember seeing fights, or hearing any crying. The kids (maybe 10 of them total) were all SO VERY well mannered! Would have never happened that way when we were little....more like my parents prayed that they didn't have to call the fire truck or an ambulance when WE all got together!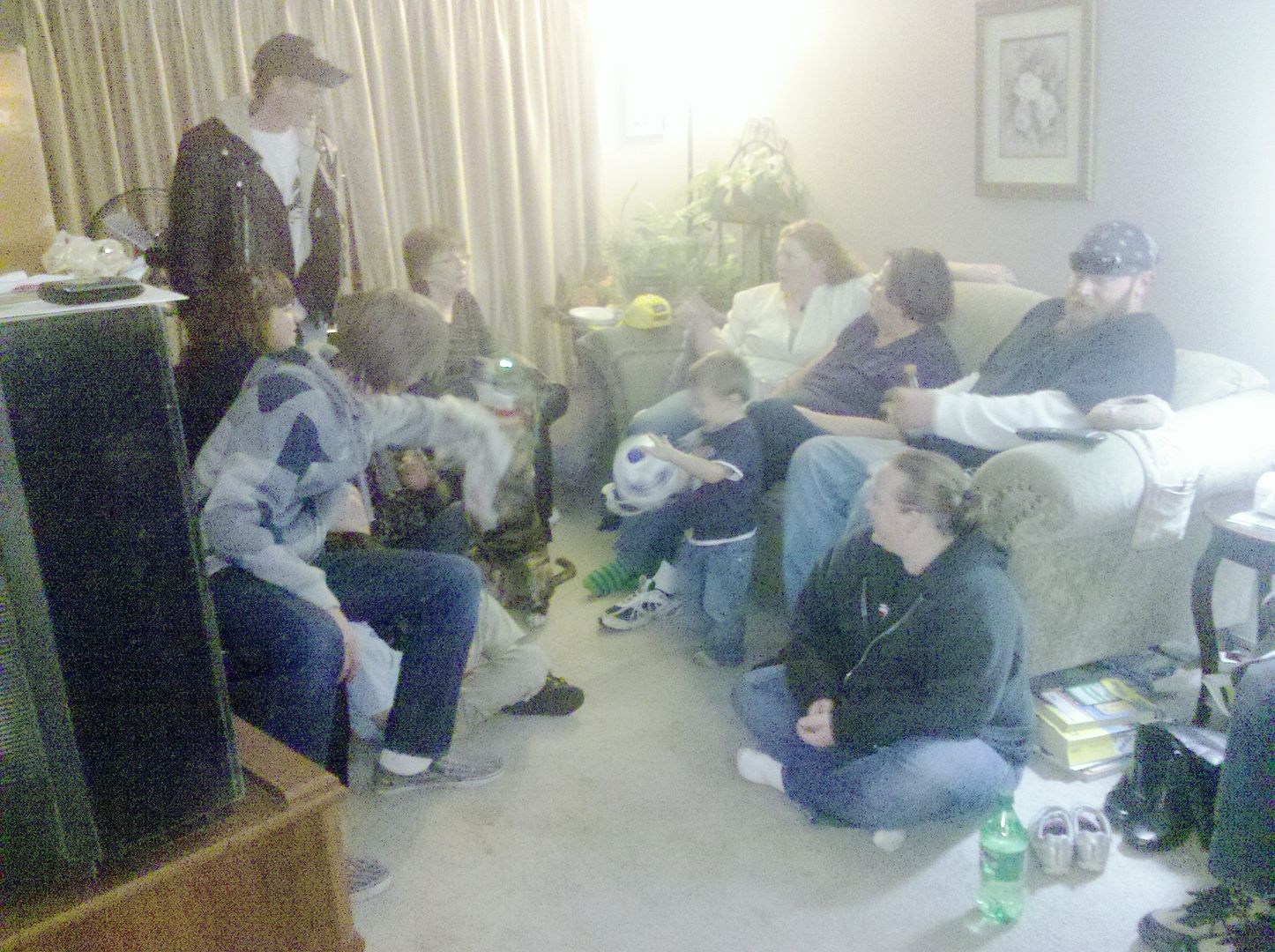 It was such a short, wonderful, stressful reunion. At one point the doctor told us that there was a 15% chance that mom would not be able to come off the vent. He wanted to try it, and wanted us to sign documentation regarding whether we wanted her left on it, or not. TERRIFYING!! We opted to wait for my brother Rich, and sister to get there...stoving him off for 12 hours. Turns out, early the next morning with just Patty and I there, the RT nurse said mom would be just fine, and pulled it out! BAM! she was not breathing deep enough, so we opted for the BI-PAP, which is less invasive, and within a couple of hours, she was trying to talk. The respirator left her raspy, and sore. She had a lot of questions, but mostly was scared to death she had fallen and broken something again! As soon as i told her it was just a setback with her lungs (and kidneys) and that she would be up and out quick, she relaxed. Poor thing, how scary would that be?
I didn't tell her at the time that her kidneys were operating at less than 5%, and that the doctors were talking about dialysis. Karma was with us again, as within 12 hours, her little kidneys started working again. There is not much left of them, they say it's caused by unmonitored high blood pressure, but they are up & working and can be cared for with daily meds, and a restricted diet. No more big protein meals for mom.
I told her that my brother was even coming with his 2 boys (from Greeley) and whom I haven't seen since THEY were toddlers, and she looked at me and asked "Am I Dying?" ...so bittersweet.
"No, mom, you're in Colorado...everyone lives here"
Younger generation?? Make sure you are getting home to see your family more than once or twice a decade.
(brother rich and one of his 2 boys, Danny)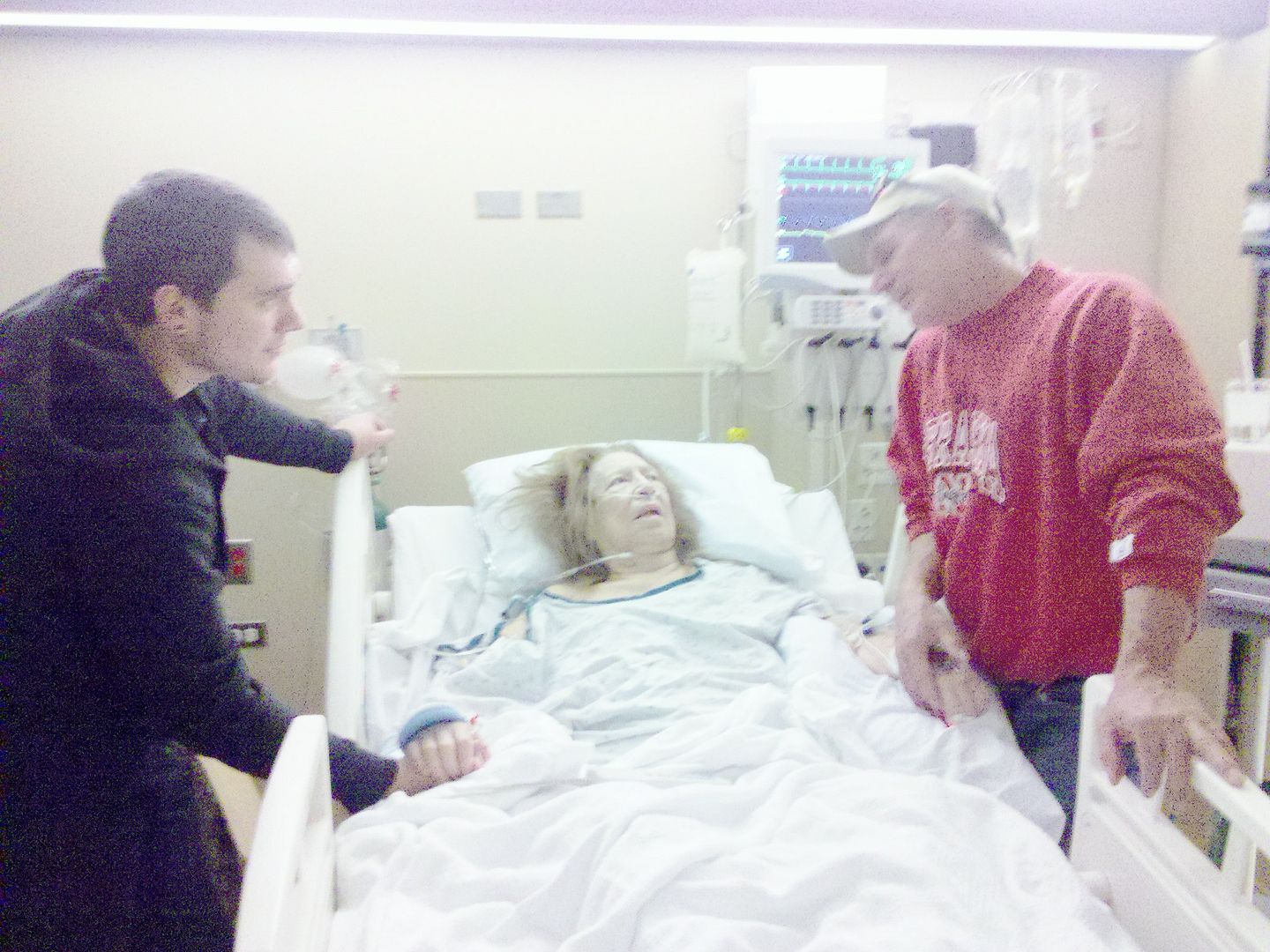 (the cutie-patootie grand nieces and nephews)
(Alyssa, me & mom-post vent)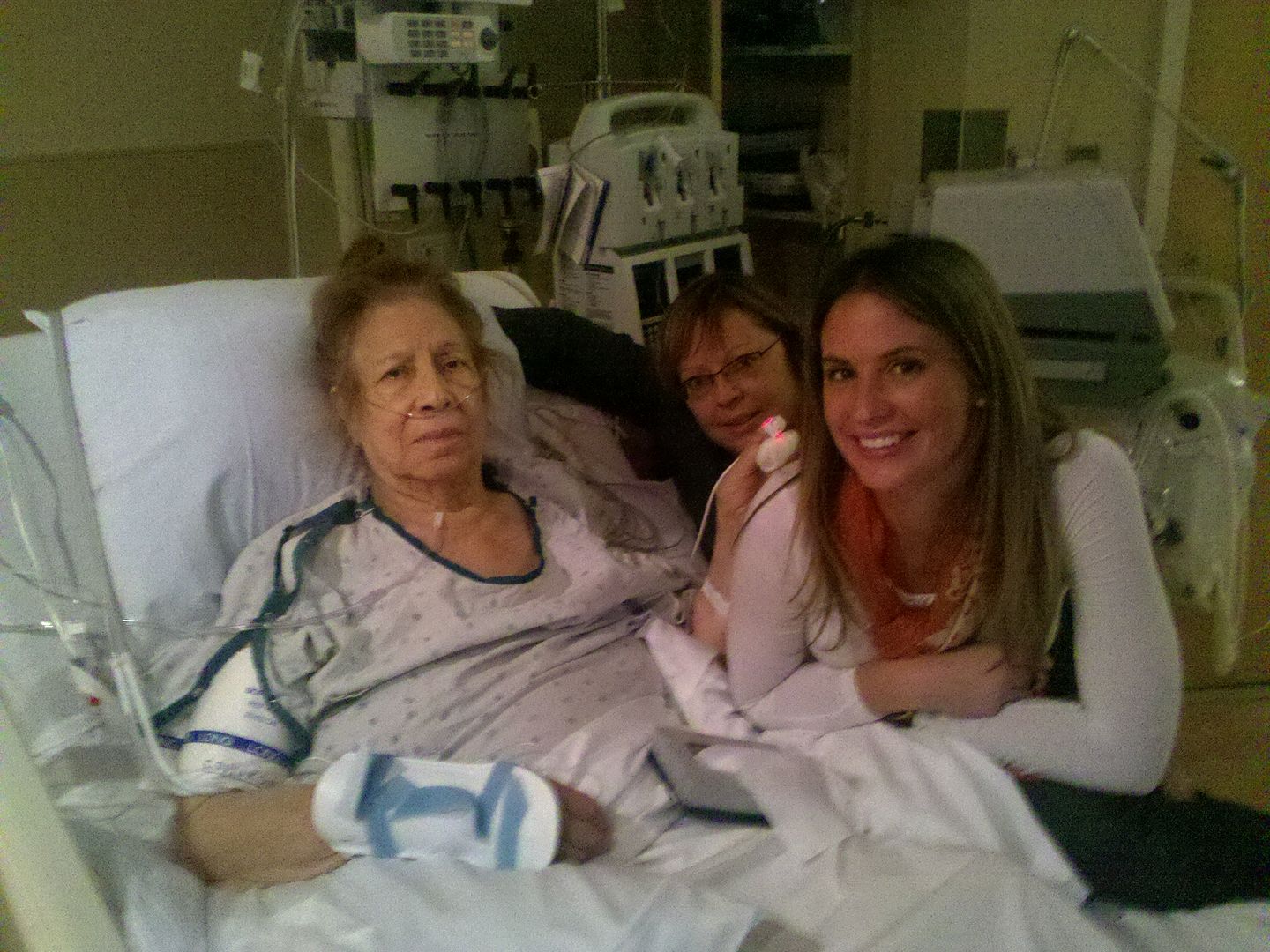 As soon as she moved downstairs, I spent my last night with her. I didn't want to tell her it was time, but I had to get back home. We spent the night watching some Music Awards show, holding hands(my chair is again right next to her bed)and waking every hour to her whispering "do you have to go yet?" *sniff* I think the hardest thing I've ever had to do was leave her. If Molly had been with me, I wouldn't have....the sarge would have had to come pay some kind of ransom & drag us back. Slipped out for a 4am trip back to Denver, and ran for the door with a quick "see you later" holding the tears. I hate goodbyes...just like Molly....it's really difficult when you have just witnessed how fast the Reaper can sneak in. She's in good hands, though, with sister patty, I trust her judgement.
(sister, Pat...on guard in my uncomfortable chair/bed)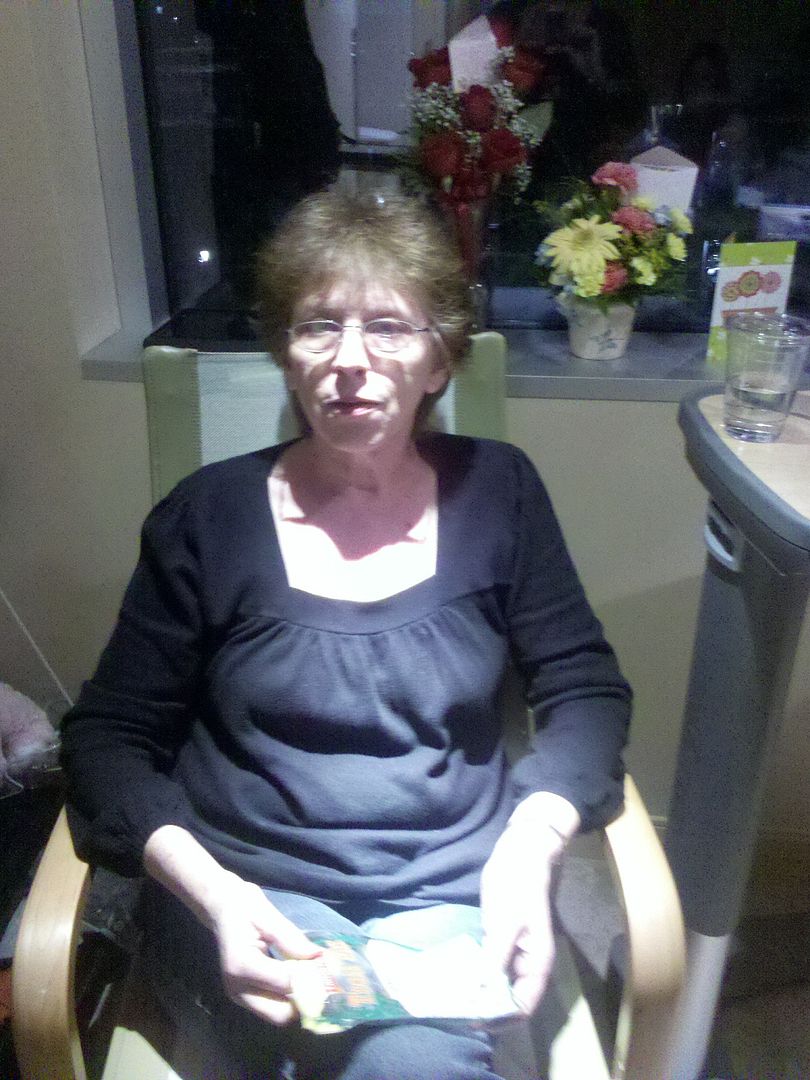 Caught a $100 ticket on the way back..was the last seat on the plane (amazing during the holiday rush) and had to transfer at Dallas. Again, a delay, as we had to De-ice (pretty comical since I'm still wearing flip-flops...panic packing never includes shoes) another new experience.
All the way to Dallas the flight attendant is announcing that she has a phone number to re-book, if we miss our connecting flights. I'm not worried, I have a what??? a 1 & 1/2 hour delay between flights. Check my watch, plenty of time....plus we de-plane at C Concourse, and the connecting is at D. So I walk off the plane, find a bathroom, and catch the skycab to Concourse D. Now, when I printed the passes at Denver, I only got one...so I walk up to the ticket counter at an empty gate....I must be really early and actually glad about it, there's a coffee shop right across from the gate, and the way things are looking, it's gonna be the only cup I get for the day. I'm half tempted to stop before going to talk to the scary counter ladies.
I step up, and before I can explain the situation about the missing boarding pass, one barks "What's your name!" "Wilson" "good, get on board!" wow...that's never happened, but, you don't question the TSA anymore, and I do as I'm told.
It dawns on me, as they close the plane-door behind me, that I forgot to change my watch from MST to CST. Holy Cow! I almost missed my flight and didn't even know it! The sarge was picking me up in Spg, and we timed the ticket so that I could get there, and we could get home before Molly got out of school! EEK!!
So, God DOES takes care of children and fools, and my mama, too.
Part II?? too sad to write about.....maybe later. Hey, go hug your moms, and say YES to the reunion that is undoubtedly being prepared. You just never know.......