I've been off this week, just staying at home and getting my act together. Molly has been right by my side, tearing my act apart. Im gonna call it a push.
the shirt is out of the "winter" bin, the pants out of the "too small" bin & add daddy's prized "champion boat" hat to complete the look.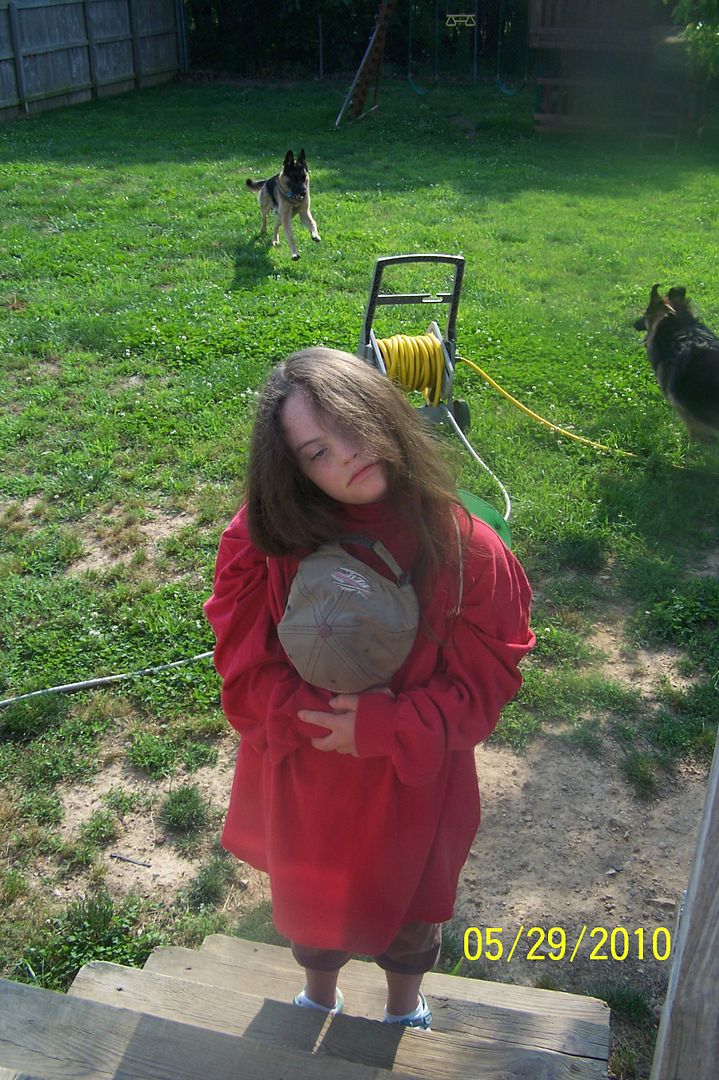 and we had to accessorize! This came out of the "Halloween" bin!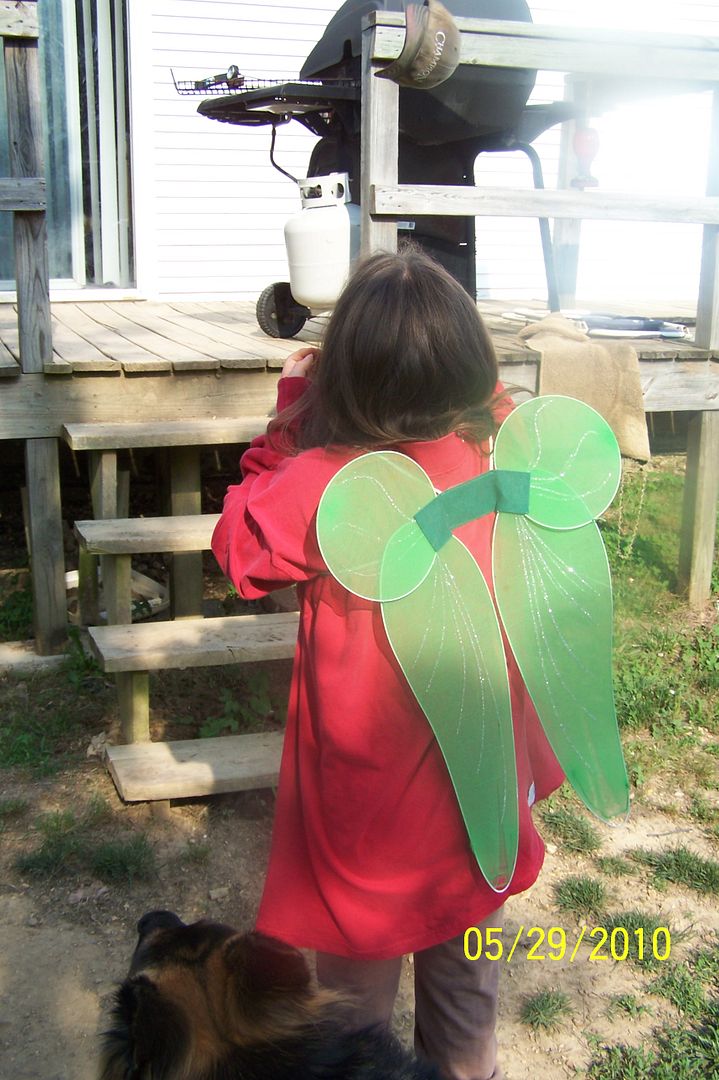 My poor yard, which was totally redone last season, is showing the wear & tear of two big dogs...so Pruett Home Improvement is on their way to fix it by re-doing the deck and hang gutters! ( i KNOW...the sarge didn't understand either) They also will redo all the entry ways to make it easy for mom to enter the house AND the pool! Did I mention I'm married to the most wonderful man in the whole wide world?
I did get to Spg to visit w/ my bebes. Zoey is growing by the second, and can hold her head up and focus intently on my face, as well as jerk around to see what dog just walked by, or where mama's voice is coming from! She is also starting to smile! SHE'S SO ADORABLE!!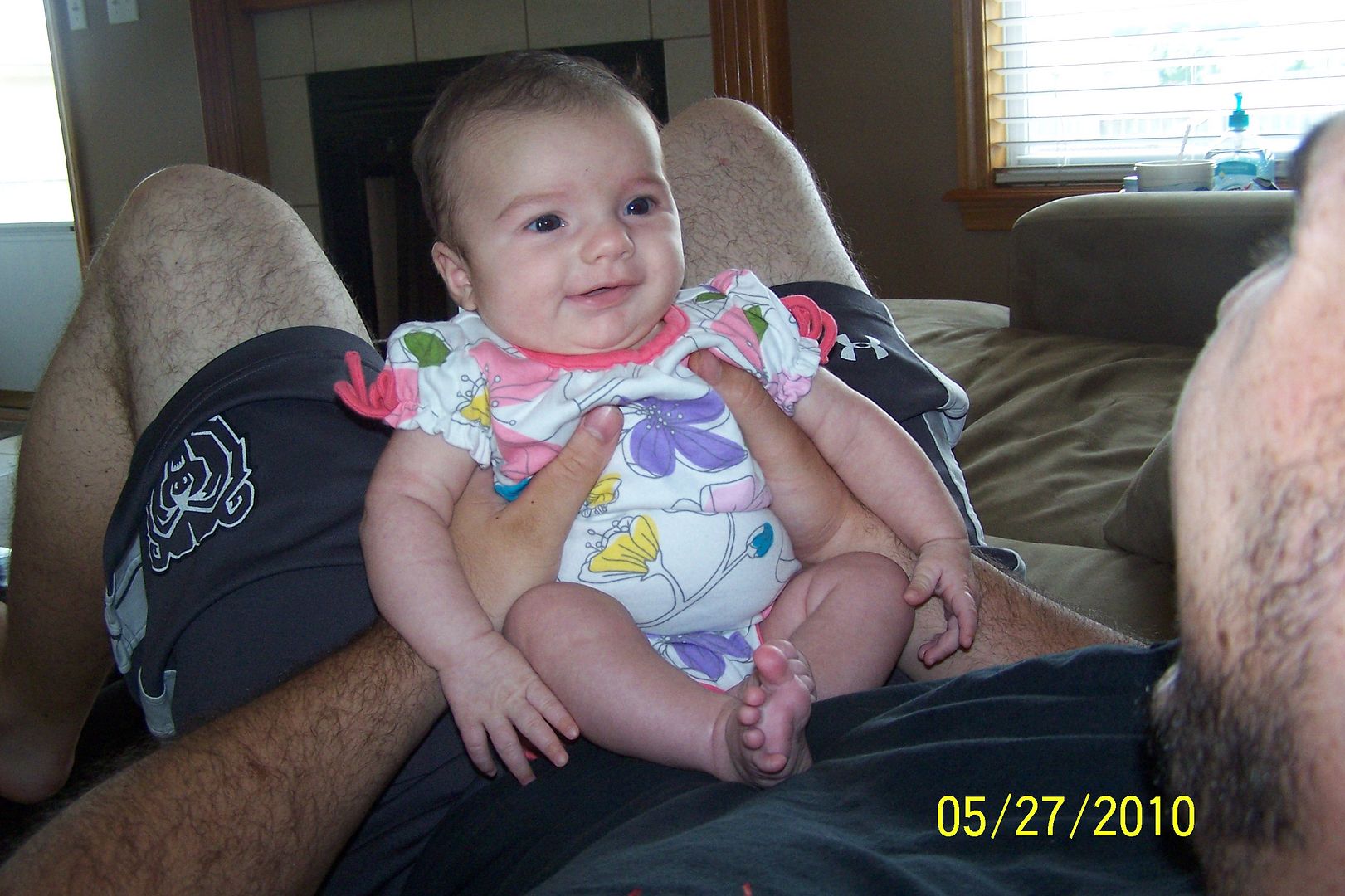 Aubrey Jo's vocab has now surpassed mine. She runs the i-phone, looks up her flash cards, and i think she's working on the grade 12 set! They told me it's also causing trouble. Daddy was admonishing her one day, and when he got to "3" on the countdown Aubrey just turned around, dropped her pants, and said "Smack it! Just Smack it!" hahahahahahah. She can also just drop her pants because she is no longer in pull-ups! YAY AUBREY! She continues to idolize her Aunt Molly. :-)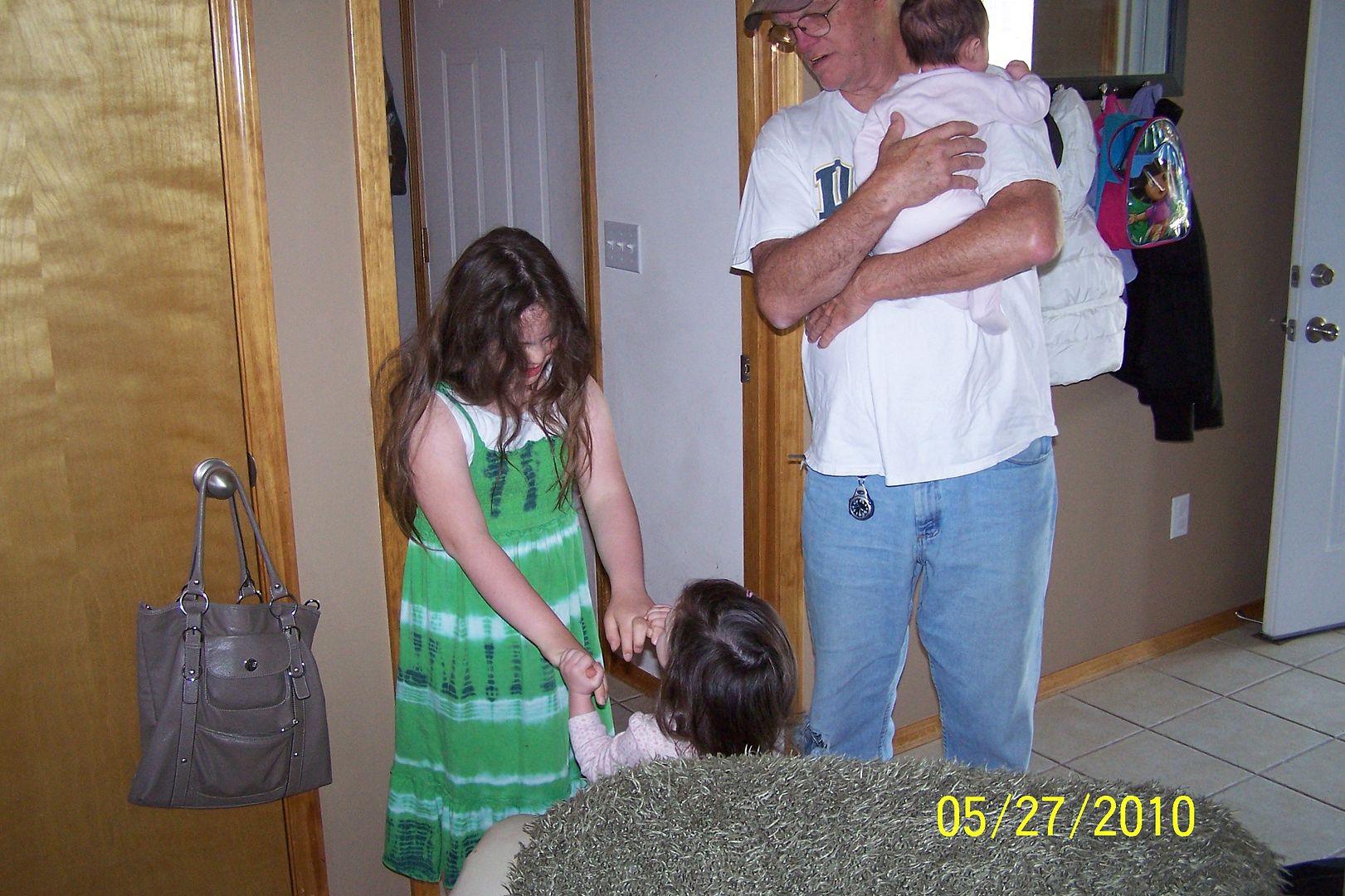 Mom has been a roller coaster ride, we're glad to say we're off of. She crashed one more time to the point i was arguing with the ER doc about putting her on a vent! EEK!! A new doc came on duty about 5am, and LISTENED to me...(Thank you, Lord) and we tried the Bi-Pap machine (strap-on face mask that blows O2) and her numbers came back into line with every 1/2 hour blood-gasses draw! She was diagnosed with "carbon dioxide" poisoning, occuring because her breathing was so shallow. Those pesky lungs are still bugging us, and she remains on O2. I'm thinking she inherited Gramma LuJon's lungs *sigh* As SOON as her levels were back in line?...she bounced right back. There have been more than a few Miracle Days along this ordeal.
She came home for an all day visit with us yesterday, making Memorial Day a day to remember...and I know we're very close to her coming home permanately. I want to go get her again today, as they do no PT in rehab on weekends, and i saw first hand her improvement throughout the day as she moved around. I don't want her being idle all day and 'stoving up'.
She's being very impatient with her recovery, and i detected a little depression. I told her this is part of the post-major surgery blues, perfectly normal, and to keep working....which would be another reason I want to go get her again. Rehab doesn't have a problem with it at all....but mom was hesitant.
We finished off the regular school year last week, including 3rd grade pet day!! Molly was pretty "ho hum" about it i thought, until teacher described to me the way her face lit up when she saw mom&dad and the matching set of German Sheps! Too much fun with a goose, and a donkey being brought in to round out the dogs and cats!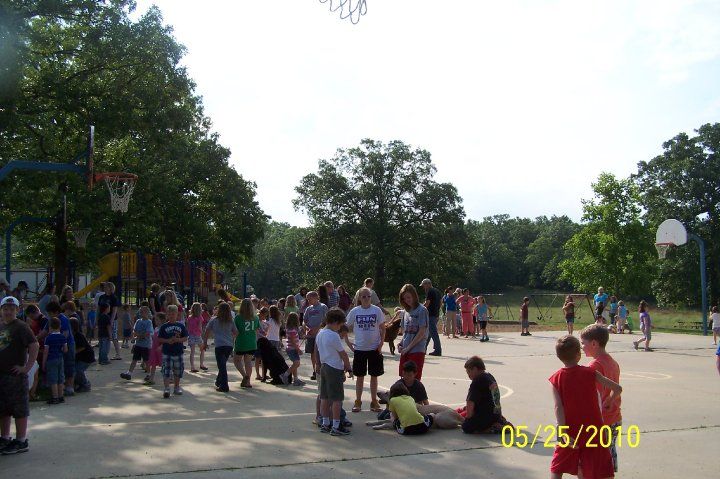 Her teacher that we LOVE LOVE LOVE!! Ms Stephanie (Wit-Wee) and Steph's daughter Kendall with their Oversized Weiner Dog! :-)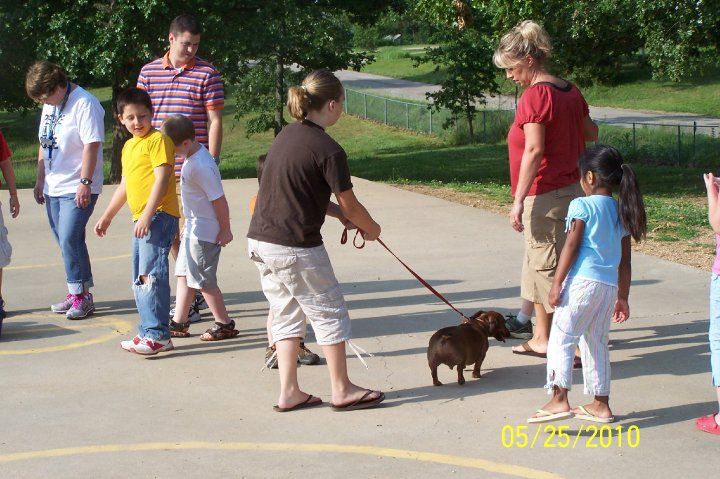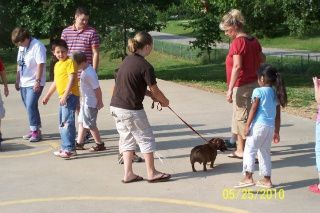 Got a new desktop computer, so spent the bulk of my time with that headache, (which translates into I'm locked out of my bank acct until tuesday) and since none of my peripherals would fit it, had to buy a new printer, too! SPENDING SPREE! (yep, ally and me snuck away to Target and Best Buy, and got pedi's while i was i Spg) To sum up? I think larry AND the bank account are both going to be very happy to see my vacation end
now? prepping to go back to work *sigh* I definitely would like to add "permanent vacation" to my resume...as I know Molly would like, too.