I am on vacation, and was suppose to be in Sacramento at the DS conference, but could NOT find airline tickets reasonably priced! (not $1800.00 to fly 3 of us) NEWSFLASH TO THE AIRLINES...i could have charged off a pleasure trip but I REFUSE TO BE HELD HOSTAGE by high ticket prices. You don't want to go bankrupt? You had better make it affordable to go...even if is Sacramento!! (had actually checked out flying into vegas for $39 and driving over...but finally just scrapped the whole plan.
)
Then i pouted for awhile, because we did not get to go on vacation this year. Sacramento was SUPPOSE to be vacation...grrrrrrrrrrrrrrr. AND Dr Capone was a speaker at the convention (leading MD authority from John Hopkins on Dual Diagnosis) and I really, really, realllllllllllly wanted to hear him talk. BUMMER!!
So, the sarge came to the rescue..He took us away...away to explore arkansas, and then to swing around to see both boys & my itty bitty....YAY!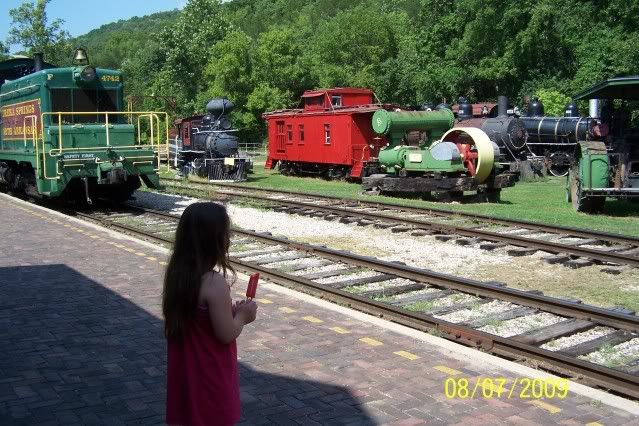 We went to Eureka Springs, Arkansas.(go google it, it's a hoot)...solely to take molly on a train ride. :-) They have an engine and one antique passenger car that putts at 5 mph into the woods, and then back out again. Just a little ride, but she soooooooo loves trains, and we thought that maybe this would be a good way to see if she'll tolerate it! (with kids with ASD it's easier to try it close to home, and small at first) Plans for Amtrack are always floating around in the back of my head.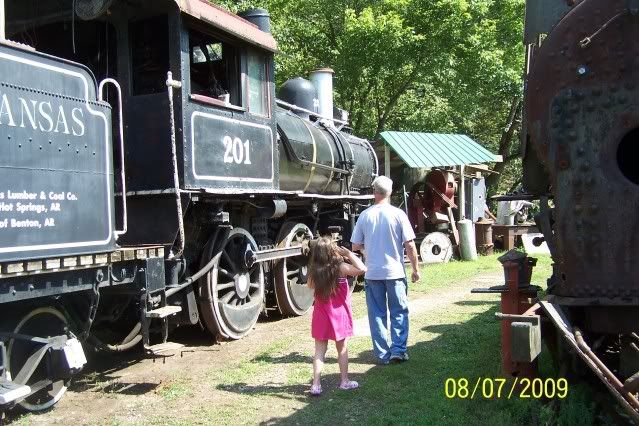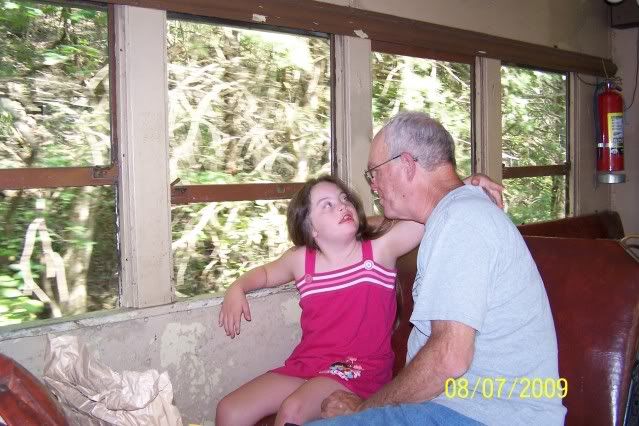 She loved all of it! She did get a little nervous once the horns began blowing (turned around and made a beeline for daddy.....not mommy, daddy) but settled down after hearing it a few times...at one point the engineer even made the horn sing.

My Montage 8/9/09
After riding the rails...we slipped into a motel, took a swim, watched a new dora dvd...and then headed off to eat! She likes the whole motel thing...as long as there is a dvd player, that is.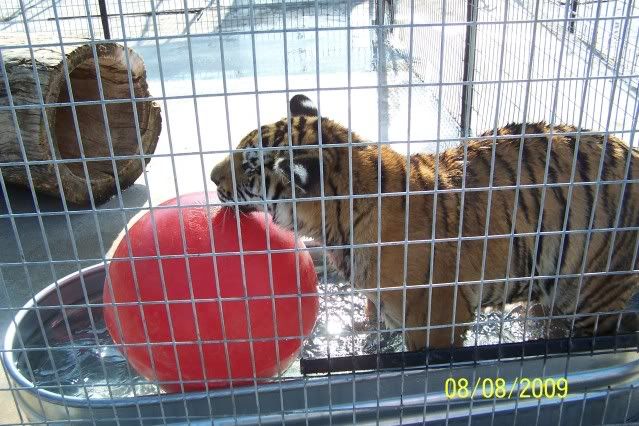 The next morning, we went to Turpentine Big Cat Rescue Sanctuary. This is another good google site, they do fantastic work at rescuing cats from people that get tiger cubs because they are soooooo cute, until they hit 200 pounds, as well as other circumstances. There are over 100 big cats there from all over the country, as it's the only one of its kind. They need all the help they can get as finances are what they are nowadays.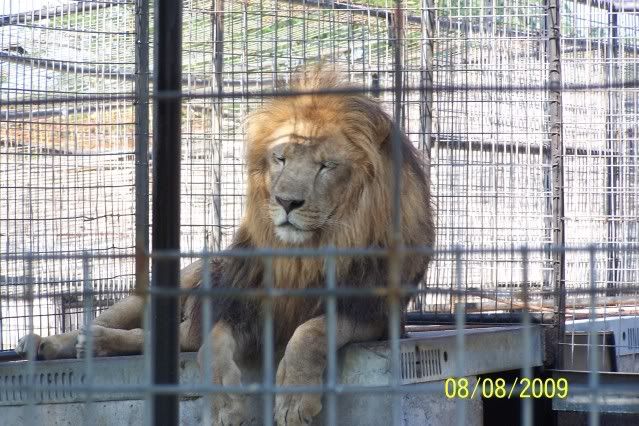 Ok...mama loved this stop and has wanted to go forever...but not so much molly....it's the paths...if there is a walkway, or a path that is visable...there is only one logical answer in mollys world..... WALK! Walk with a determination that would put "the little engine that could" to shame. Head Down, one arm swinging, and do not stop unless you are at the end of the path. Do not stop for any reason...not for rocks in your shoes...not for blisters...not if Spongebob himself appeared on the pathway....keep walkin.
UGH! she would not even LOOK at the Tigers, Lions, Leopards that were trying to get her attention....so we didn't stay long. There was only one path.
This big guy was rubbin up against the railing and lookin for some lovin from the caretaker....just like a big kitty!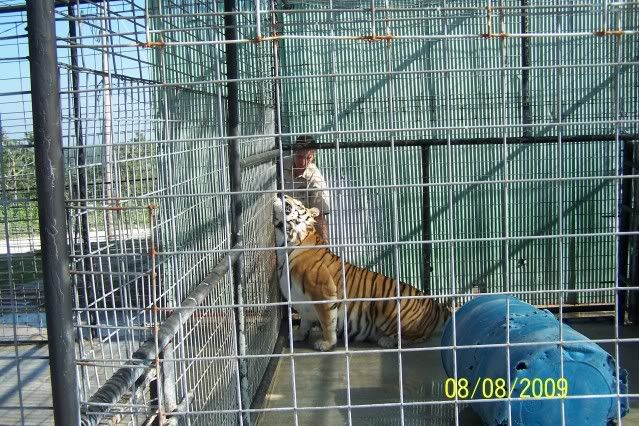 Then off to Blue Springs....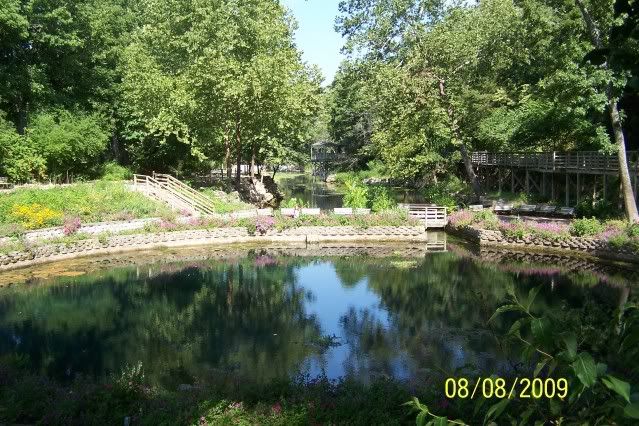 Blue Springs is hundreds of feet below the highway on the White River. You walk down a gajillion wooden stairs and then on (get this)...A PATHWAY through the ozarks.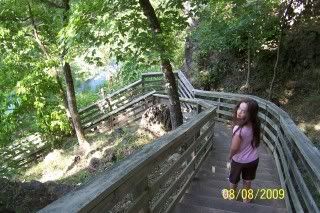 The nature-walk was abundant in wild flowers, hanging vine trees and covered paths...so much so that despite the 97 degree day, it was cool under the shade of the multitude of foliage.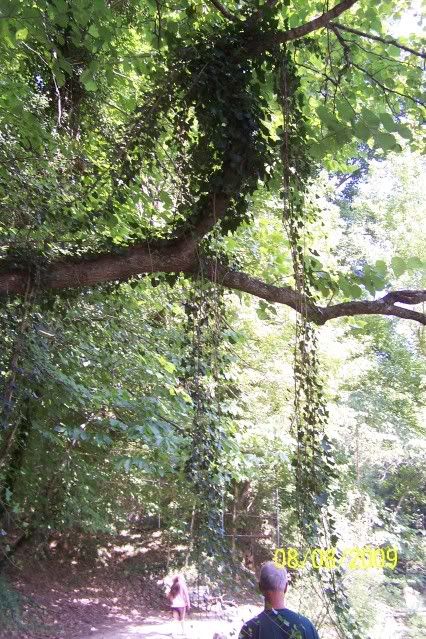 looky how far ahead of us she is...MOLLY!! SLOW DOWN!!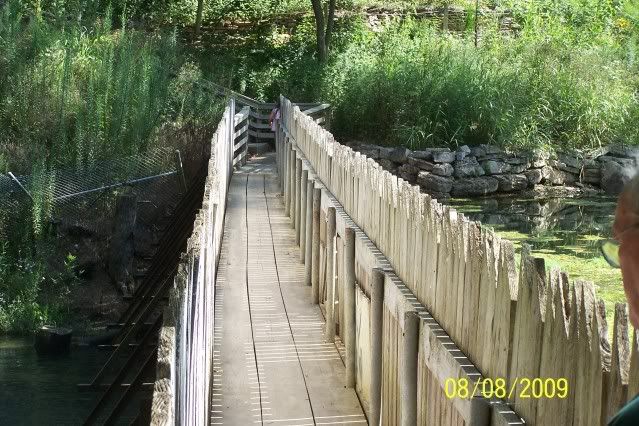 All of my pictures are of the back of molly as she RAN the entire racetrack of nature...not even looking up to hundreds of butterflies, or fields of daisies. Mission girl had a goal in sight. zzzzzzzzzoooooooooooooom.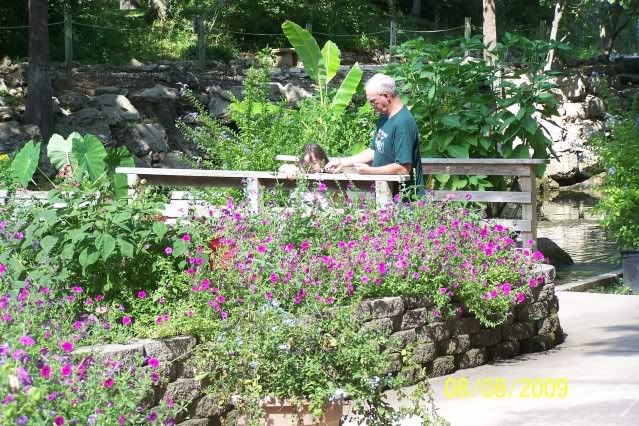 We spent the afternoon at Bill's over in Rogers, watching him work (ok she was in the bedroom with dora) and watching "Twilight" The movie wasn't half as entertaining as hiding behind a partition and listening to my baby boy explain to a felon what was going to happen if he decided to skip out on the bail. :-()!! or listening to him be sooooo understanding when the parents were insisting that the law had picked up the wrong kid for felony tagging...even though that kid was visable on 40 different videos from area businesses.

It's weird listening to your baby talk like a man. A wise, understanding but fearless man. Weird and Proud and ....it's just indescribable the feelings. When did he grow up?

Later, we drove up to and had really planned on staying in Springfield, but Gabe had inlaw company in, and we were very sore from the motel bed (old age is rearing it's ugly head here) and the sarge was beginning to complain of "calf cramps" I had to laugh, as that walk out of the Springs?? Oh yea, straight up, and since Molly was jogging it...we both had to, TOO! It scares me to think of how sore it makes me to try and keep up with her now.....what is the future going to feel like???

Everybody agreed we needed to be in our own beds...and even though it meant a long drive in the dark, we were blessed with a big, full harvest moon to light our way...and as a bonus, a meteor shower to guide us home.

Home...i thought i needed a break from it. I was wrong.......unless of course you pick up two sheps from the kennel, and forget to put the cage in....then? oh that warrents the "Stink Eye"