What do you do with your Oreos?
Weird question...but just this week, i found out my boss puts them in a bowl and eats them like cereal! BLASPHEME!! Here i thought there were only 2 ways to do it....dunk or twist, and now my WHOLE WORLD is up in the air...
Are there other ways to eat oreos that i cant fathom??? Do tell.
***************************************************************
This week, Molly and I accompanied the Sarge...who was off to Tenneessee to study what would happen communication-wise, should the New Madrid Fault decide to bless us with a ten spot on the richter scale. Did you know that there were large groups of people, that get together on their weekends and stayed honed in response if the unthinkable should happen??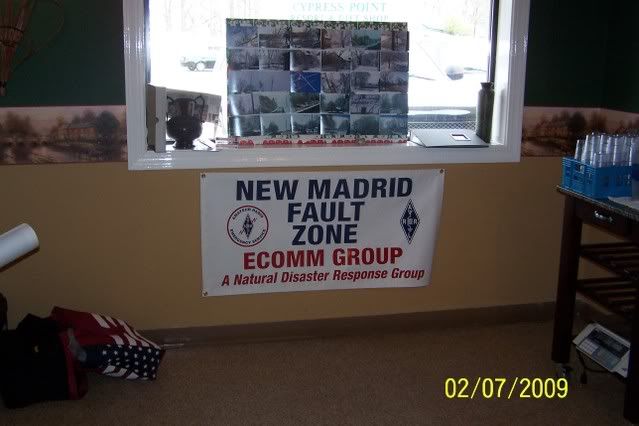 This is the big bridge across the Mississippi River, and did you know, that if we do have a big quake, it would be the first thing to go?? Yea, TMI, Sarge...some stuff i just don't NEED to know!(particularly when I'M ON THE BRIDGE!)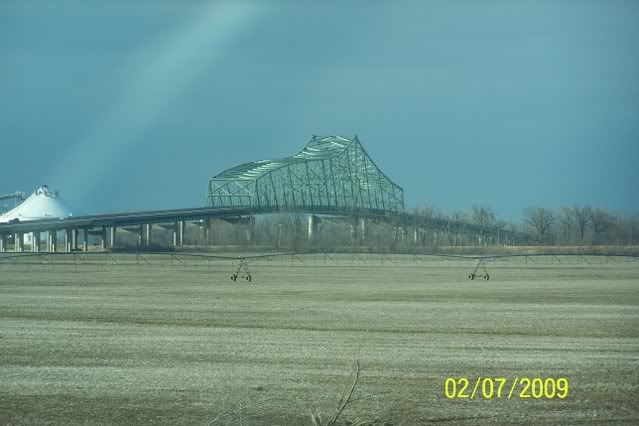 We stayed at a resort on Reelfoot lake, and i was pumped that we had a lake, and beautiful, warm weather to play with! NOT!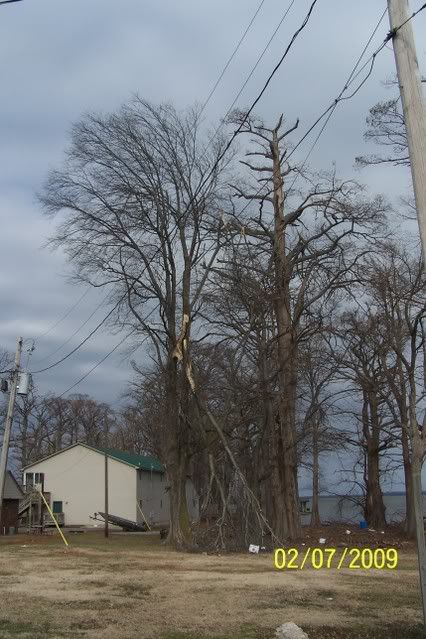 I thought that everyone had recovered from the storm, like we had...and had NO IDEA how horrible the areas south to us STILL ARE! The lake was covered in limbs, the marina trashed and our resort (should be off season) was filled to capacity with power guys shipped in to get them back online.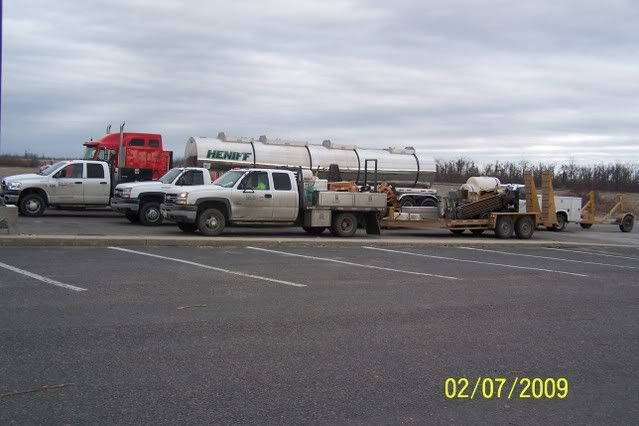 Oh well, it's Eagle Fest! We can go bird watching....NOT!!
The planned pontoon boating excurstion was cancelled due not only to the tree limb destruction...but to the WINDS! It was 73 degrees and I'm sure the winds were gusting up to 73 mph! All the eagles, who should have been there on a layover from migration, put on scarves and headed for cover.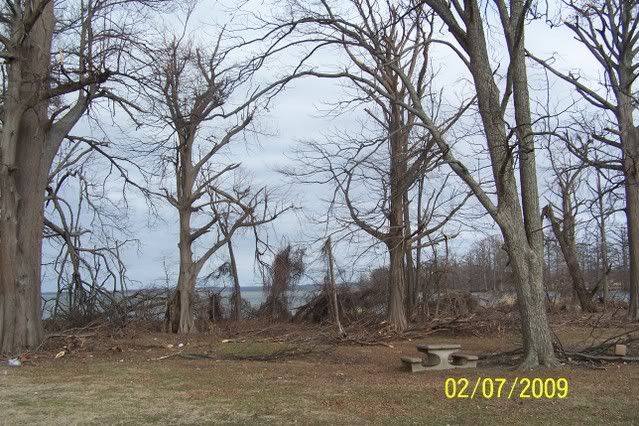 We busied ourselves outside (wish i would have remembered the scooter) at the gift shops and with the laptop. It's a trick keeping her occupied...not as difficult with the rest of the crew...we pay a squirrel to keep them entertained!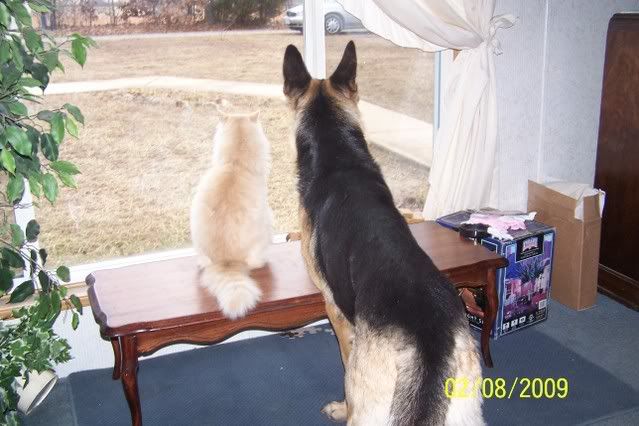 I see in the near future...rescuing the squirrel from the jaws of a german shep...and replacing the big window.
Although the trip didn't turn out how i planned, I can't feel bad about it...there are too many people down there who feel bad for good reason. I hear it's worse in Kentucky, and these crews will move south as soon as they're done in Tennessee.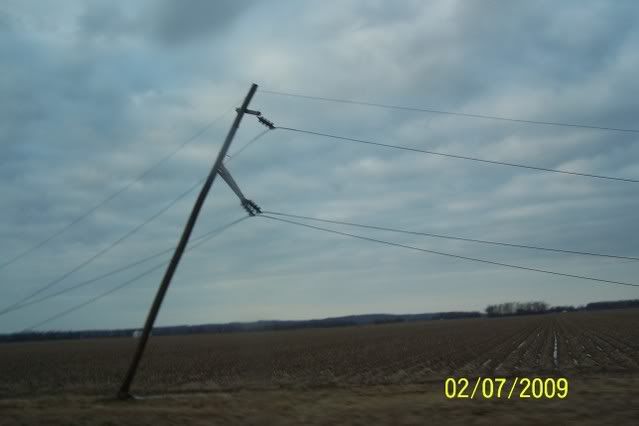 The ice snapped highline poles at the base.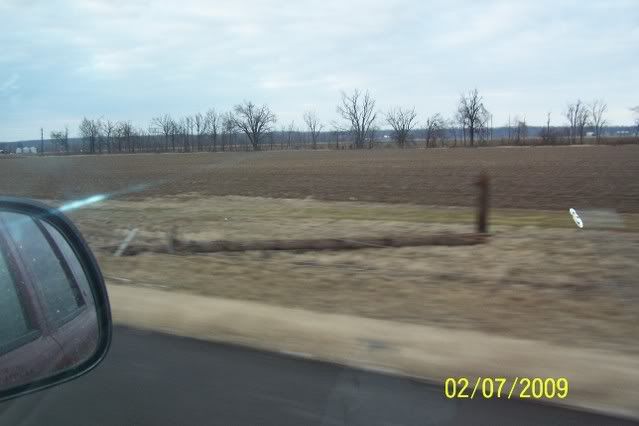 Today, I'm fighting a virus...i will NOT be SICK! Totally believe in Zycam and G-2 water and am hitting both hard (along with traditional meds) While stumbling around to find those...i cleaned out molly's med cupboard...EEK!!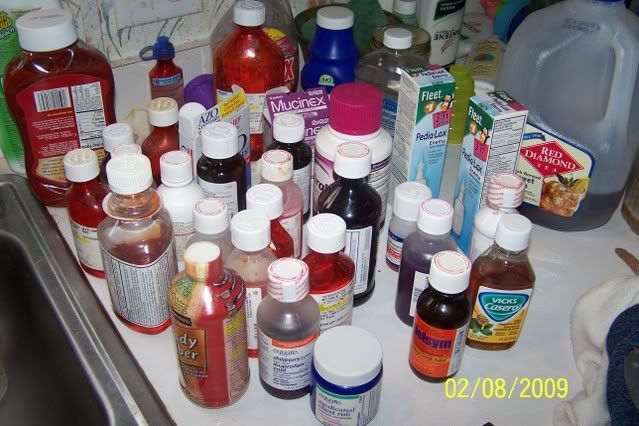 Double EEK when you figure at LEAST 5 bucks a bottle, and those aren't the amber ones! Into the trash with the out of dates!
My mantra for the upcoming week? stay safe...live healthy...pray for those less fortunate...and COUNT MY BLESSINGS!!
PS..throwing this picture is, cuz my eldest sis's name is Patty Ann...and not only did we find her diner...there was a 51-52 Law vehicle outside! Maybe someone (cuz she STILL isnt ONLINE) will print and take this to her! ha!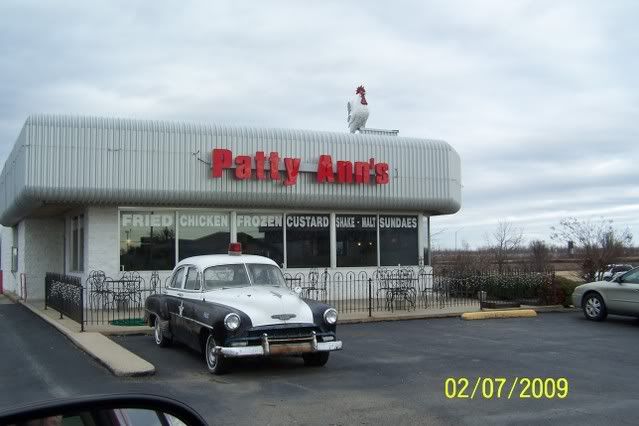 love ya.