I'm never going to get into the bathtub. We've been so busy, oversleeping, working hard...but no opportunity for a bath? THAT'S the last straw!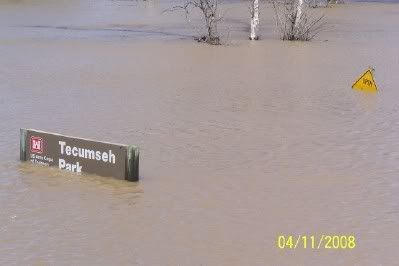 We went to Springfield to work on pop's house. Now, we do this every month. Pop died in 2004.
Grief is a difficult thing to handle, at best...and sometimes it just keeps on keeping on. I am thankful that 4 of the 5 siblings are traveling in to make it happen, but 4 years of maintaining an empty house is just about enough. Any inheritance to be had has been ate up in a probate attorney, utilities, insurance...etc. It's too bad that 1 out of 5 had to be such a jerk....amazing and one of those "i would have never believed it" kind of stories. I hear it's quite common and will take measures to make sure that my children never have to have these feelings and obligations in the event of our deaths.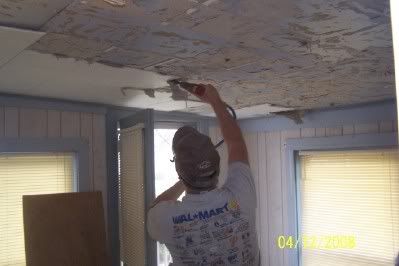 This week we have had one tornado, another rash of flooding and more rain (we've already received 1/2 of our annual rainfall for the year) and yesterday? we worked and drove home in the snow...SNOW in MID-APRIL!! I am totally tired of this mess. They actually dismissed school at noon on Thursday because of the flash flooding. This is an outhouse in Tecumseh park (across the hiway from the river) and as you can see, our wells and ground water have been comprimised also.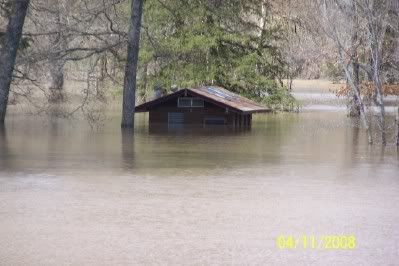 It is so unusual to us, that boys had to be rescued from the usually dry creek bed as school got let out, and what better way to spend a free afternoon than kayaking a usually dry creek!?! EEK! We did have one 14 year old swept away in Winona, which is not the first to be lost. I am SO ready for a real spring.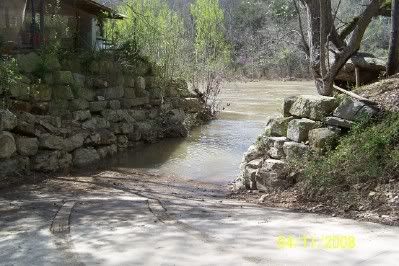 After a day of tearing down a ceiling, and getting to visit with gabe who came to help and hang out...we head home, filthy and tired and anxious to get a hot bath and watch "the memory keeper's daughter" and the sarge of course, is happy that the nascar race is late...gonna be a snuggle bunny evening, with snow flying, in a warm house.
NOT!
We pull in and the attny neighbor is out walking his dog...he was on his way over to see if we had power.
Nope...we don't.
I'm not sure what happened, but in between tornadoes and floods and snow, eventually something had to give, and it was the power...and it was off the entire evening until everyone was asleep.
We live in the country...so when there is no power, there is no water (well's need power) so one of us is not sleeping, cuz who can SLEEP with this much DIRT ON THEM???
It really wasn't as bad as i thought it would be. Miss Molly was not understanding the concept of no power, and was as upset at no 'spongebob' as Larry was at no NASCAR! It was only when she opened the fridge did she get it figured out....and of course, we had to save the ice cream, so that made it better.
I got the battery radio, and there was an oldies station playing 70's music all night...which
were fun songs for her to sing with me, as they had such ditsy lyrics. We all jumped into mom's big ole bed, cuz it was CHILLY and dark! (i'm talking 7pm) I think the sarge was a little more tired than he let on, from all the physical work at the house, and the excellent steak dinner afterwards... sleeping at 7pm didn't seem too big of an inconvenience.
Gabe had come to meet us at pop's house, help with the ripping out of the ceiling, and snuggle with Molly Kate. she LOVVVVVVVVES her 'babe'.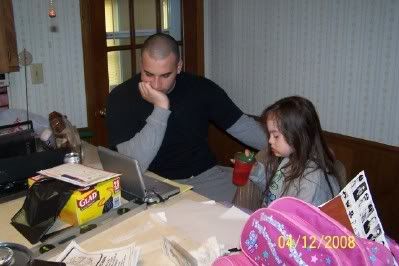 I'm not sure, but i got the feeling he needed some family-time too. His new baby is due in june, and I see the wear of the final trimester in his brow. I don't know how to make him understand that this 3 months will be "memory-eased' in time, and the joy he is about to experience will far outweigh any stress that he's now incurring.
I can't wait for the day...I can't wait to see the joy and the heart swell that happens when you look upon your first child. I think I'm more excited to see Gabe's face, than in seeing little Aubrey Jo....
That feeling is too amazing for words. It makes your life complete. It is your life. It is what you live for, and nothing else compares, or matters in that one second. Those realizations seem to happen immediately, and I'm anxious to see Gabe's face when it hits him! *beam*
Molly and I chose to make shadow puppets on the ceiling of the bedroom, wavy from the candlelight...and she passed out about 8pm. I make a mean german shep dog shadow and she squeals in delight when he barks! It really turned out to be a nice evening.
The music on the mono radio reminded me of days gone by...and while they slept i drifted off to memories of high school and college , and wondered about all the friends i loved then....and how they were doing. I was a rowdy teen and young adult...and also wonder if they would ever believe where i am now in my life.
I saw a light pop on at 154 laps to go....woke the sarge who got to enjoy his race, and went to shut down the house. I was very grateful to hear the heater kick on. We have a generator we can drag out in life-threatening situations...but the house was above 60 degrees, and that was easily handled with a big comforter, some candlelight and 3 in a bed.
I forgot about the memory keeper's daughter...and will have to catch that one later...everyone said it was great!
Little Bill is in town for the weekend....We did a 3 hour tour of the flood damage. Went to Norfolk Lake and Mountain Home, Arkansas...back thru Dawt Mill and Tecumseh and then finally to our River...which was barricaded shut...we had to hop the fence to go get pictures.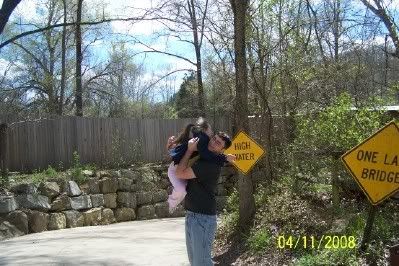 I just learned that the conservation department has pulled all 'regatta' licenses..meaning that for the first time in my 20 years here, there will be no fishing in the ozarks. Amazing...the 3 big lakes are all at capacity and several towns will have to be flooded for the bigger good. It's just dangerous.
This past week also marks the celebration of the birth of MY first born. Those feelings never stop, you know. It's been difficult to let her go at best, and I know she won't understand it until she lets HER first one go.... i think that since the day i delivered her and all through my life, letting her fly from the nest and make her own life has been the hardest thing I've ever had to do.
If i could wish one thing, it would be for ALL my kids to understand that when I look at them now, I feel the same way that i did when the Doctor first handed them to me....they are simply amazing, and the best thing that's every happened in my life.
Happy Birthday, Shauna!