We've been out of school a week...and this week starts summer school! YAY! I have been SO excited to start my new life as a SAHM (stay at home mom) but have found that it's just not as easy as it's cracked up to be! I cannot start any special projects while Molly is at home, I can barely keep up with the 'maintenance' part of keeping a house...she is so much help. I need SAHM bootcamp, for sure.
My sweet little "angel" is a just this disaster just waiting to happen, and the house just seems to fall apart around her as she walks through it. Every single day I spot something that is amiss, something that I would have never believed she would do. The other day, daddy pulled Dorothy the Dinosaur handpuppet out of the light fixture. We have vaulted ceilings...
This morning? My bluetooth Jawbone earphone. I use it around the house all the time so that I can talk on the phone while I'm cleaning up the "Molly Messes." I hang it up on the little piano light above the rolltop desk my computer is on, so that i don't lose it. It is very small...who would notice such a thing?
This is what it looks like..it's about one inch long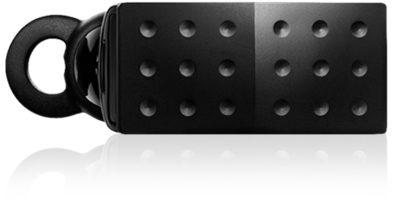 Molly would...this is all that is left of my earpiece.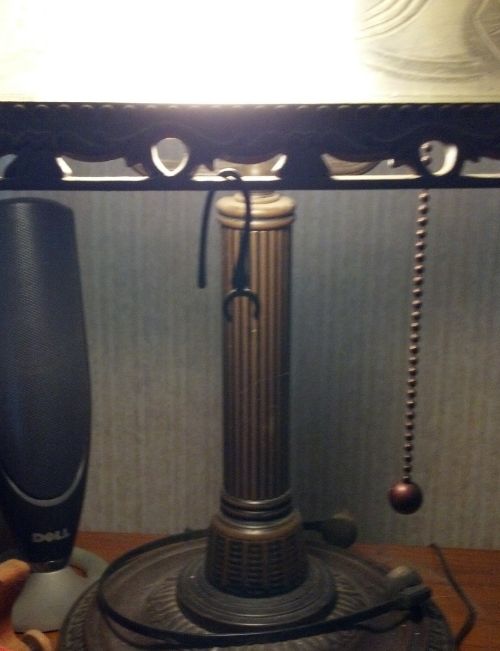 That means, miss OCD saw it, didn't want anything hanging from HER lamp, and tried to pull it off. I guess I should be glad she left some evidence as I know now I need to look for it...as opposed to just thinking I lost another one in my old age scatterbrain. UGH!!
Yesterday, I bent down to look under the bed for something Larry lost, and OMG!! the rest of my
day was spent cleaning out her "hoarding" spot! It was easy to see under there, as daddy's favorite LED flashlight was turned on and laying wayyyyyy in the middle. We have a king sized bed, so you just cant reach things there without aid, so i have one of those 'grabber' things...ordered special extra long, just for this purpose...but i can't use it, because it's sitting right next to daddy's flashlight. Most of my afternoon was spent on my belly, grunting, straining, and cussing...then, of course, there were dust bunnies to deal with...nothing worse than dust bunnies under an immoveable bed, on carpet. Thanks Molly. (I'm relatively sure that it was at this time she was busying herself killing my Jawbone)
In prepping her for summer school (Molly is not a good transition girl) I've been showing her pictures of Ms Driscoll. (DRE-SKO!) Ms Driscoll has been FB messaging me all week. She was Molly's 5th grade home room teacher, has worked with her during summer school before, and is an amazing woman & phenom teacher just in general, and is going to be with Molly for summer school this year, too! I cannot tell you how much it warms a mama's heart, ESPECIALLY a mama of a kid like Molly, when a teacher starts messaging you a week before and is all excited about getting to see your kid, getting to work with your kid, and telling you about the plans she has to excite your kid! A.MAZ.ING.
Anyway, we show up at school bright and early this morning. There is no fussing about getting miss "been sleeping in till 10am" up at 6am...she pops right out and gets preparation business taken care of without fuss.
This is the kicker...we walk up to the front doors, and DRE-SKO!! comes out to meet us...'HEY MOLLY!!' she yells...Molly turns and gives her a big ole hug. (yay...pictures and talking did the trick!) She THEN? THEN? turns to me...places her hand on my chest...gives it a little push and VERBALIZES..."Bye"
My little monster is growing up. She'll be 13 next month...and she is acting like it already.
The sarge and his 3 daughters, Molly next to Tammy, and Kelsi
next to him.