Yea, I've been off awhile...partly because we've been so busy with Ally's graduation/end of school stuff/and acceptance. I'll talk about the fun in a future posting...it's just been a blur in my life as of late...for now? we'll focus on one topic:
Acceptance
Molly Kate now has a definite diagnosis of being on the Austism Spectrum. There, I've typed it for the world to see...My skunky, funny girl is Autistic.
tears...*sniff*
She went to Kindergarden twice...the first time? FABULOUS!! Everyone loved her, she was gaining a vocabulary, and was elected princess candidate of the spring festival...purely a popularity election. She was the only one on stage to engage the audience in the Wonder of Molly Kate, bowing, throwing kisses and inviting applause and adorable admiration. The pinacle which spoke of the future, and just how much of a "poster child" for Down Syndrome she would become. No need to fear...I'm just like YOU!!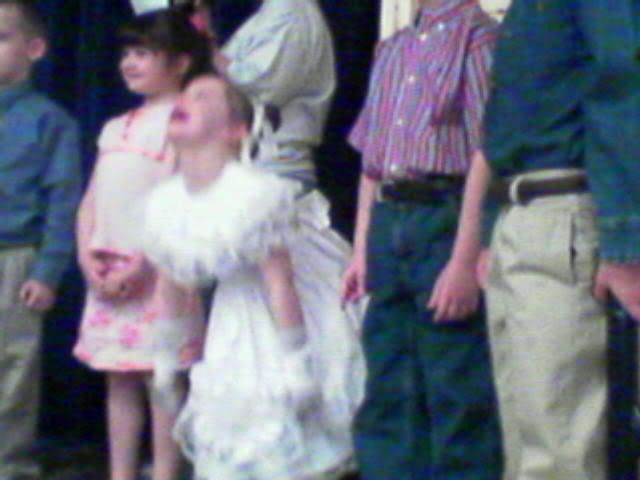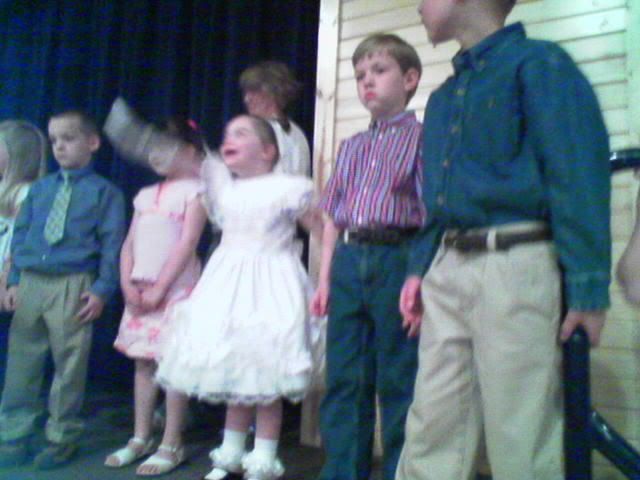 Year two? things started to change....her circle of friends started dwindling to 1 or 2...she had previously dropped the signs when she verbalized the word...but now she was dropping the words, too...and she became more obsessive/compulsive.....playing only with toys that would stack well...then forgoing toys altogether for better stacking utinsels like paper plates, spoons, and oreo cookies.
denial
For 2 years i watched the changes...they were also noticed by teachers and tagged as a possible "A word" in her IEPs, (still not ready to accept the possiblity) and then? i started talking to other moms, and visiting other websites.... Moms with kids on the spectrum.
I'm Angry
I was so careful with her innoculations, only to find out i could have separated the MMR and taken it in 3 different doses....knowledged gained too late. I'm not saying it WAS the MMR, I'm saying i don't feel like i was given enough knowledge about all the alternatives at the time of innoculation....(hers was definitely mercury free) and we still don't know why this disorder is attacking our children at the current estimates of 1 in 150.
Since she has Down Syndrome and the majority of physicians don't believe that our children can have Autism (they think it more of a level of the DS)so I too kept dragging my feet. It's taken me two years to grasp the idea and call in the experts...and the experts have come and filmed an evaluation, studied it for 2 months...and sent us the diagnosis.
She is mildly autistic by their standards...but still...another diagnosis, and this one packing SO MUCH MORE OF A PUNCH than the DS did....I so worry about "losing" her...her spitfire...her sassy...her demonstrative love......this diagnosis has just knocked me for a LOOP!
I'm slowly getting on board. Judevine has promised parent training...support...playdates...respite...horse & music therapy and of course we will persue any and all opportunities for her as always
but.... (sorrow)
It still leaves me feeling lost. She's different from her peers, now (friends with down syndrome) and we again find ourselves in the limbo world of parenting. Time to start all over I guess, and accept it...support it...learn it..fight for her and her place in this world ....and advocate.
soon
************************************************
Happy Memorial Day sounds like such an oxymoron. Thank you! more appropriate.
Thank you to my dad and uncles who fought in the big one, WWII....thanks to all of you from my generation who fought in Nam, and didn't get the thanx when you came home.....and as our own 1138th prepares to leave for that horrible place, THANK YOU and prayers for our servicemen and women currently serving in this lastest conflict.
We especially honor and remember my Father in Law, Glen Wilson, who left us too early at the hands of Altzheimers, after surviving the Germans.
After fighting in Germany, he came home and devoted his life to his 5 children and wife... and the Missouri State Patrol for 33 years...
always the public servent...and the bar to reach for. We miss you, pops