My kids are my life- i miss them so
There is so much to update, i can't possibly get it all done in one try...so be patient over the next couple of weeks,and i'll try to catch up!
First..my parents drove down from nebraska (11 hours and they are in their 80's) to spend some time with us and meet thier new gg-baby. We had a wonderful time!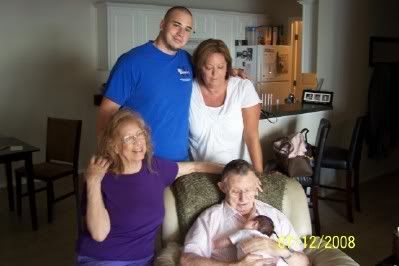 They surprised me by jumping the ladder and swimming everyday with molly (for safety, i still haven't decked around the pool) Then we all piled in my old Tahoe and headed to Springfield to meet Shauna who was flying in from DC. Her trip was horrible (united thru O'Hare) and her and her cat ended up spending the night in the airport....but she managed to shake it off, catch up with friends, and party with us!!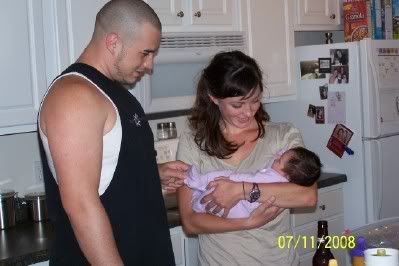 Little Bill came up from Arkansas, and we all camp'd at Gabes....miss molly was in 7th heaven surrounded by all of her sibs!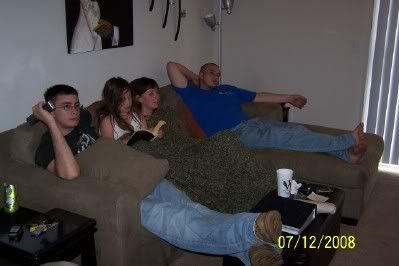 G-ma (that's ME! hahahah) babysat while big sis and bro...took little bill out and properly celebrated his 21st birthday in young adult
fashion....i am relatively sure that bill will never, ever drink alcohol again.
Shauna got to let go of all the stress and movin&shakin she does in the district, and stayed lit up-hilarious-and so very entertaining the entire time she was home...and gabe and ally went overboard with their hospitality.
There were some tears as we all headed to our respective homes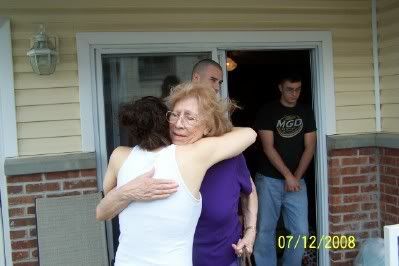 all but bill who took a few days and came home with us...but especially with shauna...not that she was going to miss US....but that she was bringing "Hattin the Cat" home to stay with me. (his name is a twist on the Dr Suess's book...cute)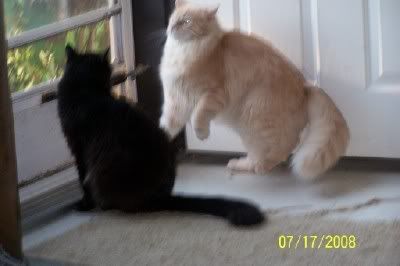 He wasn't handling being alone at home so much...with her increased schedule...and she thinks he'll be happier here. I'm not sure of what his "pet nanny" was seeing, but i do know he is VERY happy in the ozarks, with lucifer the old man cat...and 'the boys' the german shep &the choc lab! They also did not want to see my mom and dad leave, and made it clear to us all.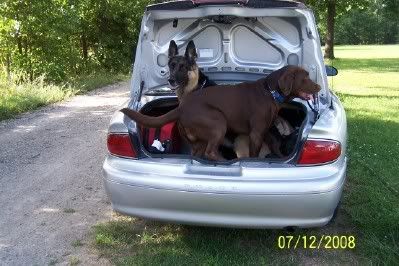 goofy dogs have never seen a trunk...we have a pickup...the Tahoe...and a van! Cracked us up when we tried to load my folk's car for the trip home!
Hattin beats up the boys daily and they are scared stiff!! We roll laughing at his antics and are pleased at the spark this Yeti sized Yellow cat has brought to our home.
After we got home from Springfield, Bill had his brother Josh, his wife, and their beautiful babies over for a swim and a bar-b-que..and it was wonderful having my house full of kids and noise again. Josh and Bill are soooooo much alike both in looks and in attitude, and romp now, like they did when they were babies...so much fun!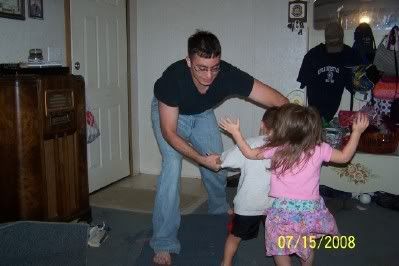 With so much going on...we kind of skipped my birthday, but the sarge made up for it this week by upgrading my ride. I think i may have converted the FORD man, cuz we got another Tahoe! YAY!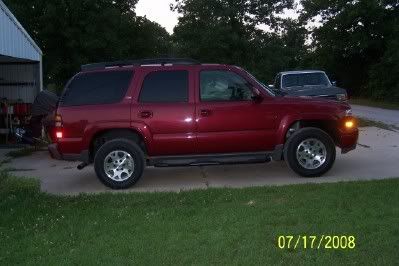 All in all..it happened too fast, and i awoke to quiet...wayyyyyyyyyyyyy too quiet this morning. Molly cried when the kids all left, and that broke my heart...but she knows it's only temporary....and one day we'll all be together again!! I cannot WAIT!!
I'll leave yall with a couple of my favorite shots from the weekend...daddy showing molly just how to take care of a baby.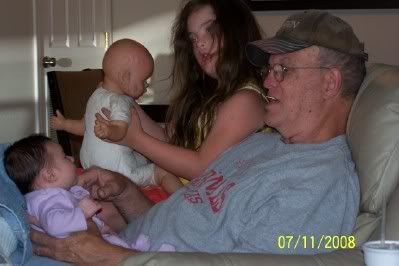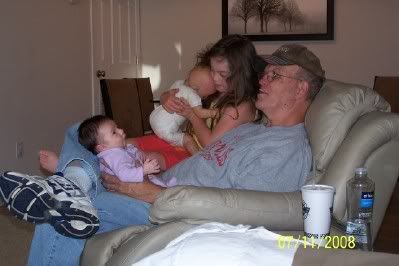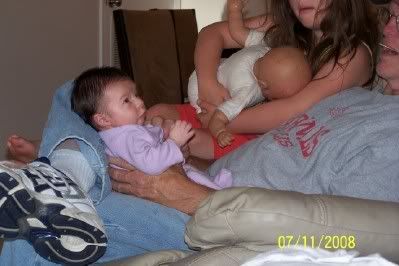 Kiss your kids, and relish your time with them...one day sooner than you can ever imagine..., your time together will be not often enough, and too short in duration
*sniff*